Casa de Alba Collection
Location: Museo de Bellas Artes
Dates: 16 October - 10 January
Web: Museum Page
The Casa de Alba, a wealthy Spanish noble family dating back to the 14th century, has one of the most impressive private art collections in all of Spain. Some of these, including one by Goya, will be on display in Seville's Museum of Fine Arts. Six centuries is a long time to collect, weather it's art or names. Consider the current Duchess of Alba's first name is María del Rosario Cayetana Alfonsa Victoria Eugenia Francisca Fitz-James Stuart y de Silva. Whew... thankfully I could copy and paste.
50 Years of "El Carambolo"
Location: Museo Arqueolóico de Sevilla
Dates: 3 October - 10 January
The exhibit in the Archeological Museum of Seville focuses on the development of the interpretations and history surrounding the discovery of this treasure (El Carambolo), as it relates to the civilization of Tartessos. The discovery was made about 50 years ago in the hills outside of Seville, and represents proof of the oldest civilization known to this region (dating between 8th and 3rd centuries B.C. The highlight of the exhibit is the display of the original / actual treasure. Previously only replicas were on display in the museum.

Iglesia Salvador Restored

Location: Plaza del Salvador
Dates: now
The renovations and excavations in Sevilla's most famous baroque church are finally over, with the exception of a few pieces here and there. The ruins of a mosque and other very important historical items were uncovered below the church. But now, after five years of excellent overall restoration work, the church itself has returned. Not only are the altars and important pieces of art restored, but there is much more light to see the details. The church almost feels like a small cathedral, and certainly rivals many of those in nearby cities.
Iglesia del Buen Suceso Restored

Location: Plaza del Buen Suceso
Dates: now
This little baroque church is just a few blocks away from the Plaza Alfalfa and Plaza Cristo de Burgos. With works by Domingo Martinez, impressive red marble columns and similarities to Iglesia Salvador and Iglesia San Luis (two of my favorite churches in Seville), this 18th century church is worth a visit. It is only open in the morning and afternoon during misa (mass).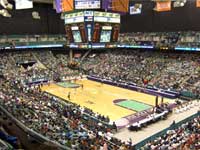 NCAA Tournament
Location: on ESPN America / Internet / Canal Plus
Dates: March/April
web:mmod.ncaa.com
Of course there are no tournaments being held in Seville, but if you find a bar with ESPN America (formerly NASN), you may be in luck finding a game from this weekend's tournaments. Bars with the channel include Flaherty's, Tex-Mex, O'Neill's and Merchants Malt House. Many games will be live. After visiting several establishments, looks like the Tex Mex bar does the best job. Others once again turned me away because of futbol matches! Keep in mind the start times - most bars will be closed for early morning games!
Liga Profesional de Fútbol
Location: Seville
Dates: Aug 2009 - May 2010
The Spanish first division schedule is brutally long, especially when there is no World Cup or European Championships to be played during the summer. This is good news if you are visiting and want to catch a match. While you should pull for Betis, I realize some of you may have a weakness (and it is a very sad weakness) and need to see a match no matter what. The benefit of having two first division teams in Seville means there is a match almost every weekend. Schedules coming soon!




Flamenco Shows in Seville
Location: Various venues
Dates: Every day
web: flamencotickets.com
There are a wide variety of daily flamenco shows in Seville, with locations in different parts of the city center. They range in size from large theatre style (El Palacio Anadaluz) to smaller tablaos (Tablao El Arenal) where a meal is included. Then there are smaller venues with just a drink, from Los Gallos in Santa Cruz to Auditorio Alvarez Quintero and the Flamenco Museum. You can buy tickets in advance through flamencotickets.com.
Private art galleries are another great way to see some local artists and of course out of the ordinary works. Some are more traditional while others offer more "cutting edge", if you will. The following galleries almost always have something on display:
Galería Álvarez Quintero
Location: c/Álvarez Quintero 48
Galería Álvaro
Location: Plaza de Doña Elvira
Galería Nuevoarte

Location: c/San Vicente, 32
Galería Pepe Cobo
Location: c/Cardenal Cisneros, 5
Galería Haurie
Location: c/Guzman el Bueno, 9
Galería San Vicente
Location: c/San Vicente, 31
Galería Isabel Ignacio
Location: c/Velarde, 9
Galería Rafael Ortiz
Location: c/Marmoles, 12
Galería Full Art
Location: c/Madrid, 4, bajo 1
Galería Margarita Albarrán
Location: c/Meson de Caballeros, 2
More places where you can regularly catch a good show are below but I don't keep up regularly with the schedule of all of them. In many of the bars there's no cover - just pay for your drinks! In some of the smaller concert halls expect anywhere from 6-20€ depending on the show. More recommendations to come soon as I spend a few late nights out looking for the music scene:

Bars
El Cafetal
(Avda Ciudad Jardin, 5)
A little further out and now in their tenth year of carrying live acts.

El Perro Andaluz
(Santa Catalina - c/Bustos Tavera, 11)
Rock, blues, flamenco, country-rock, reggae - they do a little of everything in the recently renovated local. Nice bar frequented by local actors and artists in the heart of Santa Catalina.
La Carboneria
(Santa Cruz - c/Levies)
More flamenco than anything else, but you can find other acts in both the front and back room. This bar is famous and frequented by tourists as well as Spaniards. The front room often houses works by local artists. In the summer the back patio is a cool place to be. In the winter the front room with two fireplaces offers a cozy place to warm up.
Jazz Corner
(Buhaira - c/ Juan Antonio Cavestany)
Jazz as Lisa Simpson would like - the "saxamaphone". But it doesn't stop there, so stop by and check out what they've got going.
La Buena Estrella
(Alameda - c/Trajano , 51)
More jazz in Alameda with weekly jam sessions.
Cafe Naima
(Alameda - c/Conde de Barajas, 2)
Another place in the Alameda to listen to jazz, although I guess not live. While I received reports that there was some live stuff going on, I received a correction that it's only the atmosphere, and never a band, you can find in this bar.
Pub Taifa
(Centro - Plaza Gavidia)
Live jazz and blues on Friday and Saturday nights.
Azucar de Cuba
(Centro - Paseo de Colon)
Right before the bridge to Los Remedios it's another great place to take in some live Cuban music, sip on a daiquiri and smoke a cuban cigar. Dinner and lunch is also served - an authentic Cuban dining experience.

Small "Concert" Halls
Sala Fun Club
(Alameda)
Local, regional and larger acts. Hip-hop to metal, funk and alternative.
Weekend
(Centro/Torneo - c/Torneo)
As well a good mix of acts - neighbors have complained for years about the noise, so they put on some loud shows.
Sala Salvation
Heavy to alternative and a little of everything else.
Casas Ocupadas
Alternative music - some punk, some rock.

Larger Venues
Estadio Olimpico
(across the Puente del Alamillo)
Large acts have made their way here, including Mana. A first rate outdoor venue where they hope to one day host the Olympics, if the heat ever dies down.
El Palenque
(La Cartuja)
Closer to the center of Sevilla than the Estadio Olimpico and an indoor place for off weather nights. El Palenque hosts international and national acts frequently.
Teatro Central
(La Cartuja)
A mix of the arts with mainly theatre and music performances. Generally plenty of flamenco and other contemporary music each month.
Teatro Lope de Vega
(Arenal)
Aside from opera, theatre and the symphony you'll find an occasional flamenco performance by some of the best artists in the world. Very convenient to the center.