Children in Spain anticipate the 6th, or Reyes, when the three kings come to leave presents and candy, just as the children wait for Santa Claus in many other countries. However every year Santa seems to make inroads with his marketing push and some parents are starting to celebrate Christmas with their children along with Reyes. In between December 1st and January 6th there are many days to celebrate (or joke, as is the case with the 28th of December). A few observations on the holidays in Sevilla and Spain, starting with specific days and what happens:


Day of the Immaculate Conception - Día de la Inmaculada Concepción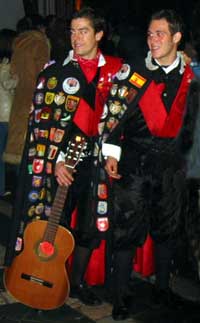 December 8th
Celebrating the Immaculate Conception on December 8th, this is an official holiday in Spain, well, it's shared with Constitution Day. In Sevilla it is best known for the night before on the 7th when los tunos, university student musical groups or fraternities, dress up and head into the streets to play guitar and sing through the night. All end up in front of La Purisima, leaving flowers and taking turns serenading the statue representing the Virgin Mary. Many people flood the streets and gather around the statue before midnight to get a good view of the serenading. The following day there is a service in the Cathedral with children performing traditional dances.


Christmas Eve and Christmas Day - La Noche Buena y Día de Navidad
December 24th and 25th
Christmas Eve, or La Noche Buena, is probably celebrated more than is Christmas Day in Spain. A large meal comprised of plate after plate of food is prepared for the family starting later in the evening and goes on many hours through midnight. It's a time to be with family and enjoy food and drink. Once the meal is over, traditional holiday sweets such as turrón and champagne help finish off the night. Christmas day is an official holiday and often spent with family while many stroll through the center and may choose to take a break from cooking to eat lunch in a restaurant.


Day of the Innocent Saints - Día de Santos Inocentes
December 28th
While this isn't a holiday in the Christmas sense it's worth mentioning for it's joke factor. This is the equivalent of April Fool's Day in the States where people pull jokes, or inocentadas, on other people. Television, radio and newspapers join in the fun publishing fake stories on less significant events such as sports or entertainment.


New Year's Eve and Day - La Noche Vieja y Año Nuevo
December 31st and January 1st
New Year's Eve is another night often celebrated with a big dinner with family at first and then a night out at a party. Many bars and restaurants have private parties where you pay a certain amount for food and drink, including a bottle or glass of champagne. Grapes are often consumed as well - one for each chime of the clock at midnight - that's 12 total! Many gather in Plaza Nueva to watch the clock, eat a lot of grapes and then head to parties around town. New Year's Day is an official holiday and most people spend it recovering from the night before.


Kings Day - Reyes Magos
January 6th
This is the day of presents much like the 25th in the states or other countries. Celebrating the day the three kings came to visit the niño Jesus with gifts. Children write letters to the Reyes Magos asking for gifts. Hanging stockings, or calcetines to be filled with candy is becoming a common practice, but leaving your shoes or slippers out to be filled is still the Spanish tradition. It seems everyone spends the night before watching the Cabalgata de los Reyes, a large Christmas parade in the center, or a smaller version in their neighborhood or pueblo (see below for more info). The three kings come in the early morning and leave presents for the children, and if you're lucky, the adults, too. Traditional baked goods, such as the rosco de reyes are consumed and many children will be seen in the parks with their new toys!




These are concerts which are held every year and are holiday traditions. There is more depending on the neighborhood you are in. Most dates are not set yet, but below are some approximations until they have published the official schedule.




Conciertos Navideños - Christmas Concert (organ music)

: Cathedral
between December 15 - 22


Orquestra Bética Filarmónica de Sevilla (Vivaldi and Bach)

: Cathedral
around December 22


Concierto Extraordinario de Navidad de la Real Orquestra Sinfónica de Sevilla
Extraordinary Christmas Concert with the Royal Orchestra of Sevilla


: Teatro de la Maestranza
around December 20 - 22


Coros de Villancicos (Christmas Carols)

: Centro
December 13 - 31: In the streets throughout the center various groups will be singing


Trío Emispherio: Concierto de Navidad

: Iglesia los Terceros
December 9 (20:00)
Día de la Inmaculada Concepción
Occurring on the night of the 7th of December I mentioned this above as well. While not a parade the groups play music and many can be seen serenading various women and men (there are now female tunas!) in the center before heading to the statue of the Virgin next to the Cathedral.


Cabalgata de Reyes
This exists in many forms on the 5th of January. Much like a Christmas parade back home, the Reyes Magos and the children who accompany them on several floats, throw candies to the children (and many adults) as they pass through the streets in a procession. There are many to see, from the larger procession in the center to the cabalgatas organized in many of the neighborhoods such as Nervión and Triana. Watch out for the mean children who throw hard candy as hard as they can, hoping to break something (such as your nose or glasses).


Reales Carteros
Another likely sighting in the center and various neighborhoods are the Royal Postmen who take the letters the children write to the Reyes Magos. Accompanied by a band playing music, you'll generally see between the 27th of December and the 3rd of January, depending on the neighborhood.
In general you can see a belén or a nacimiento just about anywhere, just look for the signs posted around the center and follow the arrows. These are many large scale and time intensive nativity scenes put together by sponsors and foundations, as well as some impressive ones created by stores such as El Corte Inglés. Churches and other private belenes are also located throughout the city. Many take just a few minutes to see while others are well know and you can expect lines and a wait to view them. A few recommendations are below to see some of the best scenes in the center. All will run until January 6th unless otherwise noted.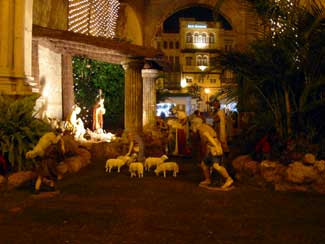 Belén Popular Canario

: Palacio de Yanduri, Puerta de Jerez


Belén de Caja San Fernando Tradicional Nacimiento "Belén Extramuros"

: Caja San Fernando, c/Chicarreros just off of Plaza San Francisco


Belén de Ayuntamiento de Sevilla

: Ayuntamiento, between Plaza San Francisco and Plaza Nueva under the arch.


Belén de El Corte Inglés

: Plaza del Duque to the right of the main building


Belén de El Monte

: c/Laraña a few blocks up from La Campana


Nacimiento de la Catedral

: Cathedral, Avda de Constitución


Nacimiento en la Iglesia San José

: Iglesia San José, c/Jovellanos


Chocolate Belen in La Campana

: La Campana Bakery at the end of Sierpes.


Chocolate Belen in San Buenventura

: most of the Horno San Buenaventura locations

Again, there are plenty more to see in most any neighborhood. Keep your eyes open!
Feria del Belén de Sevilla

: Archivo de Indias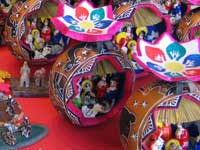 From mid November until a few days before Christmas, this market supports a tradition throughout Spain and certainly in Sevilla, that of the belén, or nativity scene. Now is the time where people purchase the figures and scenery either for a new or to add to existing belenes. Take your choice from the most famous stores in Sevilla and Spain which sell these items in display booths, normally in the Plaza de San Francisco, but this year it has moved to around the Archivo de Indias. Figures range from the serious to whimsical and from a few Euros to hundreds of Euros - this is a serious business! Christmas ornaments, cards and other decorations are available as well.




Feria del Libro Antiguo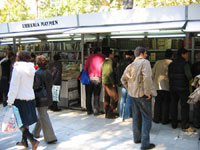 : Plaza Nueva
From mid November until early December you will find a gathering of local book merchants selling old and rare books, plus some normal more recent books. There are some interesting titles from the Ayuntamiento, including several published titles about history, art and architecture of Sevilla. Comics, old newspapers as well as a few antique and replica posters and photographs.






Mercado de Artesanía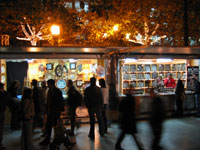 : Plaza Nueva
From mid December until early January, local artisans and craftsmen display their goods for sale in this annual market in the Plaza Nueva. From pottery to paintings, jewelry and more you can find gifts that are uniquely Spanish and Sevillan. This is perhaps my favorite place to shop for gifts. I always find something original and at a decent price in this market, which is conveniently located at the edge of the main shopping district.





Exposición y Vento de Dulces

: Real Alcazar
During the first week of December, if you want to see the demand for sweet things then simply get in line at the Alcazar (Patio de Banderas) for the Exposición de Dulces from the local convents. You need to get there the first day and early if you can, because the best baked goods and sweets are taken quickly. The line on Saturday's can extend several hundred meters. If you can't stand the wait you can hit a local convent or head to the Plaza del Cabildo just off of Avda. Constitución where there's a small store which sells a good variety.

As always there are the local markets which you can check out every week for holiday shopping.

If there's one thing you can can't on it's eating well during the holidays in Sevilla. As I mentioned above the traditional Christmas day cake is a rosco de navidad, which is a sweet, round cake with a hole in the middle. I find them a bit dry so I'm not a big fan, but many love them. Turrón is also a favorite and if you make your way to El Corte Inglés or another supermarket the selection is so big it's almost scary. Aside from turrón there are plenty of other candies and cakes you can choose from. For some ideas on where to buy sweets check out my list of bakeries in the food section.
As for dinner both on the 24th and the 31st it will vary greatly from family to family. A few foods which make it to most holiday tables are jamón serrano and other chacinas , or cured meats, as well as manchego cheese. Having spent an entire day last year driving in the province of Huelva through Jabugo and Aracena we witnessed a large number of people traveling from the cities to buy some of the best jamón and chacina you can find. Our dinners often include langostinos (prawns), carillada (stew) and perhaps fried fish of some sort.
For drinking there is no typical beverage like eggnog, although you'll find a little of everything out during and after the meal: red wine, mosto (a wine typical of the fall and winter season), beer and cava, the Spanish version of the French champagne. Eating grapes at New Years is also a tradition.
Spending the holidays in Sevilla is wonderful, but you may find yourself missing some of the traditions back home. With a little work and knowledge you can recreate some of those traditions as we've done. While not always the same we've managed to celebrate both the American Christmas and Spanish Reyes without too many problems, other than a large turkey dinner on the 25th, just after stuffing ourselves the night before. So below are some of the ways and things we've done to make both holidays work


The Tree
Trees are becoming more and more common, but most Spaniards buy the plastic variety, of which there are many to be found in El Corte Inglés and other stores. To get a real tree it's best to check with a floristeria where they often have a couple tucked away somewhere. Unlike in the States these are already twined up and ready to take home. This leaves you guessing about the state of the tree's fullness. Trees also generally come "roots and all" and instead of buying a tree stand you buy a pot, or maseta, and a little soil and plant the tree. The floristeria in the Alfalfa sells trees as does the one on Menendez y Pelayo close to the Puerta Carmona. Another location is Floristeria Manolo close to the market in the Encarnación.


Decorations and Lights
You can find the most decorations and ornaments in El Corte Inglés in the Magdalena on the basement level, although most are fairly ugly in my opinion. La Yunta, relocated on c/O'Donnell, has a lot of ornaments and decorations and some of the more tasteful some items are quite expensive. Casa, just on the corner of the Plaza de la Gavidia, also has some ornaments as well as plenty of holiday theme decorations. We've had luck in random home decoration and accessory stores as well as a few of the dollar type stores which you'll find here and there in the center. Again, El Corte Inglés offers the best selection of lights, although some of the electric supply stores also offer a decent choice.


The Dinner
Having an oven might be the most of your worries when it comes to a traditional Christmas dinner. Depending on your family the traditional dishes may vary, but we've had no problems repeating the tradition with turkey, stuffing, mashed potatoes, sweet potatoes and a host of vegetables. A good pie can be made or you can simply replace it with a tarta from a bakery.


The Gifts
Shopping for gifts is quite easy in the center. My favorite places are all in a very small area in the center. Intermon, located on c/Mendez Nuñez is a place that will make you and the person you give your gift to feel good. Local art, accessories, jewelry, food and more from countries and people in need. All goods come from areas and shops where they have certified the working conditions and pay to be of good standards. They make sure the money you spend goes back into the hands of those who make it. Aside from that the items are unique and reasonably priced. Really cool stuff here! After that I make my way to the markets in Plaza Duque, and Plaza Magdalena. When open the Feria de Belenes in Plaza San Francisco and the Mercado de Artesania in Plaza Nueva (both listed above) are great places to get something original or holiday ornaments for gifts. Venturing further out to Triana you can find some great little ceramic shops behind the market which offer lots of great typical gifts at a decent price. Shipping those gifts abroad is quite expensive, so you may have to get your shopping done early or as we do many time order online in the U.S. and have things shipped directly to our relatives. While they may miss out on the typical gifts from Sevilla it will save you a bunch and gives them an excuse to come visit you. For more gift ideas check out the shopping section.
Finally, there is always a lot of talk about the Loteria de Navidad, and while technically not the Christmas lottery, well, you just have to mention Pancho and the Primitiva when it comes to any lottery. A series of television spots have been produced about a dog who abandons his owner after winning the lottery. Below is a collection of my favorite spots from youtube: