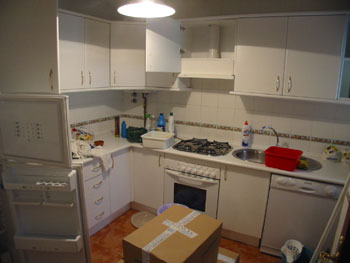 Welcome to my living in Sevilla section, dedicated to those of you who have sent me many questions about some of the practicalities of living in the city. Some of this information is a result of my experiences while a lot comes from others who have emailed me some helpful tips. This section covers some of the basics, but you'll likely find a few other sections to be of help. I'd recommend taking a look at the money, mobiles phones, internet, move to Seville and conversions sections. This section was just launched so soon I'll be adding some more information and links. I always welcome input from any of you out there, especially those who have made the move and would like to share a little of their knowledge with the rest of us! Above is the kitchen of our second apartment as we moved in.
One of the most difficult tasks can be finding a suitable apartment or living situation once you arrive. You may be looking to live on your own, with roommates, or a Spanish family. All are possible, with different degrees of difficulty and there are plenty of services which will help you locate housing that's right for you and all come at a price. Note that the summer months of June and July are good times to search, while September and the winter months may offer less options. Still, temporary accommodations such as a cheap hostal may cost much less in the winter, thus making it a better time to make the move. Some suggestions are below for sites, classifieds and more which will help you get settled in:
While you begin your search

While maybe not ideal a cheap hostal can provide you with affordable housing while searching for a more permanent solution. You may also have some luck negotiating the price down in some places if you plan to rent for a month. A few suggestions for cheaper accommodations:
Hostal La Montoreña(Santa Cruz) - prices start at 20€ per night for a single in the off-season. Some of the rooms have been recently renovated. The hostal also offers a few small studio apartments for the price of a double room in many hostals.
Hostal Catedral(Santa Cruz) - prices start at 25€ per night for a single in the off-season.
Huespedes Arguelles (c/Alhondiga) - prices start at 20€ per night for a single in the off-season.
Youth Hostal (c/Isaac Peral) - further from the center but clean and modern.
Private Youth Hostals (Center) - recent additions include Sevilla Urbany and Oasis Hostal. There is a third on Avda Menedez Pelayo. Cheapest options are sharing rooms.
Another idea which may lead to long term housing are shared flats, which you can find through other sites such as

sleepngo.com

(recommended) and

roomates-sevilla.com

, which for a fee will help you locate a housing option according to your needs. They offer a variety of options which can include: shared flats with other foreigners or Spaniards, housing with families including meals or your own apartment. Let them know how much you want to spend and how long you'll be staying (short to long term options) and you'll get a chance to move in right away or meet with your possible family or flat mates before deciding to move in.


Where and how to search

Your best option when searching in Sevilla is the

El Cambalache

, which publishes classifieds for just about everything three times a week. It costs around 2€ and can be purchased at almost any newsstand. The website gives you listings and prices but does not provide contact information, and it is much easier to search in the print version. You always place an ad through the paper if you are looking for a specific living situation. El ABC Sevilla also publishes a weekly classified section with plenty of apartment listings. The website

Tucasa.com

also has listings for Sevilla and other cities, including house sales as well as rentals. Finally walking around town and looking for "Se Alquila" signs with phone numbers and start calling. We found two of our apartments in different ways - calling off a number on a sign in the street and through the classifieds in the ABC classified section.


What to consider in your search
The area:

Identify the area you want to live in to narrow your search. I won't recommend specific places as each person has their own needs. Factors which should come into play are proximity to where you work or study, proximity to nightlife or areas you frequent, plus typical cost of rent. For instance, some areas such as around the Alameda, will likely be significantly cheaper than living in Santa Cruz. This may take some time to decide, and if you are able to live somewhere for a few months before you find a long term apartment this is the best. Start looking exactly where you want to live first, then if it becomes difficult start looking further out or in your second choice area.

Once you see an apartment you like try a more detailed inspection of the area. Pass by several times if you can: during the morning, the afternoon and later at night. How much noise is there at these times of day? Is there a bar open late at night below next to the apartment? Is it a scene for the weekend

bottelón

? What type of people are walking around in the area? Does it feel safe to you?


The apartment
Identify the characteristics you want in your apartment: Do you want a window or balcony on the street? In most cases this means more expensive and can also mean more noise. Do you want a

bajo

(ground floor) or a first or second floor? A

bajo

will be less expensive but likely be noisier, especially if on a street. Do you need air conditioning? Heat? How many bedrooms? Separate or larger kitchen?
Make a list of everything you want and then prioritize. Write down every detail you can think of.

When you are looking at the apartment itself make sure you ask plenty of questions and have your list handy if possible. Some things to think about, depending on what your list may have on it:
Stove: Does the kitchen have an oven? Many don't. How many burners does the stove/hob have? Does it use city gas or does it use cylinders? In the case of gas cylinders you will have to get refills – they deliver but it can be inconvenient if you run out. Is it vitro cermanica? This is a glass/cermic top which requires special cookware. If you are bringing cookware with you make sure it is safe to use on this surface or you will have to buy it new.
Refrigerator: What size refrigerator do you have – a smaller size with no freezer or a normal size? If you are sharing the apartment with several people will this be a problem? If you like to freeze meats or foods and have a freezer only big enough to hold an ice tray it may not work for you.
Kitchen furnishings: What type of kitchen ware, plates, etc. are provided?
Air and heat: Is the air conditioning central or are they individual room units? Are they where you would want them to be, or only in the living room, or just one bedroom? Is there heat? Many apartments don't have heat or rely on the little heater you hide away under the dining room/living room table. Is it electric heat (more expensive) or gas heat (less expensive, also less likely in Sevilla)
Hot water heater: What type of hot water heater does it have? If you it heats water with city gas then you will always have hot water. If it's electric what size is the tank? A smaller tank with more than 2 people can mean cold showers for some? A smaller tank for just two people can also mean cold showers for the second person!
Furniture: What type of furniture does the apartment have? A lot have cheap/poor quality furniture.
Beds: What type of bed(s) does it have? Very important if you have an inflexible owner who won't change the beds or allow you to buy your own. You will have to sleep on it every night, and many mattresses in rental apartments are of poor quality.
Your belongings: If you have your own furniture or want to buy something would the owner move the existing furniture? Many have no place else to put it or simply don't want the hassle of moving the furniture.
Decoration: does all of that ugly stuff fit into a closet or some other place? What can you live with? We gave up one place because we knew the large dear heads wouldn't fit anywhere and the quantity of really, really ugly furniture and decorations was just too much. We would have filled the entire second bedroom with it.
Washing machine: Does it have a washing machine? Almost all apartments do and make absolutely sure yours does. It is expensive to wash clothing at a laundromat, and there are very few in Sevilla.
The building

Once you are looking at the apartment take into consideration a number of things about the building:
Neighbors: What are your neighbors like? Hard to tell on the first visit but you may be able to get an idea, or simply ask the owner/agency. Are their mainly older couples? Students? Families with children? Loud children?
Size of building: How many apartments are in the building? Will you have a lot of neighbors or just a few?
Roof top: Is there space on the roof to hang your laundry to dry? Is it open to everyone or do people have assigned spaces to hang their laundry? I always like to see the roof of the building to see what space and views there are. Sometimes it's just curiosity.
Television: Does the building have a community satellite dish so you can subscribe to satellite television? If not can you have your own individual dish installed?
Location in the building: Is the apartment close to the entrance of the building? If so you may have more noise as people come and go.
Elevator: Does the building have an elevator? If you live on a higher floor or have to hang your laundry on the roof an elevator is a plus. Trust me, you will tire quickly of climbing several flights of stairs in either case.
Renting your own apartment

If you want to live more independently renting your own apartment may be the best option. A few things to consider if you choose this option.
Deposits: 1 month's rent is normally required for an apartment, with 2 months being common for some furnished apartments. If you plan to move at the end of your lease (and assuming you have no damage to the place) it's customary for the owner to use your deposit towards your last 1 or 2 months rent instead of refunding it to you at the end of your stay.
Utilities: For many utilities you should open a bank account for automatic drafts. Note that most utilities, except for some internet and cable/satellite services, will charge you every two months.
Furnishings: Most apartments come furnished in Sevilla with most major appliances included. Generally a small amount of cookware, plates, utensils and glasses are also supplied, although in most cases you shouldn't expect anything special - those dollar or 20 duros stores are frequented by landlords searching for kitchen wares.
Agencies: If you use an agency or inmobilliaria to help you find an apartment expect a finders fee, anywhere from 50-75% of a month's rent.
Income Verification: Be prepared for the landlord to ask for a nomina (much like a check stub from your employer), showing your monthly income. Some may require an abal, a certified statement from your bank which acts as a guarantee for payment of rent. If you have enough money in the bank or show steady income you won't need this. If you have none you can pay a monthly fee, like insurance, to the bank and they will issue an abal to cover you.
Does it seem impossible to get a place if you've simply saved up enough money but don't have a steady income? Well consider my friend who found a one-bedroom studio in the center for 300€ per month including all utilities. He paid no deposit and didn't provide any proof of employment or income. How did he do this? Through a friend -

social capital

!