With this unique funds transfer service you can send money for free and immediately to Citibank accounts in the USA, Europe, India, and Singapore1.

You can transfer up to £10,000 in Sterling or in the currency of the recipient account every day (please note that some countries don't allow you to transfer this amount). The service allows you to view the exchange rate before you complete the transaction.

However, there is no daily limit to the amount you can transfer between your same currency Citibank Accounts linked to a Citibank Card.

Please Note: In certain circumstances – for example, if you are making a withdrawal for a large sum of money – we will contact you to confirm your request before processing it. This is to maintain the security of your account and is designed to protect your interests.

Citibank Global Transfer is available through Internet Banking and Citibank Card Banking Centers (located within UK branches of Citibank), 24 hours a day, 7 days a week. The only time it is unavailable is during system updates.

Citibank Global Transfer also allows you to instantly exchange currency between your accounts at competitive rates.


España y America: Un Océano de Negocios
500th Anniversary of the Casa de la Contratación
Location: Casa de la Provincia.
Dates: December 11th - March 1st

A truly wonderful collection of paintings, drawings, sculpture, naval instruments, coins and much more, all documenting how the old and new worlds related to each other during the 16th, 17th and 18th centuries. For almost 300 years the Spanish monarchy organized their plans for controlling and directing the New World from the Casa de la Contratación. Works come from all over Spain, including the Prado in Madrid, Museum of America, Indian Archives and the National Library. Paintings on display include those of Goya, Zurbarán, Valdés Leal, Van Loo, Juan Pantoja de la Cruz and many others.
Miguel Pérez Aguilera: Última Década
Location: Monasterio de San Clemente.
Dates: December 12 - January 11th
Born in Linares but living most of his life in Sevilla Pérez Aguilera is one of the most important vanguard artists in Sevilla. Pérez Aguilera continues to produce magnificent works at the age of 88. Working from his studio on Calle Asunción in Los Remedios, Pérez Aguilera has dedicated most of his time in working on smaller paintings. This exhibit covers some of his larger size paintings which are full of color and texture, continuing his unique form of abstract art.
Modigliani in the Heart of Paris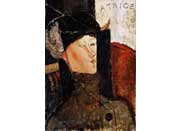 Location: Sala San Hermenegido, next to El Corte Inglés in Plaza del Duque
Dates: November 4 - November 29




If you see one art exhibit this month make it this one - and best of all it's free! While the focus is Amedeo Modigliani, the Italian born painter who died prematurely at the age of 36, the exhibits purpose was to bring his works together with many of his contemporaries. Included in the exhibit are works by Picasso, Marc Chagall, Juan Gris, Diego Rivers, Max Jacob, Moïse Kisling, Tsuguharu Foujita, Nicolas Tarkhoff, David Seifert and more. Lines over the weekend were a little long, maybe 10-15 minutes, but it's worth the wait.
El Giraldillo



Location: Reales Atarazanas
Dates: October 22 - December 21

If you've been to Sevilla over the last four years and thought you saw the Giraldillo (the weather vane woman standing atop the Giralda) you're likely wrong: that was a copy! After 600,000€ and four years El Giraldillo has finally been restored and is ready to perch above the Giralda again, with the Archbishop's blessing of course. Unlock a little of the mystery of Sevilla's most famous "woman" and see the process of restoration as it was documented along the way. Reales Atarazanas is located next to the Hospital de La Caridad near the river. I liked this exhibit more than I thought - great place to see it, too.
I love Seville. I always called it Sevilla until I started this page, so forgive me if I go back and forth with the spelling. After visiting several times and telling everyone I know for 10 years I wanted to live in Sevilla I finally decided to do it. I sold most everything I had, packed up what I could and came here with all my savings. If you want to see what everyday life is like in the city (or at least my everyday life), check out the daily entries section below.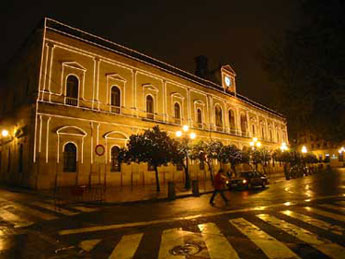 The Cathedral from the Patio de Banderas
I began to research Seville tourism and travel information on the web. I found some good sites but none that mentioned the bars and restaurants I frequented nor the hotels and hostals where most people I know stay. And while these pages offered tourist information about attractions, sites and culture in Seville (certainly helpful) they often didn't offer travel advice or insight into how things really work or the cultural differences you should expect.
This is where I think you'll find my site helpful. Along with some basic travel information and recommendations I've tried my best to offer advice about the differences in daily life you'll encounter and the obstacles or issues you may face during your stay in Seville. I hope this helps you spend your time discovering what Seville has to offer and worrying less about making all the little decisions. I hope you'll have a great vacation, study experience or extended stay.
dayphoto - Curro mascto
Over 10 years ago and this little fellow lives on. I still spot Curro, the official mascot of Expo '92, in a few places - as part of a childrens ride outside a supermarket, on a few bumper stickers and in the Plaza del Cabildo on Sundays where people collect pins. I won't pretend to know the details of his origin - I still don't know what Curro is exactly, but I think some kind of animal. A bird perhaps?
Penas Flamencas:
Peña Guitarrista "Niño Ricardo"
c/. Monte Tabor 3 (local), Sevilla
Presidente: Antonio Bonilla tel: 954 635 222


Peña Flamenca "Torres Macarena",
Torrijiano, 29, 41009 Sevilla

Peña Flamenca "La Fragua de Bellavista",
Calderos, 30, 41014 Sevilla
tel: 95 469 14 52

Peña Flamenca "Cerro del Aguila",
Maestro Falla, 5, 41006 Sevilla
tel: 95 463 10 77

Peña Cultural Flamenca "El Choza",
Ricardo Palma, 133, 41006 Sevilla
Peña Flamenca "El Manantial",
Sebastián Llano, 8, 41011 Sevilla

La Marcha by barrio
Centro/Cathedral Area/Santa Cruz
Another place you're likely to find some nightlife is the section next to the Cathedral and leading up Calle Argote de Molina. You can start at Flaherty's Irish Pub for a true international experience and to mingle with people from all over the world. Drink specials, student nights and all kinds of beer on tap and a number of bars make Flaherty's a popular watering hole for travelers. Just up from Flaherty's on c/Argote de Molina you'll run into a lively little scene in La Subasta as well as Antiguedades, which is filled with interesting art, including macabre masks and dolls hanging from the walls and ceilings, making it a good stop for Halloween. Just up the street you'll find L'Image, an Irish bar that isn't and Irish bar but offers 3€ mixed drinks and is often filled on the weekends. On a side street, Calle Placentines, enjoy Tex Mex food, Budweiser and plenty of televisions to take in an NFL game or soccer match. They offer specials such as 10€ all you can drink Cruzcampo (beer) two nights a week, plus the Oscars, Friends and other programs in English, catering to the American crowd. If you head towards the Puerta del Carne and then make a left ask around for La Carboneria, one of the most famous bars in Sevilla for it's nightlife, flamenco and local artists. Literally where you used to buy coal to keep those stoves going back in the days, it's now a great place for summer or winter nightlife where you can take your choice of bars in the rustic looking front or the larger patio in the back.
Arenal to Plaza de Armas
Between the Cathedral, Plaza Nueva and the shopping district towards the river is Arenal, Reyes Catolicos and the Plaza de Armas. You'll find lots of action starting on Calle Zaragoza behind Plaza Nueva with El Bestiario, a bar de copas and discoteca. Just down Zaragoza heading towards the Cathedral is Cerveceria Internacional offering some 300 beers from around the world. Between Calle Zaragoza and the Plaza de Toros check out Calle Pastor y Landero where you'll find a Scottish pub called The Clan as well as plenty of other bars down the street. Wander around Arenala little and you're bound to encounter some nightlife. Crossing over Reyes Catolicos, the main drag that leads to the Triana bridge you'll find Marques de Paradas and some fun places like Bauhaus, which offers copas and a DJ. Across the street is Nu Yor, a nice place where you can sip mojitos and other exotic drinks while listening to live Cuban music every weekend. They also have flamenco nights and a VIP room upstairs. Somewhere around here you'll find Guadi, a disco in a Gaudi inspired tiled interior. Just down the street to your right is Merchant's Malt House, a two story English pub with some different beer at the two bars and some cozy couches upstairs. In the Plaza de Armas Centro de Comercio (Mall) you'll find La Fabrica, Sevilla's only brew pub.
Alfalfa
If there's one place that's always going, even on a Monday night, it's the Alfalfa are on a street called Pérez Galdós. Here you will find a number of bars catering to nightowls offering everything from shots, to beer and some exotic mixed drinks. Sopa de Ganso (mixed drinks and music), La Rebotica (cheap shots, shots and more shots), Berlin (mixed drinks, brick interior and often rock music playing), Cabo Loco bar (some interesting and exotic mixed drinks) are just a few. At the end of Pérez Galdós you'll find c/Ortiz de Zuniga and Bar El Cubanito as well as the Mini-Bar. A few blocks from Pérez Galdós is c/Siete Revueltos where you'll find El Mundo with a front and back bar offering a darker and more alternative atmosphere. Heading in the opposite direction of Pérez Galdós in Plaza Alfalfa you'll find a few other hotspots. In the Plaza de Jesus de la Pasion and Calle Cuesta del Rosario look for Bar Cuesta which offers mixed drinks and has a DJ. Just next door is Catedral, a smaller disco if you want to dance a little. Down Cuesta del Rosario you'll find Plaza Salvador with two bars that cater to the beer drinking crowd earlier in the evening. La Antigua Bodeguita was just renovated and gives you two bars in one - take your choice for where you want to order. Next door is another bar similar in style. Both offer up tapas, some of the best olives around and of course cold beer. These are also popular spots on weekend afternoons where the crowds spill out into the plaza.
Alameda
From Calle Amor de Dios to the plaza itself the Alameda is probably the heart of Sevilla's alternative scene, however don't let that fool you as you'll find a good mix of people from pijo to earthy. From places with live music to copas and cheap beer you'll find alittle of everything. There's also always a lively scene in the dirt plaza itself, including people enjoying the botellon scene to the occassional live band on warmer nights. Alameda is also the center of the gay scene in Sevilla. While there are a few bars for men only, many of what they call "gay bars" in Sevilla really offer a mix of people and everyone is welcome. Fun Club is a great place to take in a live show and has a lively alternative scene, while La Habanilla is know for it's crowd of local artists and performers. Naima offers you plenty of jazz to soak in. Like Calle Betis once you get there you'll have no trouble finding a bar where there's something going on.
Santa Catalina
My favorite stomping ground offers some great nightlife options. Although not technically Santa Catalina, I'll start with Cafe Lisboa, where you can take in anything from a solo folk act to a night of blues or rock by a local band. Making your way down to Iglesia Santa Catalina you may find the best place to start your evening out at El Tremendo, a hole in the wall cerveceria where you can order some of the best, coldest, and cheapest beer in town. People spill out into the streets at tables (no chairs) with their beer and munch on peanuts, mojama, and chips while catching a glimpse of Curro, the neighborhood dog who is there every day. Next door there's another cerveceria that gets part of the action, as well as an Irish pub offering some different beers. Just around the corner in Plaza de los Terceros you'll find El Rinconcillo, Sevilla's oldest bar and a place you must stop by when visiting. They offer cheap beer and good tapas in a great atmosphere that will take you back at least a hundred years. Dosn Calle Gerona is "bbbbb" a cultural association that's also a bar where young artists display their art upstairs in 4 salons which change each month. Downstairs there is a bar and small dance floor where electronica is often the music of choice. Down from Plaza de los Terceros are two bares de copas - El Perro Andaluz where you can catch live music on almost any night, and La Cara B, a mellow joint for a mized drink owned by a former local musician.
Calle Betis
Maybe the most famous scene, especially during the summer. But don't let that keep you from making a trip in the colder months when the bars are quite lively as well. Start at one end and make your way down to the other to experience everything you can. At bars like Lo Nuestro you can take in a little flamenco, while at Fundicion get your fill of Americans and other foreigners, sometimes mingling with Spaniards. Alambique is often packed for copas, while Boss is the discoteca of choice on this side of the water. A few places offer Agua de Sevilla, which is quite a drink (served in pitchers) if you're up for four kinds of liquor, champagne, pineapple juice and whipped cream. There's almost a bar every 20 feet, so keep making your way down the street until you've had your fill. There is always some weekend action just a few blocks from Calle Betis, including Burbujas, which offers champagne drinks served in little pitchers (see how far you can get the pitcher from your mouth while still drinking), La Taberna with great improvised flamenco shows and some teterias where you can sip mint tea in a middle-eastern atmosphere. Pub Madigan's in the Plaza de Cuba is also a popular Irish pub.
La Florida to La Buhaira
Getting a little further out of the center there's some great nightlife heading out to Nervión. Leaving the Puerta Carmona and heading out Luis Montoto on the first block you'll find a little "metal bar" with a Carlsberg beer sign out front, the perfect place to dress in black and mix with the crowd which spills out onto the street. Just around the corner on La Florida is Metropol, part discoteca part bar de copas which stays open very late - expect bouncers at the door "screening" clientele. Heading further down Luis Montoto a few more blocks and you'll run into Bar Jota, another famous small cerveceria where the beer is cold and the people spill into the streets. Behind Bar Jota on paralell streets are a number of late-night discotecas including Luisiana, Garufa and El Sitio, where there's always a line after midnight. In the plaza next to Luisiana there's also a lively botellon scene - one of the older crowds enjoying a botellon that I've seen.
Terrazas de Verano
In the summer time you'll see most of the action move to the river and other outdoor bars or terrazas. In the winter these places are mostly dormant. Babilonia is Goa's summer bar located in Los Remedios on the other side of the Feria grounds. Lines are long and be prepared to be turned away. Once inside enjoy a Moroccan atmosphere complete with bartenders dressed in white, hookas, couches, a dance floor under some palms and a lot of people looking to hook-up for the evening.
Si quieres ambiente selecto, ve hacia las terracitas de "Delicias": "Chile", "Alfonso" y "Bilindo". Chicos y chicas guapas, dificil acceso (sobre todo esta última).
Si te gusta la musica en español, "Latino", una terraza sin portero. Sí, has escuchado bien. Entras hasta descalzo. Y el ambiente es perfecto.
Viapol
Viapol during the day is a business and commercial center. At night the bars open up, making it a popular spot for nightlife. If you're in the mood for a little Irish atmosphere O'Neill's Irish Pub is a good place to start. A large church organ stands as the centerpiece downstairs. Wall Street is another place freuqented by the university crowd, and offers a student fiesta de intercambio, or Exchange Party as they like to say on Thursday nights starting at 11pm. Here international and Spanish students can mingle while enjoying drinks and music. Marbella, serving tapas and more during the day, is also part of the regular nightlife in Viapol. At night the bar opens up where you can order a copa and of course, dance. Or check out Sunflower below for a lively atmosphere. Voulez-Bar is another great place in Viapol to get together for a drink with friends and at times catch some live music.
Nervión
Marbella
c/ José Recuerda Rubio Ed. Viapol 954 65 10 11
Cuando cae la noche, los cafés y tapitas se esconden y aparecen la buena música y los vasos largos. ¿Se carga el ambiente? Sin problema: te sales a la terraza.
Sunflower
c/ José Recuerda Rubio Ed. Viapol 954 65 10 11
En los bajos del Marbella se encuentra este colorido y luminoso local. Gran ambiente aunque eso le puede hacer algo agobiante en algún momento.

Cyber cafes:
Ciber Thanalot
(Alameda - c/Calatrava 2)
Ciber Thanalot
(Triana - Virgen de Fatima 9)
Internet access, scanning, CD burning, chat and webcam. You can also buy calling cards
Cyberama
(Macarena - c/San Luis)

Small outfit with internet access close to the church.
Sevilla Internet Center
(Centro - Arenal - c/Almirantazgo)
Just across from the Cathedral off of Avda. Constitución offering internet access, fax and calling cards.
Internet access in a Souvenir Shop
(Centro - Centro - c/Avenida de la Constitución)
A souvenir shop with internet access on the first floor.
The Planet Internet
(Macarena - c/San Hermenegildo)
A bar with internet access.
Inter......
(Triana - c/Evangelista)
New internet cafe opening up.
Ciber Bécquer
(Macarena - c/Bécquer)
internet access and more
Cyber Café Tornet
(Torneo - c/Torneo, 35)
Food, drink plus internet access, printing, scanning and phones for calling home. They also help with computer problems.
Locotorio
(Triana - c/Trabajo)
Internet access in a locutorio, of course with calling cards and phones.
Locutorio
(Centro - Santa Catalina - c/Jose Carrión Mejias)
A few older computers in another hole in the wall locutorio where you can also make phone calls and buy calling cards.
Ciberxion
(Centro - Santa Catalina - - c/Jose Carrión Mejias)
If online gaming is your thing come here for game tournaments and more. Internet access for those just wishing to surf or send an email is also available. Located right next to an instituto, or highschool, it's a younger crowd.
Festival de la Inmaculada Concepción