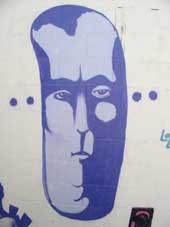 Street Art
Past Photos of the Week
A change from some of the graffiti you'll see around the city, this is part of a small wall mural on a narrow street between the Alfalfa and Santa Cruz.
Some of these are still works in progress, but I'd rather show what I've been doing in raw form than keep it idling here while I drive myself crazy getting it ready for a "launch".
NEW: review of Spain and Sevilla travel forums.
Here you'll find some useful information about Sevilla. Some of my general observations have been put together to help you understand some of the quirks and differences of life here. Some conversion information on the Euro (€), kilos, commas and decimals should come in handy as well.
I've also included sections on transportation, shopping and nightlife (la marcha), as well as where to buy food when you're sick of eating out.
I know I can't cover it all when it comes to Sevilla, and with this collection of recommended books and some helpful links I hope to assist those of you looking for more information on some specific topics.
I frequent many bars and restaurants here in Sevilla hoping to find a few surprises, hidden in the back alleys. There are a few listed here that you'll find in guidebooks - they are quite good after all - but many you won't.
These are places where actual Spaniards eat, so don't expect a lot of English when you go.
Except for a few marked with "$$" these are affordable. I don't make any money with this page, so my dining out is generally on a realistic budget, not a guide book budget.
Every dish listed is a recommendation, and I have tried every one of them. I don't weigh 300 lbs. yet, but I'm working on it.
I'm not taking any advertising money (yet) so these are all fairly impartial.
Here you will find several reviews of restaurants and bars in Sevilla. This list will continue to grow as my stomach does.