Sunday, April 13th "Rain, Semana Santa and the Betis game (Que cara)"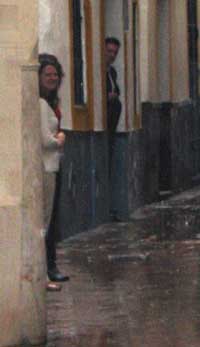 Tried to see some of Semana Santa today but the rain began around 2pm, just when we left. Every paso was canceled for today, and every bar was full of people trying to keep dry. After 30 minutes of walking we found ourselves in Casa Diego on one of the main avenues here. Had a beer a few sandwiches while we waited for the rain to stop and then headed back home. On the way bought a pollo asado (roast chicken) at the Palacio de Patatas (Palace of Potatoes, where of course el rey de patatas lives).
Betis was playing Celta, who happens to be 4 points ahead of us in the league table. Promised to be a good game, and I headed to an Irish Pub down the street instead of the Tex-Mex bar where we generally watch the Betis away games. After 20 minutes I finally found a table, and a few minutes later Angel showed up for the game. Although they had a sign saying the game would be televised there (Pay Per View event) they informed us at 6pm - when the game was supposed to start - that they decided not to purchase it today. After a few unfriendly exchanges with the bartender/owner (aka: asshole) we ran to the Tex-Mex bar to watch the game. Result: 1-0, Betis lost. Funny that we scored more goals than Celta, both of which were taken back although both were clearly goals.
Ended the night with the second half of "Braveheart".
No links for today.