Thursday, April 22nd "Marbella!; A trip to the States"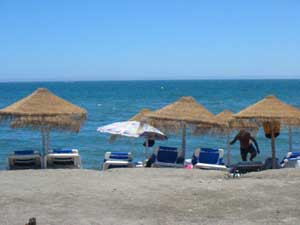 After more than 6 months thinking about it we're just a day away from leaving for Marbella. Well, at least outside of Marbella. Between Semana Santa and work - many projects going in plus this page - I am ready for rest. I will not be updating this page for a week starting Saturday morning. Nor will I likely be responding to emails. The few unlucky souls who have my mobile number can call me, but I really hope they don't! We will be spending time on the beach, near the beach and around the beach with a possible day trip away from the beach in the plans. Seafood and Cruzcampo will be abundant with a little sleep somewhere in between. No discotecas of any kind will be visited. A jacuzzi will.
This year I head back to the U.S. for a wedding in PA. Afterwards I have 10 days for visiting my lawyer, my accountant, paying bills, sorting mail, moving furniture, checking on a house in Charlotte and maybe seeing a few friends. Then on July 1st I leave for Murrell's Inlet, SC and an annual (except for last year) 4th of July fishing trip. With the Simpson brothers as my partners in crime we will spend most every day on the boat and the rest of the time in an low-budget shack with a giant kitchen table and a small screened in porch with vinyl furniture. Things to look forward to include crashing the 4th of July boat parade, a dinner at Russell's, some long conversations on the porch with cheap canned beer, early morning rises with weak coffee, shopping at the store owned by the "...who knows how to get things from time to time", a visit to Cedar Hill and did I mention the fishing? When I miss the States I miss my friends and I always miss this trip. So this year will be a good one.
So it sounds like I am doing well - earning good money, no? But you and I would be very wrong if we thought so. Let's just say some things are worth blowing some of your savings on. That and there is a cheap flight running most of the summer - 450€ round trip from Madrid to Charlotte (through Munich)! And the Marbella trip is a family sponsored event. And you have to have faith - more than one year hear means I'll be ok one way or another, right? Or maybe I've learned a little something from the people here - slow down, take a vacation and everything will be just fine when you get back.