Wednesday, September 3rd "Travel in the U.S. and Canada; Getting back to Seville; Betis game"
We made our way back through a hellish flight from London. Obnoxious girl behind us would not shut up and a 2 year old who cried 90% of the time. Food was awful (service even worse) but they let me back in the country without a problem. Have a limited amount of time left on my tourist visa yet again but I'm getting used to it.
Coming back is always nice and leaving the states is always difficult. We managed to get caught up in the blackout in a town (or city? we couldn't see that much) in Ontario called Barrie. An hour north of Toronto we pulled in from driving 3 hours through the blackout without knowing it. With the fuel light on we found a gas station as the sun was going down and thought we may be stuck for a few days. Watched the police chase a looter and firemen arrive to a false alarm before a kind taxi driver told us where we could find some gas. Made our way 20km outside of town following his directions, realizing if we didn't find gas we didn't have enough to get back to where we were before. We were lucky and got enough to get us to Toronto where the power finally came back on. If you ever get stuck in something like this live your life knowing there are three basic commodities: gas, cash and food. If you have none of these be prepared to suffer.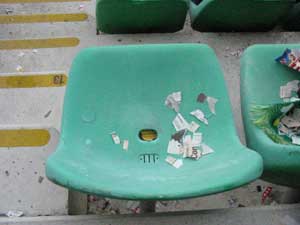 Also be prepared to suffer your last week in the U.S. before departing for Spain, or any country for that matter. Your first week of vacation goes so slow and the last one so quick. Plans pile upon plans as you try to take care of shopping, your personal stuff (like taxes and medical insurance), see friends and family. Then take another half day just to pack. By the time you're on the plane your half-dead. Then arrive in Seville the next morning, try to unpack and stay awake until nightfall. What you have is a recipe for feeling like crap.
Now one day into my travel hangover I have to start working - some on this page and of course the rest on what actually pays the rent. Seeing all the folks in the neighborhood makes me realize I'm home, even if I still feel like I'm living in a dream world - no sleep makes it all a little surreal.
Now 2 hours away from my first Betis game of the season. We play Espanyol and it's the first home game. The crowd should be a good one and it's the first chance at getting some points in the league table. Above you can see my seat - hope it's still there when I get there tonight and still in good shape!