Monday, January 12th "Happy Birthday Mom!; 5 hours of Americana"
I know mom, I'm a day late, but I did send a card! Anyway, happy birthday!!
Saturday night was NFL playoff night, and if you haven't heard it enough already my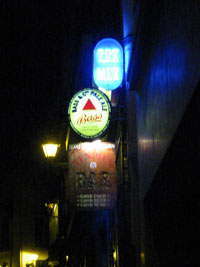 satellite receiver was stolen so half the reason I subscribed to satellite - NFL playoffs - is now looking like a bad deal. What to do when you want to see an American sporting event? The Tex-Mex bar, of which I have some mixed feelings. The prices are high, the food decent and on some nights it's a great place to be. Like this past Saturday. The bar was filled with Americans in the back room, almost all of them abroad students. A few others must have been travelers - a Panther fan and another fellow, one of whom I may have encouraged to go there in a travel forum. For those of you who saw the game you know it was a great one (if you were a Panthers fan) - double overtime victory with both sides sweating it out. Plenty of pints of Cruzcampo were consumed as I tried to calm my nerves. On to the championship and perhaps the first Superbowl? We'll have to wait and see.