Wednesday, February 25th "18€ rent; Betis-Sevilla"
How would you like to pay 18€ per month to rent a 1500 square meter apartment in the Patio de las Banderas, right between the Cathedral and the Alcazar in the middle of Barrio Santa Cruz? And if it was a little bit smaller,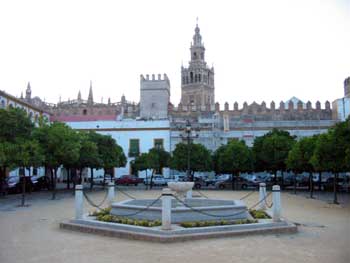 would you still consider it? Of course you would! So I'm sure you're asking: "Is this a joke?" No! You're next thought: "I want to rent one - can I?" No! Well, unless you happen to be in one of the families enjoying the rent control that's been in place since 1929 during the failed World's Fair. In those days the apartments were leased to people working on the fair and the rent has never changed. The government still owns the buildings and has tried, unsuccessfully, a few times to change the rent. Instead the tenants must keep the inside of the apartments in superb condition or risk losing the lease. Much like in NY or other larger cities with rent control these places get passed down to following generations. One day the price is bound to change, but for now we can all dream of living for 18€ per month in our palatial apartment in the center of Sevilla.
The derby is upon us yet again, and this time moving up in the league table for a position in the UEFA is at stake. The last match was well played, although to a 1-1 tie. Both teams have been playing better recently, although Betis' has shown more promise than Sevilla in the last 4-5 games. I'll be there but hiding my team colors on the way to the Benito Villamarin, (of, um Estadio Ruiz de Lopera), as I would recommend for any of you wishing to see the match. Especially so if you are a sevillista and in a small group. Keep your mouth shut and your team colors hidden until you get inside where there's some protection. That's not a threat, it's just reality and I'd say the same to a betico heading to Sanchez Pizuan for the derby.