Sunday, April 11th "Santo Entierro Grande; An awful game"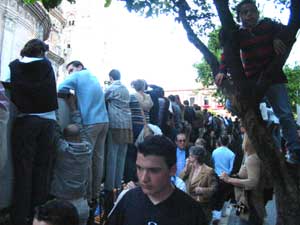 Part of this year's Semana Santa was Santo Entierro Grande, an event which happens only every 12 years. other hermandades participate with pasos and a few nazarenos representing as part of the procession of Santo Entierro each one. They join together around the Cathedral to make a short paso. While a wonderful thing to see it proved to be frustrating for many to get a good view of them all. Imagine the normal crowds of Semana Santa, then add a desire by many to see some of the pasos which did not leave due to rain, plus many others trying to catch what they missed during the week. Then to that add a small area, as in only around the cathedral, where you can hope to catch all the pasos together. What you get is a big pain in the ass, basically. And while we were luck enough to get a view for a while we had to move after our site line was no longer optimal and spent the next hour or so trying to find a place where we could see the rest of it. I gave up and went home, thus ending this year's Semana Santa on a Friday.
Today was spent sleeping in and then a Betis game, perhaps the worst one they've played all year. We lost to Mallorca, a team that's fighting to stay in 1st division, in a game that ended in the fans practically cheering for the other side. With Mallorca came Finidi George, a much loved player (at least in my opinion) during his time with Betis. Barcelona is coming up and there's no way we could play any worse, so that's a plus. A win is best for chances for the UEFA, a tie maybe keeps us in the hunt, although on the very outside edge.