Saturday, May 24th "Back in Sevilla"
Arrived back in Sevilla on Tuesday after a short trip to the US, and needed a few days to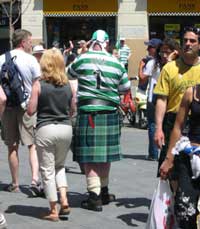 get back into the swing of things here. My flight from London was filled with Celtic fans arriving here for the UEFA Championship game. By the time we left Gatwick around 11:30am many had already put away more than a few beers, and I was rewarded with versions of every Celtic football song during the flight.
We were sad to see them go. Being a Betis fan it was wonderful to see the streets filled with green and white, and aside from the few fans passed out in the street they were a very friendly bunch. One bar here went through 300 kegs of beer in just under 2 days...
My plans are to make some serious changes to this page in the next few days.