Sunday, June 8th "Research or Diversion"
On Saturday afternoon we slept until 9:30pm and thus made it out late. We went to El Refugio for dinner, then stopped at a new Italian "Ristorante" down the street which had just opened. Real Italians in the kitchen but the seating in the bar area was awful - large barrels with no place to stick your feet and hard, wooden seats. We ordered a few tapas to see how it was - one was ok, but the bruschetta was pretty bad - tomatos and dried basil and oregano on a bad peice of toast. The platos coming out of the kitchen, however, look pretty good.
Afterwards we decided to stick close to home and experience some la marcha (nightlife) around the Alfalfa. Frist headed to Sopa de Ganso where we were welcomed with super-cold AC and expensive beer (2€ each) After one beer we headed down the street to La Rebotica, a hole in the wall offering some 50 shots named after people, concepts or disgusting stuff. Retro '80's tunes were on the video jukebox and soon a group of American, English and Spanish folks came plowing in. They, along with a a fellow who asked and successfully received cigarettes from anyone who entered, were our entertainment there. Beer is a little pricey as normal in a bar de copas, but the shots cost on 1,20€. No wonder the Americans liked this place. These are older bars, and not too fashionable anymore, but we had a good time.
After 45 minutes here we headed to El Mundo, a strange little club down a back street or two from the Alfalfa. Although it was 1:30am the place was dead. During the summer everyone heads to the river or to bars with outside seating. El Mundo is dark and there are no windows, so we practically had the place to ourselves. After one drink we decided to head back home. On the way two people on a moto stopped us to ask where El Carbonería was located. We sent them halfway around the center to get there and being slaves to suggestion we decided to check it out for ourselves. We took the shorter route and made it there in 5-10 minutes, laughing as we thought of the poor directions given to the folks on the moto.
El Carbonería is a bar full of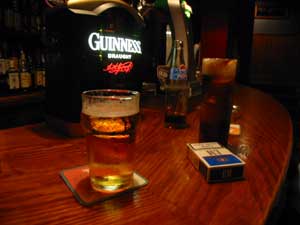 tourists along with a few Spanish possibly looking to meet foreigners. Inside there was music, flamenco guitar, singer and a dancer. As always here you struggle to hear the music a little while every 2-3 minutes a small group of the crowd tries to hush ("shhhhhhh!") the rest of the drunken patrons. It was hot as hell here, and the wait at the bar for a drink was 5-10 minutes. After finally getting our drinks we headed out back to the patio where it was much cooler. 20 minutes later with our drinks low we decided to finally head home.
We hit Bustos Tavera, our street, and were lured into El Perro Andaluz for one last drink. They need AC here badly. While the bar is a lot of fun and we are regulars it is extremely hot here. I can't even think what the place will be like in late-July or August, but I think they'll lose customers if they don't do something soon. At 3:30am we finally make it back to our place where there is much needed cold air and a bed.
I've decided I need to add a little section on nightlife, and while I certainly won't cover everything I'll try to list some of my favorite (and not favorite) spots. I also will start listing the live music at El Perro Andaluz.