Thursday, June 12th "Work and Play; Una Velá; AC and Electricity"
Sending this page through several revisions, including changes to the color scheme. Work has picked up, with the article in the paper about the new company having been released. An opportunity to translate a web site, as well as possibly mesh my page with a new hotel reservation system has got me putting in extra time, although most changes are not visible yet. A separate project - redesign for a study abroad page - is possibly in the works as well.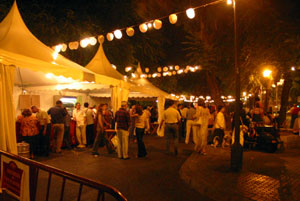 We will spend most of the weekend with friends and family, as well as head to the last Betis home game and pray for a loss by Athletic Bilbao and Sevilla FC, continuing the slim chances for the UEFA. We will also check out una velá, a neighborhood party of sorts, for Santa Catalina . They have blocked off a parking lot where they will have a tablao, for some some singing and dancing, as well as a covered area and a bar with many kegs of Cruzcampo. Lights have been string up around the trees and it will likely go into the early morning hours.
Yesterday there were power outages in the city, likely due to the 45° temperatures and everyone using their AC. We were happily unaffected and hope today proves to be a little cooler.
A link for today: