Thursday, July 10th "A day to reflect"
Sometimes the little problems I've mentioned here seem so big when I'm writing them. They seem very small today.
My Uncle Dave passed away. He was a character - always had a joke and his sense of humor never seemed to end. That's why I like this picture of him, in true Uncle Dave form: always joking around. He was a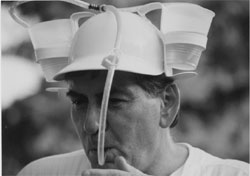 good guy, a good father, a good brother, and we will really miss him. I'll tell you right now it's hard being here and getting this news. We want to be around for everyone but our family is living in three countries at the moment. Grief over the phone is awful, and I don't wish it on anyone.
We all loved my Uncle Dave. There were at times differences between him and others in the family, like any family if you think about it. Nobody was right or wrong. Sometimes differences are just that: differences. Everyone always loved him and everyone knows those differences didn't mean a thing - not then and not now. He was a Spielvogel, a brother , a father, a husband and an uncle, and there is nothing better in this world than to be a part of our family. There were five brothers and sisters (and there are who knows how many cousins and grandchildren). There are four brothers and sisters with us now. We will all miss him. We are incomplete without him.
Our family is something we can all be proud of - where we came from and who we are is truly a blessing. Our grandparents came from Europe and raised five children and sent them out in the world with much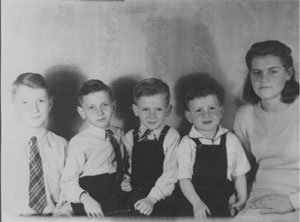 love and an honest foundation on which to live life. As the children and grandchildren of these five we should be truly thankful. We have a better life because of how our grandparents raised our parents and in turn how they raised us. Uncle Dave was an important part of this family, and someone we were fortunate and blessed to have known. I am glad for the years he was in North Carolina and thus closer to our family. I am glad for the years we saw him at the reunion. There was always more than a good laugh when he was around. He was more than just a character - he was good person who cared about all of us and we all cared about him. At the reunion this August I am sure there will be much sadness, but as well a lot of joy in thinking of his life and all the memories we have of him as our uncle, our brother, our father or our friend. We send our love to everyone, especially our Aunt Pam and cousin Kurt. While we are not there in person we hope they know we are in spirit and will see them soon.