Wednesday, September 10th "My first móvil; Getting things in order"
Bought my first mobile phone, or móvil on Monday. This may come as a shock to many of you who are already here, especially students who buy a mobile phone the minute they land in Spain. For me it was more to separate work from personal calls on my home phone line. And also so my family and others could actually locate me while in the street, where I spend a good amount of time. Getting work calls will be difficult because a) I don't have a real job yet - just pieces of different jobs which are helping pay the rent, and b) because I live in a rat hole. Well, it's nicer than that, but I live in a bajo or first floor apartment with only a window to an interior patio. Essentially a black hole for cell phone coverage. But my phone is cool - comes with games, WAP so I can connect it to my Pocket PC (though I doubt I'll ever use it for that), and a bunch of other stuff I'll never need like a calendar and the ability to download logos and images. It's small as can be, too.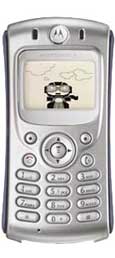 Makes me think of Ben Stiller's mobile in Zoolander if you've seen that movie.
A few things to note if you're going to buy a cell phone. First, check out my Basic Info page, and second there are some differences between the companies. Amena is crap for coverage. Vodafone has better coverage but is more expensive. Movistar (Telefonica) is the best with coverage and all the frivolous services but the most expensive. Also keep in mind calls from a mobile using one company to a mobile using another company are more expensive. That and if you aren't a resident you'll need to pick a phone using a prepaid tarjeta. The best thing here regards to all companies is that even if you have no money on your prepaid card you can still receive calls for free. You can even send a text message to someone to let them know that you'd like to call them back (if you missed their call) but that you don't have any money in your account to do so.
I did promise myself I would get a few things in order when I got back. My list was to buy a new seat for my computer, get a mobile phone (done), hook us up to the new Digital Plus (cable service) and find a new apartment. We need another bedroom when people visit and also for a home office, plus a window on the street. It's nice and quiet here but you have to wander out to our interior patio to see the sky. We get about 5 minutes of sun a day here, too. When you're working on the computer most of the day you tend to get a form of cabin fever that drives you mad....hahahahaha! I think I'm going crazy...