Thursday, September 23rd "A victory and being invisible; 4 days of sun"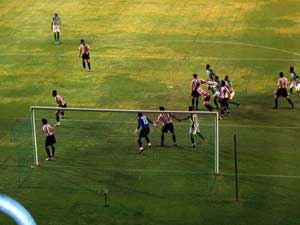 We headed out for the second home match of the season trying to keep any expectations in check. We came away with a win although the defense leaves much to be desired. After starting the season with a 1-1 tie at Numancia we lost 1-4 to Español with a number of defensive errors, allowing a goal some 30 seconds after closing the gap to 1-2. An own-goal kept us from a tie or win at Osasuna and placed us in the back of the pack in the league table. The At. Bilbao game proved to be a better match even if we had another let down in allowing another goal some 30 seconds after our first goal. It takes us out of the cellar and back into the mix, although there is a long season to go starting with this weekend's match at Deportivo, thankfully televised on Canal Sur so I can can watch from my couch. During the game I learned the rules, rather the lack of rules, at the refreshment counter in the stadium. Although I was up in front at the counter I apparently didn't order enough times or shout enough. I also failed to thrust my money in the face of the people serving drinks so I could get my order in. Forgetting the conduct of the crowded bars I ended up waiting almost 10 minutes while people behind and next to me got their orders filled. All this for a Fanta naranja that cost me 2,80€. I think I will sneak my drinks in from now on.
Finally today got the best of me after 4 days of taking photos of hotels, hostals, churches and various things in the street. Each day I was out around 10:30 in the morning and returned home around 3 in the afternoon, not the best time to be out in the street when the temperatures are high. Today I suffered from a combination of exhaustion, sun and just plain having my butt-kicked by too much walking. Tomorrow I hope for a better day.