Saturday, December 6th "A new client; Family in town; Christmas lights; Discovering some new places; Umbrete "
Aside from this page with which I spend half my life I do have another job developing and marketing web pages. They look much better than this one...really, they do! It helps that I work with someone who can design nicer pages, too. We have a few clients but picked up another e-commerce client which will be nice for a change. There's a real market for what they sell and a good chance for improving sales and continued success. The money we received to start the project is also good. Work begins later tonight, even though it's a long weekend.
We've been busy with leisure activities as my mom is in town. She's been here at least 10 times, so things are pretty easy and much of what we're doing is just walking around and stopping for a tapa or beer every now and then. We've had to accelerate the Christmas shopping a bit so we can send some gifts home with her, too.
Speaking of Christmas last night they turned the lights on throughout the center. With the cold and a little bit of rain it's the holiday season is truly upon us. They're slowly changing the lights to newer ones in the Sevilla, though it will be some years until they've upgraded them all. So in some places you'll see a style of lights reminiscent of the 70's and 80's, while others are much nicer. Just about every street from the Alfalfa down to Plaza Nueva, San Eloy and Plaza del Duque have lights of some kind. Add to that the guys roasting chestnuts and the market for the nativity scenes and you have Christmas in Sevilla.
Yesterday I spent the morning working, then a meeting in Nervión and a long walk back through the rain. After lunch we did a little shopping, trying to find a coat suitable for more formal occasions. In general upgrading my American coat to a Spanish one acceptable for going out to some nicer places every once in a while. While I didn't manage to buy a coat we did find a jamonero for about 7€, so we will buy our a jamón - the inexpensive kind - for the holidays and eat well for 10-15 days. Last night we also semi-discovered a new place on Calle San Esteban. I had been there for a coffee and a very informal meeting this past week but had never tried the food. Looking for a place close to home we wandered in for dinner and everyone ended up loving the place. Recently renovated, there's plenty of light, wood and some interesting yellow walls. We ordered calabacin fried with ham and cheese - it was amazing. Then rollitos de solomillo con bacon, which was even better. The food is amazing here, and we're glad to have discovered a new place which I'll add to my list of restaurants just as soon as I can confirm the name (I'll also update the entry here once I do). On our way home we saw our friend who works in El Rinconcillo who has offered to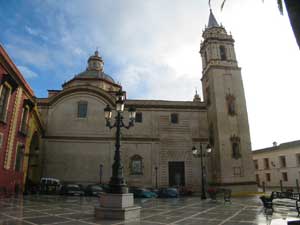 show us how to properly cut jamón, and art form which requires skill and practice. He also recommended a good place to buy a paleta for cheap. We dropped off our stuff and headed out for one last beer at a new place on Calle Gerona. We thought it was a bar, but turns out it's an asociación cultural for young artists. They also allow young DJ's and musicians in for nights of electronica, something I am not too fond of. The place is brightly lit, a contrast from most bars open later. Upstairs is very cool - 4 rooms which have been turned into a gallery displaying different artists from Sevilla. Nice works and a different atmosphere from your normal bar de copas. I will also be adding the name here once I have noted - but if you know where El Rinconcillo is then just head down Calle Gerona and it's on your right about 50 yards away.
Today we head to Umbrete for lunch in the pueblo (and in the rain). We're celebrating Granada's mother's birthday and most of the family - ours and hers - will be out for what promises to be a very large and long lunch. Afterwards we'll head back and order the Betis match on pay-per-view and will likely call it a night. We'll get rest for tomorrow night and what should be a lot of festivities in the street with the tunos playing guitar and singing throughout the center (check out my Events and Festivals listing above).