Tuesday, December 2nd "Non-stop relaxing Sunday in Sevilla, including three San Buenaventuras!; Meetings and more meetings; Still no ceiling; Apartments"
We spent a day out on Sunday wandering around Sevilla. I think we covered about 75% of the center. Leaving around 10am we ate at San Buenaventura the customary breakfast of 2 cafes con leche, tostada entera con mantequilla and tostada con aceite y serrano. The same thing every weekend - ordered before we even sit down as they know us well there - with the Sunday paper. We headed to the river by way of Plaza Magdalena and Calle San Eloy, then walked along the paseo for a bit. Took pictures of the Torre del Oro, the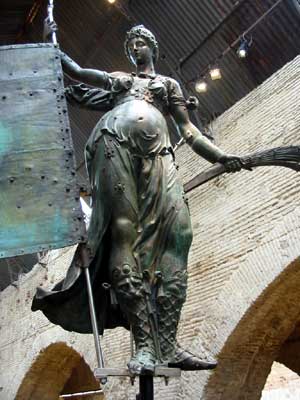 Monumento de la Tolerancia, kayakers in the river and a big group of Japanese tourists waiting for the tour boat ("Adelante, Adelante!") From there we wandered our way to the Hospital de la Caridad for the exhibit of sculpture and art from Yemen, plus a visit inside the church there. We then went to see the Giraldillo in it's rehabilitated glory in Los Reales Atarazanas (I can never type "atarazanas" correctly on the first try). We also hit the collectable's market in Plaza del Cabildo where there was a heavy police presence, presumably to investigate vendors and shops but we don't know what for. We bought some Christmas sweets at the little convent store there as well. From there we had planned to go back home but decided to stay out until the Betis match at 5. We had a beer at San Buenaventura by the Cathedral and then hiked around Arenal to behind El Corte Inglés in el Duque to eat some really bad food in a bar that was perfectly good during Semana Santa. Two old fellows drinking coffee were the only other people there - we should have seen it coming. Deciding we needed real food we went to a place in the Plaza de la Gavidia but it was packed so we headed to Picos de Aroche, which was closed. Our last option was Los Azahares, at least that's what everyone calls it. There we made up for the bad food with a plate of arroz (paella), a tapa of ensaladilla and a plate of puntillitas, small fried squid. In need of coffee to keep the promise of staying out until the Betis game we hit our third San Buenaventura, this one on Carlos Cañal which is the first and smallest San B location. Soon after we got a good seat at Merchants Malthouse for the Betis game, where we met family and friends. I don't recommend this place as a good spot for watching the match, only because the big screen TV is blurry. Otherwise it's a nice place. Betis, lost, and so did Sevilla.
Met with a number of people this week - various study abroad program directors and staff, person working on the student guide, owner of another Sevilla site to talk about some possible future projects, a (hopefully) new client, web designers and a few others. It's been non-stop and doesn't promise to slow down.
Our ceiling in the bathroom is also going non-stop. Non-stop nowhere as we've still no heard a thing from the people who should be here fixing it right now. Another day or two and it will be time for calls 2 to 3 times per day, or even more. We won't give up! With the ceiling issues we are more determined to find a new apartment. We've seen three - a 2 bedroom, 2 bath in our building for 570€, a 3 bedroom next door with a ton of space and exactly what we would want but for 600€. We wouldn't have to pay electric for air conditioning, heat or hot water as it is all central, but it's still too expensive. Finally another in Triana for 540€. Tomorrow we will see two, one on Calle Sol and another overlooking the 25 year old pit where the Mercado de Encarnación will someday be built. These are cheaper, but the part of Calle Sol where the one is located is a bit sketchy. A while ago it was pretty dangerous, and while it's gotten better it's still not the safest place. A trip there at 10:30 last night had enough strange people - and the bad kind of strange - that we have our doubts.