Thursday, December 11th "Four good restaurants you should try"
Antiguas Piletas
The restaurant we "discovered" was Antiguas Piletas on Calle San Esteban in the Puerta Carmona. Recently renovated they have a bright interior and some delicious foods. Aside from the calabacines, which are the specialty of the house I also recommend trying the rollitos de solomillo con bacon and their patata de la casa, which is like a potato croqueta and some 15 ingredients (shh.. it's a secret). We'll be back to try more over the next month.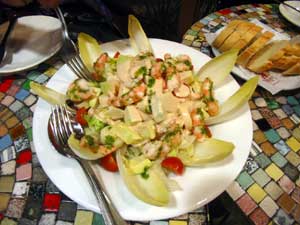 La Raza
We had what was described as a surreal experience at La Raza last night. We arrived around 11:40pm, 20 minutes before the kitchen closed. Thankfully the people there know my brother-in-law so they were more than happy to serve us. We had an amazing carrillada, which is closest to pot roast back home as well as a salad with endive, hearts of palm and some amazing langostinos. Then a dish of some type of fish and how I wish I could remember the name of that dish. But seriously, La Raza is a great place to eat by Parque Maria Luisa if you are in the mood to splurge a little. It's also great for a morning coffee if you don't mind the walk before your morning caffeine.
El Modesto
This is a great place to take visitors when you are also looking to spend a little money. For what you get it's really not that expensive. I think the coquinas, or little clams, are likely the best in Sevilla. We also had gambas al ajillo, shrimp cooked with olive oil, garlic and hot peppers. Don't be afraid to make barquitos when you order this - that is throw in little bits of bread to soak up the sauce. A frito variado is always a good choice, when you get 4-5 types of fish including calamares del campo, which despite their name are not fish, rather fried onions and green peppers. Finally solomillo al whisky is excellent here, and it's my weakness when we dine out.
El Alabardero
I'll let you in on a little secret. Well it's likely not much of a secret anymore, but you'll enjoy this place if you're looking for a nice dinner at a reasonable price. Eat downstairs at El Alabardero for a full three course meal for 10 Euros and I guarantee you won't have a better meal in Spain for that price. This is no bar food or tapas, although I don't have anything against the two. El Alabardero is the school of hosteleria so you get some young waiters who are practicing their skills but at a high level. The menu changes most every day and you might consider the food as being from the new school of Spanish cooking - they're not afraid to use some interesting or exotic ingredients in preparing the dishes. The presentation of the food is also something to be seen. It's upscale at a very reasonable price.