Friday, December 26th "Can you gain 10 pounds in two days?; Apartment found!; Spanish or English, and a small world"
If it's possible to gain 10 pounds in two days I do think I may have done it. Warning to those of you indulging yourselves in the Spanish Christmas traditions while keeping your American ones - I hope you like to eat! We had our meal on the 24th with Granada's family which included manchego, many plates of chacina (jamon, cana de lomo, chorizo, lomo iberico, salchichon), then a cazuela de mariscos which is a stew of shrimp, clams, and hake, and later langostinos. Afterwards the table was filled with turron, mazapan and other sweets. And of course champagne. We started at 9:30 and ended around 2am. The next day we had our traditional American Christmas including another assortment of manchego and chacina, plus a salad, olives and capers, turkey, mashed potatoes and stuffing. Then another round of desserts, champagne and a lot of sitting and talking about how full we were. It's now the 26th and I am still full and trying not to think about the 31st and the big dinner that will be placed before me.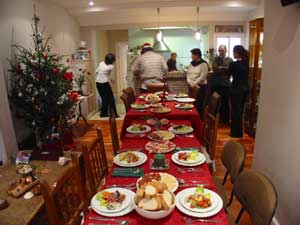 Some three days before Christmas we managed to get the best present we could for the holidays - we finally found a new apartment. While it will set us back around 600€ per month it was quite a steal considering all of the luxuries. A true "independent" kitchen in that it has it's own room. The kitchen has a gas range and electric stove - my favorite combo. A dishwasher, and clothes washer (no dryer of course), even a toaster and a microwave. Best of all it's got a full size fridge with a real freezer. Living room is large with two couches and furnished with antiques which is a nice change from a lot of furnished apartments in Sevilla. Both bedrooms are bigger than average and have windows onto a central patio and we have two bathrooms. For my friends who may be reading this we are finally ready for you to visit, so come knocking! We even have a video portero so when people call at the door we can see who they are. Best of all we didn't have to leave Santa Catalina and will soon be living next door to El Rinconcillo.
Working on a site about Sevilla put's you in touch with a lot of people working on similar projects that you soon see that it's a pretty small world out there. I've run into a number of people who read my site and met with many as well. Soon I hope to have someone writing alongside my daily stuff to bring you an American female point of view on Sevilla. That's something I'd have a hard time completing and I'm looking forward to some new topics that serve everyone as well as the women out there visiting Sevilla. I've also been talking a lot with Markus, a nice German fellow who runs Sevilla5.com and has been here much longer than I have. We do cover some of the same stuff but I really think you should check out his site. Especially if you're looking to visit and want to rent an apartment instead of a hotel room. I've seen a few he rents and have been around long enough to know he runs a great operation and really takes care of his clients. The fun thing when meeting other expats in Spain is the use of Spanish and English. Hearing us go back and forth between the two languages must be confusing to some. As with other friends I have in Sevilla we develop a strange creole language where you are free to change between English and Spanish within the same sentence, or simply throw out a Spanish or English word within a sentence of the other langiage.
Today I went with Markus to meet some visitors from NY who were booked into some great little apartments not far from my house. We talked with them for a little while - nice folks - and they asked for a recommendation on places to eat. After mentioning a few to them they said they recognized one of a the places from reading about Seville on a web site. Turns out it was Exploreseville! "So you're Jeff!!?!" They had printed off sections and sections of the site to take with them, something I hope you all do if you're not already in Sevilla! But really, it was great to meet some people using my site as a way to see Sevilla. I just hope they're happy with some of what I've recommended!