Tuesday, December 30th "Paying the price; Robbing for Christmas; Preparations for moving"
After many days celebrating like fools we both came down with the flu for the 26th and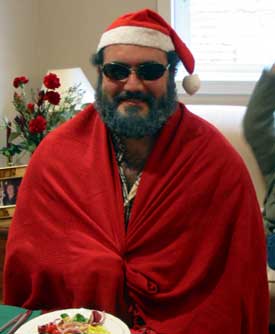 have been homebound for several days. The eating, drinking and traveling have taken their toll and we're trying to take as many drugs (the legal kind) to keep us from totally crashing. We're also trying to get ourselves well enough for the New year's dinner and some nightlife, although at this point we seem far away from good health.
While many with cable or a satellite dish would stay inside and watch as many movies as they could we won't be able to do that. The amplifier for our satellite dish, which was located on the 3rd floor right next to the door to the roof, was stolen a week ago. Although the installers didn't lock it down as they should and although it is part of the community antenna we won't be getting a new one. At a cost of 50,000 pesetas (plenty of Euros) it will be some time before they decide to do anything. We don't know who to suspect, although everyone we know thinks it may be someone in the building, or at least that used to live here. As we're moving on January 15th we've decided to wait it out, but must continue to pay the bill. If we cancel service for 3 weeks we'll have to pay another 100€ to start again once we move. So Merry Christmas to the &*%#! out there with our amplifier. Here's hoping for some coal in your stocking, and maybe some sh*t, too.
As we've pretty much finalized the deal on our move we're getting prepared by calling all of the utilities about the switch. We're also getting prepared to go days if not weeks without phone or internet no matter how much we verify things ahead of time. Other than that we're looking at the best way to get our stuff from one place to another without a car. Most can be carried the 200 or so meters down the street, while the bed, desk and 150 pound patio table will be the most challenging.