Sunday September 18th "Champions Results; Housing; Saturday afternoon; College football"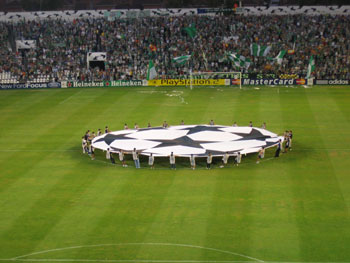 A great turnout and lots of emotion were not enough to lead Betis to a win over Liverpool! After a nightmare in the first 13 minutes, with Betis falling behind 0-2, the rest of the match was very competitive. Betis especially dominated in the second half and should have come away with a tie. We battled several 8 foot tall players (well, just one really tall fellow who should be playing professional basketball). First match jitters now over, we should be ready for the away match and much more in Champions. Sevilla F.C., in keeping with their sub par performances after selling off every good player they could, tied with Mainz at home. True, they have a lot of money in the bank now, but if I were a fan I'd rather watch a good match than my team's bank account balance go up. Today it's just a regular league match for Betis that I am looking forward to. You can see a few photos and a report from the match on this page at sevilla5.com.
As we get closer to purchasing a house, or rather apartment, we have been picking everyone's brain on the do's and don't's of the entire process. When I say getting "closer" this doesn't mean we are searching yet. Nor have we talked to any banks or have any idea of where, how, how much or when. I guess mentally we are closer to purchasing and this means we are in the information gathering stage from all of our friends and contacts. We've learned of banks to avoid, accounts not to use for saving for the deposit, agents of questionable trust and the pitfalls of hiring someone unqualified to handle renovations. In all honesty I don't see much difference from the U.S. or perhaps other countries in terms of these risks. There is often a little blind faith involved as well, like paying a deposit without any real contract, where one must simply hope that the money will be returned should something go wrong. Mental preparation seems to be very important to me for things like this. I don't like handing over 10 - 20,000€ to just anyone.
Yesterday we spent twelve hours catching up with friends just outside of the city center. After a few beers and lunch we retired to their newly renovated apartment for a few drinks. As often is the case, we spent ten more hours discussing anything and everything over a few copas. Starting at 2pm and ending at 2:30am, well, I'm getting used to it. And we've been away for too long so there was a lot to talk about. In between there were two meals, with dinner from one of the best places for pescaito frito in all of Sevilla.
While my true passion for sports lies with college basketball and of course, Real Betis, I am also one who enjoys a game of football. Or American football, I should clarify. NFL games can be watched every weekend and during the week (tape delayed), but if you want to see a little college football you are out of luck in Spain. So this year I took advantage of the early price break to order ESPN's college football package online. Anywhere from 10 - 15 games each week and the ability to watch full screen at a decent quality thanks to a recent, free upgrade in speed to my ADSL service. If you've been reading these entries before you know of my past experiments with watching the NCAA basketball tournament online as well. And as with the tournament there seem to be some blackout issues which they haven't solved yet. As in they are blacking out games which are supposed to be in my local viewing area even though: 1) they state they determine the blackouts by my zip code of my billing address (which is in Spain) and 2) As much as a I flip through my channels I just can't find this game (hmmm...). And being much worse than Yahoo! or Collegesports.com, ESPN does not answer my emails about the unjust blackouts.