Sunday, October 2nd "Conil - Despedida de solteros"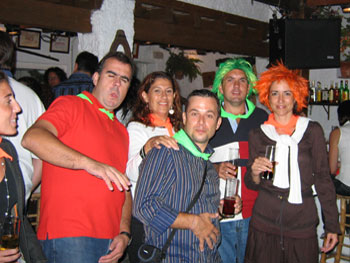 With a wedding on the way at the end of October there are plenty of formalities to take care of. One of those includes a despedida de soltero, or in this case a despedida de solteros, with both the men and women involved. The location was Conil, and even though it was an October weekend things were quite warm and pleasant. The activities included a stroll through the town, a rather large meal at Bar El Gamba and roof top swimming at the hotel in what seemed to be the world's coldest pool. Enough beers were consumed during the lunch that I almost lost my glasses in the pool: sometimes it's best to take them off before diving in! After 10 minutes of swimming someone noticed something on the bottom of pool. "Glasses?". I touched my face and began to think…I don't remember jumping in with them on, but they must be mine. Thankfully no scratches or dents, and clearly a siesta was needed.
Everyone learned that a despedida de soltero with 30+ year olds isn't as easy as it was 5 years ago. After a nap and a meal overlooking the ocean we headed to a few of the terraza type bars in Conil. Actually, we made it to just one, El Cochero. Before entering the bride and groom to be were presented with orange and green wigs for the occasion, as we dragged them through the center for everyone to see. With plenty of Spanish pop blaring on the sound system we made our way through a couple of copas as we people watched. I like Conil, but there are some strange people when you are out on a Saturday night. My favorite of all was the 50ish looking fellow who was dancing by himself, stopping every minute or so to circle his head with a glass of beer (think, "my head is the earth and this beer is the moon: now let's see this beer orbit around my head"). Afterwards he looked up to the sky to speak a little with God, I suppose. This is hard to explain, but I think it was his way of giving thanks for beer and its effects. After 10 minutes of dancing and "beer orbiting" his next trick was to balance his beer on his forehead. This I was sure would lead to trouble, but he was able to do this on 3 or 4 occasions for several minutes without losing a drop. This man must have been a member of the circus, or he has been drinking beer and performing this stunt for much too long. His behavior makes me think it is the latter. The best part was when his activity mixed with a woman who had been dancing seductively in the middle of the patio while her much older husband/date/client looked on. She had a very "professional" way of dancing, which made everyone wonder. It of course attracted the circus beer balancer and soon she was sandwiched between her two dancing. The owners then decided the circus beer balancer had caused enough trouble and within 1 minute his beer was in a plastic cup and he was being moved out the door. Sad to say this may have been the highlight of the night. By 1:30am we were all tired and thinking of bed and the breakfast buffet in the morning.
The next day we made quick work of eating and checking-out and made our way around to several smaller beach towns. Visited were Zahara de los Atunes, los Caños de Meca and Barbate. Zahara seems to have the nicest beaches of them all, and if you like to get a glimpse of how the rich live then the playa de los alemanes is the place to drive around. This section was once a small collection of private villas mostly owned by Germans who "discovered" this part of the beach many years ago. Since that time many others have discovered the beach and there are now several houses owned by the rich and/or famous. The ugliest house – a very blue house – was unfortunately named "El Sevillano". But I think I would be ok living in that house for a while. Los Caños de Meca is known as a hippie beach, and there were several camping in vans overlooking the beaches. This is a laid back little town, although aside from the beaches it's quite dirty and run down in my opinion. Barbate is interesting after having just seen the movie Atún y Chocolate (filmed in Zahara and Barbate). The port section of Barbate leaves much to be desired from a tourist point of view, but all of these towns have something about them that makes you want to stay around for a few days and take it slow.