Monday, September 15th "Córdoba; A quiet sunday; Hurricane"
The trip to Corodba was a good one and I took another 150 photos. From those I'll have some 30 worth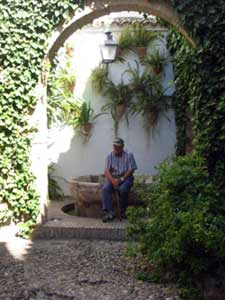 looking at and I'll be posting the photo album tonight. Now I have to decide whether to hitch a ride on another Córdoba trip this weekend. I want to see the ruins outside of town, as well as go to the center where I've been told there are some things worth seeing. Most often people stop for the day to see the Mezquita and Calle de Flores and other tourist sites but fail to get to the center. We ate a wonderful meal at El Caballo Rojo, one of Córdoba's best restaurants, where I was able to try ajo blanco for the first time. It's a white gazpacho made with almonds and garlic and it was fantastic. Makes me want to post come recipes on the page somewhere, so I will add a recipe of the month to my list of sections I need to create.
Sunday was a wonderfully quiet day for us here. The heat had returned a bit but we were out at midday and kept ourselves in the shade. We caught the last of the animal market in the Alfalfa and then sat outside at Bar Manolo for a tapa of arroz, a glass of gazpacho and a couple of beers. We picked up a roast chicken, returned home and ate lunch, then watched a movie and enjoyed a 2 hour siesta. I managed to sort through a number of my photos and will be adding and revising online photo albums over the next few days (between work).
Finally I couldn't help but notice that a Hurricane Isabel is heading for NC at the moment. Having been through Fran and seeing the destruction I called home to make sure everyone is preparing. For Fran a group of us all spent the night in an old farm house, or rather converted chicken coop, in Chapel Hill. It was fun to be with friends during the storm until we woke up. A 150 year old tree had fallen about 10 to 15 feet from the side of the house where we were all sleeping and certainly would have killed us had the wind gusted in another direction. After that we had no electricity (no AC), no water, blocked roads and little gas. It was the start of a long day. By 3 or 4pm we were on the road to a mountain cabin to escape the madness. Should Isabel come inland - more likely now - it will be a horrible storm. People are already panicking, with water and batteries scarce. Hopefully people are at least able to get the essentials - gas, cash, food and water so they'll be able to make it. I hope some of my favorite beach houses and establishments weather the storm so I can see them again next summer. For those of you in NC I hope you stay safe.