Friday, September 19th "Córdoba again; Sections to come; Moroccan restaurant;
El Perro Andaluz reopens; Cable TV!"
I find myself with plans to go to Córdoba again tomorrow for the day. Yet another excursion with another study abroad program. Again, it's free. This time I plan to venture out on my own as taking pictures is not obligatory. From the last trip you can see the updated photos here. I do hope to make it to the Medina Azahara this time but may not have much luck since I have no transportation and it's some 7km outside of town.
There's been a lack of updates here because of work and my planning for this site. I soon will be adding new sections and trying desperately to finish others up. For the new sections I have in mind these themes (names are not final yet) - the Euro and People in the Street. You'll see soon enough. I'll also be working on the Nightlife or la marcha section (severely neglected as I haven't been able to go out much recently), sites to see, technology and travel forums. Finally, more photo albums are on the way, including Feria (I know, it's a strange time to post this one) revised Alcazar, inside the cathedral, plaza de toros, something I call "iron works", a general Seville pop-up tour from the home page and finally another general Sevilla one of sites that aren't worthy of an entire album.
I did manage to make it out to eat tonight at a new Moroccan restaurant just down the street from El Rinconcillo. It's a little on the expensive side but the food and service was great. We had a tajine of lamb cooked with ciruelas and verduras. Then brochettes with beef, chicken, lamb and kefta. I highly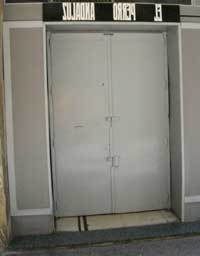 recommend the kefta. Finished it off with mint tea and then ice cream at Rayas. A lot to eat for the night. Generally we would head out but we have to get up at 7:15 tomorrow to go to Córdoba.
El Perro Andaluz, formerly my favorite bar, has reopened after renovations. They put in air conditioning and after sweating all summer it was somewhat of a necessity, really. We visited for the grand opening where they had free drinks and Canal Sur 2, a local TV station even showed up. We did our best to duck behind the bar when they pointed the camera our way. Some actors and other celebrities showed up as well. We hope it calms down, and I miss the old dive it was with red walls, cheap vinyl furniture and a bad pool table. As for the renovations for some reason they chose to paint the outside and much of the inside the color gray. I'm still trying to figure that one out, as was a woman standing next to me at the opening. Thirty seconds after commenting to her boyfriend: no me gusta nada este sitio ahora ("I don't like this place at all now"). She warmly hugged the owner and told her how much she liked the new look. We'll see how it goes.
Finally, we ordered Digital Plus today - 150 channels of movies, sports and everything else. I am particularly excited about watching NFL games on Sportmania on Mondays. I'll just have to keep from reading the scores the night before. We also will have Canal Plus, meaning one more game from the Liga every weekend. As for when it will be installed...