Wednesday, September 24th "Launch; A coat and tie affair; bichos!"
Finally, the reworking of my navigation and the new sections I've promised are up and working (check out the links above and to the right). Much more is still needed but it's nice to see the page grow. Now I'm on to reworking and adding to a few sections.
T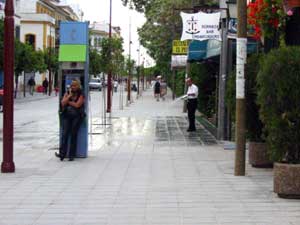 onight we have a meeting - or rather a few beers - with some marketing directors for two 5 star hotels in Seville. Unfortunately is was dubbed by my partner as a "coat & tie affair", so it means dusting off my good clothes for a test run to see if they still work. If not it will be time to improvise a bit. Then ironing and off to the hotel which is on the other side of the Plaza de España. Here's hoping it's not too hot and that we get more than a buzz out of the deal.
Finally it seems to be the time of little white bichos or bugs in Seville. We noticed them about 10 days ago near the river on Calle Betis. They now seem to have made their way to the center and were everywhere as we walked to El Corte Inglés. While they don't bite it is difficult to move without inhaling one or two every few blocks. I think they only have a week or more to live and it will be to cold for them to survive, at least I hope so.