Tuesday, October 21st "Sevilla-Betis; Rainy season"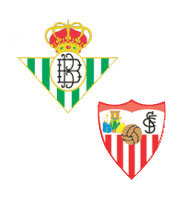 It was a good match, although it ended in a tie. All goals scored in the second half, first for Sevilla, then two by Betis. A goal by Antoñito with about 10 minutes left tied the match for Sevilla. Overall Betis played better than sevilla aside from the first few minutes of the second half and a few in the last 15 minutes. It was one of the most exciting derbys we've seen in the last 5 years and absent the violence that's plagued the rivalry the last few years. We'll have to wait until February for the next round at Estadio Ruiz de Lopera, or still Benito Villamarin in my book.
With 4-5 days of off and on rain predicted for this week we're guessing on when to do our laundry. We've got to hang it on the roof - no dryer in our apartment. For the tourists it can be hit and miss with the weather so it's best to bring an umbrella, priced at 3€ in most of the "dollar" stores in Sevilla. As the days get shorter, the clouds keep the sun out and I live in an apartment with only an interior window something will have to give. A weekend trip is in order.