Sunday, October 26th "Friday; Saturday tapas; Betis; Changes"
So Friday was a long day. We began at 3pm and after spending 2 hours outside Bar Jota with many cervezas we headed to around the corner for tapas and a few more beers in a bar whose name I can't remember. Talked a lot about the state of the economy in Spain and the U.S., difficulties in starting a business here unless you have money, or rather want to spend/waste your money when there are smarter and less expensive ways to begin. Had some good conversation with two programmers, talking about web sites, database issues, usability - a bunch of tech speak you're probably not interested in - but we had some good ideas. If only I could remember them...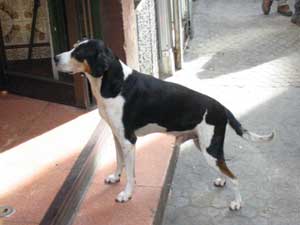 Eventually we made our way out to los golondrinas for a few more drinks and to meet up with more friends. By this time half the group was still in good shape. When we made it back to Santa Catalina and El Tremendo it was close to 10pm and we left one fellow in the car to sleep while we continued on. After a siting of Curro, the neighborhood dog who is a fixture at El Tremendo and the store next door, we had a few more beers and waited for the arrival of others. An observation was made that El Tremendo has the smallest bathroom in the world, which doesn't surprise me considering I never knew they had one. But reall, your shoulders are flush with the wall the minute you walk in, and your butt flush with the back of the door when you close it. But they serve cold beer. After another 30 minutes of waiting we call it a night and head home. Early to bed, early to rise, I guess.
Saturday was a day to spend inside with the rain. We did manage to make it out to Viapol to a place called Tapas Viapol. The former waiter of El Rincón de la Buhaira left and started Tapas Viapol. A former waiter of El Yebra left and started El Rincón de la Buhaira, so you can see a pattern here, no? They all serve a great dish called reveulto con chorizo, and it's a little more original than an omlette with chorizo. Anyway, a delicious dish if you make it to any of the three places. They'll soon be added to my list of restaurants and bars to try.
The Betis match on Sunday finally gave us reason not to suffer. Well almost. They managed their first win at home against Albacete, a team that is struggling somewhat. After going down 0-1 we managed two goals in the last 10 minutes of the first half. Another at the beginning of the second half was enough to give us a win at 3-2. There was plenty of nervousness as Albacete had a few opportunities near the end and Betis managed to slack off a bit. One thing I enjoy at these matches are the people following what Sevilla F.C., Betis' rival, is doing at the same time. When the ball is in mid-field you may hear several thousand people shout "Gooooool". You know that whoever is playing Sevilla has just scored. Even sweeter on Sunday was after the Betis game ended and it seemed Sevilla would win their match 2-3. It began to pour down rain and many people headed under the rafters to wait to leave the stadium. Some 2 minutes later, with everyone still celebrating the Betis victory, a welcome shout of "Gooooooool" came from what was left of the crowd. Villareal had scored a goal in the last minute to tie the game, and thus put Betis ahead of Sevilla in the league table by 2 points, making the victory that much better.
Finally, there have been some minor changes around the site. Seems I'm impatient to wait for the major things so I did a little on my own, but I hope it will make getting around that much easier. I'm behind with updates but seeing as I have a mountain of a list of new things to tell you about you'll start seeing them later this afternoon. For those of you watching my site, check back in a little while.