Thursday, November 6th "Trip to Málaga; Sometimes you lose many"
On Wednesday I made a trip out to Málaga and the fairly new technological park there - the P.T.A. Quite a place to see and many advantages to have an office there, even if you're not there in person most of the time. 60€ per month, free legal consultation, free utilities, board rooms a backbone connection which means great hosting and a hotel where they charge you only 9€ per night to lodge your clients. Nice deal. We met with a pair of chain smoking Englishmen, one who previously had a stroke but managed to drink 4 cups of coffee and smoke about a pack of cigarettes during a four hour meeting. Smoking in the office, throughout the building and everywhere in between is fairly common in Spain. But things went well and we'll likely be back there for a few days to see if things can be finalized next week. Exciting things are happening, maybe...
Driving to and through Málaga provides for some interesting sites. Close to the coast the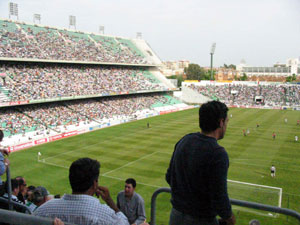 amount of apartments, villas and condos is multiplying by the day. On the other side you may see an old farm house clinging to a hillside with only a dirt road leading to it. Their next door neighbor some ways away might be living in a new country house. But the mountains and the coast from afar are spectacular to see.
Finally, after three games in just one week Betis has managed to go from 5th to 11th in the league table. After a win at home, an away loss at Osasuna and a disputed home loss to Atletico they've been pushed back. If there ever was a poorly officiated game it happened last Sunday. Thankfully Sevilla also managed to perform poorly and has fallen from 7th to 14th. Another loss or two and they'll be in the relegation zone of the table. Not likely that either team will fall to second division with the talent they have, but both are trying to make it interesting in that respect.