Wednesday, November 19th "Searching for a new apartment"
We've decided to move. Well, we decided a while ago an it has nothing to do with the hot water heater breaking but we're ready for a new place. Aside from the need for a home office, meaning an extra bedroom, we also want space for family or friends when they visit. A window outside, not to an interior patio, is also important. More space in general and a real fridge (not a half one) is another idea of ours. We love our owner and she really takes care of everything when something goes wrong. When our TV broke she offered to let us borrow one she had in her house, which is just one of the many things she's done to help us out.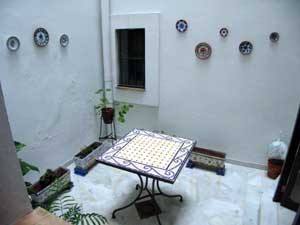 So we were excited to learn that she has another apartment for rent in Triana on the Calle Pureza. Just over the bridge and as close as you can get to the center when in Triana. We headed out to see the place and it's in a nice building. But it is a ground floor apartment and an interior. While it has four windows it was a sad place. Well kept, but sometimes you just can't see yourself in an apartment and that was the case this time. And while I love Triana it just made me realize I belong en el centro. I felt better the minute I crossed the bridge and was back on my home turf. So I think we at least know where we want to live. One thing did pull me a little when we looked at it. Seems years ago after it was renovated that Betis, our fútbol team, bought several of the apartments to house players. There was even a Betis tile cemented into the front of the building just below a window. But it wasn't enough for us to want to live there!