Bus
The bus to Granada leaves from the Prado de San Sebastian bus station (tel: 954 417 111). Below are details for the trip including duration, approximate departure times and prices. Schedules may change on holidays and weekends.

Destination

Duration
(approx.)


departure times
(subject to change)


Price
One-way
(approx.)


Price
Round trip
(approx.)


Granada

3.25 hrs.

8:00, 10:00, 12:00, 15:30, 16:30, 18:30

17 €

29 €

Train
Destination

approx.
time of trip

approx.
departure times

1-way price
( € )

Granada

3 hrs.

7:00, 11:50, 15:55, 17:40

18 €
Car
Plan to spend at least two days in Granada, although much more time could be spent here if you wish to explore both the nightlife and the Sierra Nevadas after the regular sights. First on the list is of course the Alhambra.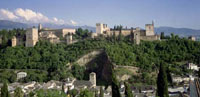 Do buy your tickets at least a day in advance, and ignore those lucky people who tell you how they just showed up on the same day and didn't have a problem. Some weekends the tickets are sold out, and some days the best hours are sold out. If you have a short amount of time in Granada and want to make the most out of it then knowing your time in advance will help. Also, you want to avoid hiking up the hill only to find you can't enter for another 3 hours. More information on buying your tickets can be found at the BBVA ticket information page. Or you can purchase your tickets online using the cooler domain name Alhambratickets.com, although it's just the BBVA page. You may wish to spend the whole day exploring the Alhambra. Include the Mirador de San Nicolas and the old Arab quarter, or Albaicín in your second day, perhaps taking in the Cathedral and Capilla Real. The best time to visit the Mirador de San Nicolas is before the sunset. You can get good pictures of the Alhambra during the end of the day and then some fantastic night shots. Then head down and wander through the Albaicín and the many shops at the bottom near calle Elvira. While it is nice to see the Alhambra from the Mirador in the morning, the sun is often behind the Alhambra making for poor photos. It's hard to miss the miniature medina Granda has established on one street at the entrance to the Albaicín off calle Elvira. While it's not close to the scope of the medinas in Morocco you can find a wide variety of goods, bars and restaurants: ceramics, rugs, lamps, furniture, spices, teas, a bakery and plenty of tea salons. A nice, relaxing activity is visiting Granada's hammam, a spa of sorts whose activity surrounds the comforts of Arab baths of varying temperatures. All in a traditional atmosphere with lots of tile, mosaics, fountains, etc. They also offer massages, a very nice tea room and a restaurant. It's located on calle Santa Ana just behind the church and the tourist office.
For dining and nightlife Granada has plenty to offer. Calle Elvira is famous for it's weekend nightlife. Just next to it Elvira is the Albaicín where you will find plenty of bars with terraces that are great for a drink or two, as well as a number of tea houses with a laid back atmosphere. When it comes to eating Granada is known for it's free tapas! Almost every place offers you a little something to eat provided you order a beer or wine. At times it will be chips or peanuts (NOT a tapa in my opinion) but many times it's something a little more filling - meats, montaditos, mushrooms, etc. When I compare this to Sevilla, where you almost always pay for your tapas, it's a nice change. Still, the beer in many cases is smaller and a little more expensive. The tapas are also smaller than what you would get in Sevilla or other cities when you pay for them. In the end I do think you come out ahead in Granada when you are tapeando, and who could really complain about free tapas! We enjoyed eating at Antigua Bodega Castañeda on calle Elvira. There are two Castañedas on parallel streets, owned by the same people. We ate at the less popular one simply because the other was packed. Both are excellent. Also Bar Oliver is one I would highly recommend for tapas, although you must get there early. It's in a nice plaza a few blocks from the Cathedral including a small number of standing only tables outside. There's more room inside, but it fills up quick. For lunch one day we headed to a small town, Huetor Vega, to eat at Restaurante Balcón del Genil. You will need directions to arrive, as it is perched on a hill just outside the pueblo. The restaurant has seating for what seems like a thousand people, with view of the valley below. At one time it was a small place, almost a shack. Now it has several floors a large terrace and a patio when it's warm. Order anything - I do mean anything - and it will be good. We opted for various cuts of solomillo in different sauces. Add to that a few dishes to start, dessert and a shot of orujo and we left very satisfied.