Hostal Callejón del Agua is located on a quiet street corner in the Santa Cruz quarter, in the middle of the city center. After several years of renovations to the former 19th century Andalusian residence, the hostal opened in April of 2006. While technically classified as a 2 star hostal, the quality and amenities offered in this establishment are more representative of a 1 or 2 star boutique hotel. With three sides facing small streets, Hostal Callejón del Agua offers exterior windows in each of the 16 rooms. The original wrought-iron gates and window coverings, found throughout the house, have been preserved during renovations. Inside the hostal, attention to the historic nature of the building has been balanced with many modern conveniences. The decoration was carefully considered, with special attention to the little details . Black and white photographs of the family which owns the establishment, dressed in typical sevillian attire, are found on every floor.

Hostal Callejón del Agua
Location: Calle Corral del Rey, 23
Prices start at: 60 €
Make a Reservation at sevilla5.com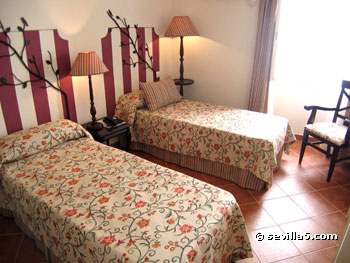 Each room in the Hostal Callejón del Agua has been assigned the name of a different float, or paso, from the Semana Santa processions of Seville. All rooms include a private bath with hair dryer, television, air-conditioning and heating. All rooms have exterior windows, while some rooms also include balconies overlooking the street. Rooms in the Hostal Atenas also offer the following amenities:
All rooms include private bath w/ hair dryer
All rooms have exterior windows
Some rooms have balconies
Air conditioning and heating
Television
Internet access (WiFi)
Non-smoking rooms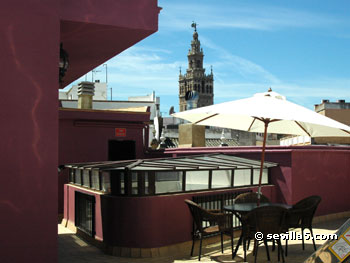 Guests enjoy access to the central patio with sitting area, as well as a roof top terrace with tables and chairs, offering views of the Giralda and surrounding Santa Cruz neighborhood. Coffee, drink and snack machines are available, and internet access for those with a laptop computer is free via the hostal's wireless (WiFi) connection. The hostal also offers a light courtesy breakfast of coffee and pastries or croissants.
Central Andalusian patio
Roof terrace with views of the Giralda
Courtesy breakfast
WiFi Internet access
Coffee, drink, ice and snack machines
Elevator
Handicap facilities
Hostal Callejón del Agua is situated in the centre of the Santa Cruz quarter, with easy access on foot to the Cathedral, Alcazar, Plaza Alfalfa, and shopping district. Seville's arab baths, Aire de Sevilla, are also just a few minutes away and offer two tea salons, several hammam style baths, massages and more. Highly recommended for tapas is Bar la Estrella, located less than one minute from the hostal.

Approximate walking distances:
Plaza Alfalfa - 2 minutes
Casa de Pilatos - 4 minutes
Shopping district - 5 minutes
Cathedral and Alcázar - 6 minutes
Guadalquivir River - 15 minutes
Make a Reservation at sevilla5.com