Keep in mind flamenco is a genre, with many variations and types, some subtle and some very different. "New flamenco", "flamenco-fusion", and "flamenco-rock" are just a few of the contemporary sub-genres, and show how world and pop music have blended their way into a traditional genre. The variations of the traditional styles are the result of regional influences, and at times folk dance. The more contemporary sub-genres aside, there exist many types of traditional flamenco:
Alegrías
Bulerías
Cantiñas
Caña y Polo
Caracoles
Colombiana
Fandango
Granaína
Guajira
Jaleos
Malagueña
Martinete
Mirabrás
Romance
Rumba
Seguirilla
Sevillanas
Soleá
Tangos
Tanguillos
Taranto
Tientos
Verdiales
Zambra

It could take a while to describe all of these, and while I enjoy flamenco I would do you and everyone else a great disservice should I try to explain all of these in technical terms. So I send you to this section on esflamenco.com, where you can read more. Pay special attention to the list like mine above, but with links to explanations of each which covers the specifics of dancing, music, and timing. Probably the best place to learn about the origins and evolution of flamenco is the Flamenco Dance Museum (Museo del Baile Flamenco) in Seville, which is just a few years old. The museum is wonderful, and they use plenty of new technology (in a good way) in several interactive exhibits.
Tablaos are where you'll see the professional quality and choreographed shows, although most would say it's just as good in the Cass de la Memoria or Casa Carmen Arte Flamenco (see below). Artists can range from the nationally to internationally known, and the dress and costumes are superb. Many shows offer dinner or just a drink, and the prices will be the most expensive for enjoying flamenco. While some people and guide books comment on these as tourist traps there is plenty to enjoy - for a price - and some of the best quality shows take place in tablaos. As I recommend for most of them, skip the dinner and take the drink only option. What is the difference between these establishments (tablaos) and the ones I list below? The show is longer, more choreographed and there are many more performers. Some tablaos also attract crowds of tourists, piling off their hired buses in search of flamenco.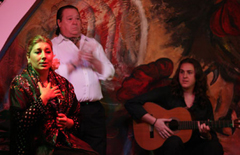 Los Gallos Tablao Flamenco
Location: Plaza Santa Cruz, 11
Dates: Every night (20:00; 22:30)
Reservations: flamencotickets.com

Los Gallos is one of Seville's oldest tablaos and perhaps one of the best locations: a renovated historic home in the Plaza de Santa Cruz. The venue is smaller than some of the larger tablaos, and puts to use the rustic and traditional architecture of the original building as a backdrop for traditional flamenco performances. Los Gallos has only one options for tickets: Show + Drink.
Book this show.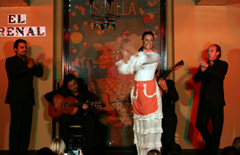 Tablao El Arenal
Location: Calle Rodo, 7
Dates: Every night (20:00; 22:00)
Reservations: flamencotickets.com

Tablao El Arenal takes its name from the neighborhood in Seville between the Cathedral and the Guadalquivir river. The central location, just a few blocks away from the Maestranza bullring, features a typical 17th century Andalusian building, renovated to offer full dinner and bar service. The flamenco shows last about an hour and a half. Ticket options include the show with a drink, tapas or complete dinner. Book this show.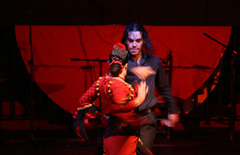 El Palacio Andaluz
Location: María Auxiliadora, 18-B
Dates: Every night (19:00; 21:30)
Reservations: flamencotickets.com

The venue is a completely renovated warehouse in the city of Seville, offering over 500 square meters of space, including a large stage area, a typical Andalusian Bodega and plenty of tables with full bar and restaurant service. The venue is more of a theatre setting with the largest capacity and stage of any of the tablaos in Seville. Ticket options include the show with drink, tapas or complete dinner. Book this show.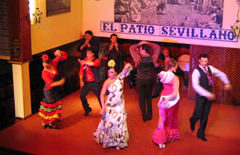 El Patio Sevillano
Location: Paseo Cristobal Colon, 11A
Dates: Every night (19:00; 21:30)
Reservations: flamencotickets.com

What is now El Patio Sevillano began in 1952 when the owners founded "Cortijo el Guajiro", located in the very center of Seville. The owners brought to the stage many talented performers, leading to further success. In its early days El Cortijo featured the young talents of Trini España, Matilde Coral, El Farruco, etc. The venus has moved closer to the river, offering ticket options of show with drink, tapas or full dinner service. Book this show.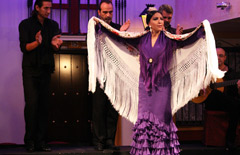 Flamenco in Sevilla de Opera
Location: Calle Pastor y Landero 8 (Arenal Market)
Dates: Tuesday and Thursday (19:00; 21:30)
Reservations: flamencotickets.com

A new venue opened in late 2012, Flamenco in Sevilla de Opera holds shows on Tuesday and Thursday nights within the Arenal Market. The venue is newly renovated with excellent acoustics as well as a unique backdrop for the stage which mimics a street scene in Seville. There are also theatre style opera productions held during the weekends. You can opt for the show with drink, tapas or a fixed price meal. Book this show.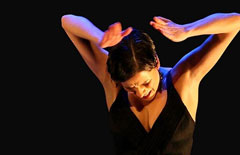 Esc3ncia Vinos & Arte
Location: Calle del Real 20 - Salteras (Province of Seville)
Dates: Most weekend nights (19:00; 21:30)
Reservations: Book this show.
Opened in September 2012, Escenia Vinos & arte is located in the small town of Salteras in the province of Seville. There is a free shuttle service with three pick up points in the city center to take you there and back. The renovated bodega has drink service, and you can enjoy tapas after the show in another bodega just next door. This is a nice way to see some flamenco and get a glimpse of small town life in the province of Seville. Book this show.
In the two establishments listed below you'll also find excellent, professional artists, often times the same who perform in the more expensive tablaos. Prices will be less and student discounts at times are available. One of my favorites is Auditorio Alvarez Quintero which has nightly shows in an historic home renovated to include a stage plus a small art gallery. The family and people behind the scenes have many, many years of experience with the local flamenco scene and have vast knowledge of flamenco in Seville. Casa de la Memoria, where you can see an affordable show is another small venue. In reports from others and in my opinion, the quality of the shows at Auditorio Alvarez Quintero and Casa de la Memoria are on par with the tablaos above. Note that many of the artists and dancers may move back and forth from these smaller venues to the larger tablaos. What is the difference between a smaller venues and the tablaos? There are fewer performers, the shows are often more improvised and last about an hour. Still, many would consider these smaller places to be a better show. The audience tends to be more intimate - couples and small groups of friends and visitors - and less the tourist bus scene. These places are a better show in my opinion.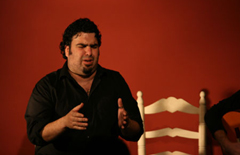 Auditorio Alvarez Quintero
Location: Calle Alvarez Quintero, 48
Dates: Every night (21:00)
Reservations: flamencotickets.com

Auditorio Alvarez Quintero is a recent addition to the Seville flamenco scene. Located in a recently renovated 18th century building, the location is only a few meters away from the Cathedral. The owners who once lived in the same house have converted the space to include an area for flamenco performances as well as an art gallery and workshop. Auditorio Alvarez Quintero has only one ticket option for the show (no drink or meal services) Book this show.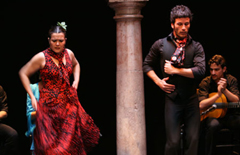 Museo del Baile Flamenco (Museum of Flamenco Dance)
Location: Calle Manuel Rojas Marcos, 3
Dates: Every night (19:00 weekdays; 19:30 weekends)
Reservations: flamencotickets.com

The Museo del Baile Flamenco (Museum of Flamenco Dance) in Seville was opened a few years ago. This is an impressive venue for some of Seville's best flamenco in a shorter format. Located in the Santa Cruz quarter, the museum offers shows from Sunday to Thursday, as well as longer weekend shows (Fri - Sat). There are many ticket options, including packages for a visit to the museum and introductory flamenco classes. Book this show.
Casa de la Memoria
Location:
Calle Cuna, 6 (New Location)
Dates:
Every night
Flamenco from 16 €, with two shows every night. Talented students at local schools perform in the 18th century patio, making it a unique venue for flamenco. Note the new location which has separated from museum for the sefardi culture, one of the few centers featuring the history of the Jewish inhabitants of the city. The new venue is in the shopping district in what was formerly the San Marco restaurant.
Deciding on which show is best for you can include many factors, including location, services, length of the performance, type of venue...well, there are several things to consider. You may want a queiter place where you can concentrate on the performance, or the thought of not enjoying a cold beer or glass of sherry during a show may frighten you away. When you arrive it is also hard to get information on all of the possible shows. My coworker Thorsten and I began thinking about what it was like to visit and consider these options. We decided to visit as many venues in Seville as we could, take some photos, and list everything that makes each place unique. The result is a new site, flamencotickets.com, where you can read about the shows, see photos, videos and purchase your tickets in advance! If you need help deciding on which show is best for you just send us an email from the site and we will offer our personal advice.


The Jueves Flamenco series sponsored by Fundación Cajasol is one of the best ways to see some of the more well known flamenco artists. The foundation sponsors all sorts of cultural events in Seville and Andalucia, and this is one of the most popular. The Thursday night concert series offers a variety of performances, from traditional dance or guitar to the more innovative, such as jazz and flamenco fusion. The one constant: the shows are always excellent, and with the exception of a few holidays they take place weekly. The organizers have done a great job at attracting nationally known artists and in some cases the concerts will sell out well before the date.
The program ends in late May so for the summer time you'll have to take a break. Tickets can be purchased ahead of time through the Cajasol Online ticket sales (there is an English version of the page). When the new schedule is available it will be posted on this page as well as in the monthly events calendar.
From the improvised and exciting to only singing or guitar you can find some great shows with a little neighborhood atmosphere in these places. Some have regular flamenco nights where you can catch a local act. While most - but not all - will lack the professional talent there's plenty of passion in their performances and you may find you enjoy these performances more than the above shows!

Asociacion Antigua de Sevilla

: c/Castellar, 50 (Arenal).

:
Gifted amateurs with tickets starting around 3€. This is one of many peñas in Seville, and I will soon launch a larger list. They also have live jazz and other music, as well as workshops everyone can participate in.


Lo Nuestro

: c/Betis, 31 (Triana).
A fixture on calle Betis for years it's a great place for a little flamenco with a group playing just about every night. A nice break from the discotecas and other bars with bad pop music on calle Betis.


La Taberna

: Triana - c/Duarte, 3 (Triana).
A great place for an improvised show just down the street from Lo Nuestro. Drinks are all you pay, after that sit back and enjoy the flamenco - normally signing and guitar.


Casa Anselma

: Triana - c/Pagés del Corro, 49 (Triana).
One of the best known bars of the Triana flamenco scene where Sevillanas is common. While entrance is generally free, Anselma will make sure that you order the obligatory drink when you enter. Be nice and order up before she finds you!


Simpecao

: Triana - Paseo de la O - riverwalk (Triana).
Take in a little flamenco right on the shore of the river. Improvised and spontaneous, it's a great place to for flamenco in Triana. This section of the riverwalk is in much better shape than it was 10 years ago!


La Madrugá

: Triana- c/Salado (Triana).
Close to the Plaza de Cuba and plenty of places to ear. Live flamenco weekly.


Taberna Flamenca

: Arenal - c/Adriano (Arenal).
In the heart of the Arenal nightlife, and close to the Plaza de Toros.


La Carboneria

: Santa Cruz - c/Levies 18 (Santa Cruz).
Famous from it's mention in almost every guide book about Sevilla, it's still worth a trip. Free music, often Flamenco, can be found in the back covered terraza, popular in the summer and winter. The front bar with a more rustic, winter pub atmosphere includes a piano, stone walls and floors, fireplaces and wooden tables and chairs. A mix of people, from pijo to earthy, spanish to every nationality under the sun, with plenty of Americans if here for only a day or two. Aside from it's reputation as a tourist bar, when there's a live act and I've got a friend in town they always come away liking the place.


Lola de los Reyes

: Avda Blas Infante (Los Remedios).
More upscale clientele in Los Remedios.


El Rejoneo

: Avda. Blas Infante (Los Remedios).
Don't be afraid to get up and dance en El Rejoneo, as many join in as the night moves on.


El Perro Andaluz

: c/Bustos Tavera (Santa Catalina).
Sometimes there are local flamenco shows in this bar..


Tertulia Flamenca

: c/Castilla (Triana).
Flamenco Fridays!



Some of the best known performers make Seville a priority on their tours. Below you will find some of the larger venues where "something big" may be coming.
El Palenque

: (La Cartuja).

:
Closer to the center of Sevilla than the Estadio Olimpico and an indoor place for off weather nights. El Palenque hosts international and national acts frequently.


Teatro Central

: (La Cartuja).

:
A mix of the arts with mainly theatre and music performances. Generally plenty of flamenco and other contemporary music each month.


Sala Joaquín Turina. Centro Cultural Cajasol

: (Centro).

:
From September through May, this venue offers flamenco dance and music performances as a part of it's Jueves Flamenco program.


Teatro Lope de Vega

: (Arenal).

:
Aside from opera, theatre and the symphony you'll find an occasional flamenco performance by some of the best artists in the world. Very convenient to the center.



There are regular events and festivals which you can plan around if you want to see more than one act. A small sampling for Seville and neighboring cities and towns. Also keep in mind that there are certain foundations and concert series which will bring weeks or months of concerts in Seville. If you explore a little more you'll find a lot of flamenco in the small towns in the province of Seville. Places like Moron de la Frontera and Utrera both have festivals.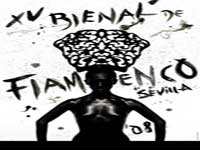 Bienal de Flamenco
Location

: Various Venues


Dates

: September - October 2010


Web

: bienal-flamenco.org
Every two years Sevilla plays host to one of the premier flamenco festivals in the world, always featuring some of the best acts. From the largest of venues to the smaller peñas in the city you will have plenty to see between the beginning of September and early October. The activity draws people in from Spain and the rest of the world. The next date is 2008.



Feria de Abril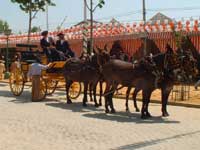 Location

: Fair Grounds (Los Remedios)


Dates

: April


Web

: Exploreseville Guide to Feria
The Feria de Abril is a great time to see what many consider the typical Andalucia dance of Sevillanas. While well known in Seville and Spain it may not be what the typical tourist is expecting when looking for Flamenco. Sevillanas is perhaps a type of flamenco (some would argue this) but with different timing and a different style of dance from the foot-stomping you'll see in a tablao. The Feria takes place on the other side of the river and breathes a little life into Los Remedios.



Guitarra Festival de la Córdoba Festival
Location

: Córdoba


Dates

: July
Web: guitarracordoba.com
From Flamenco to jazz the Cordoba Guitar Festival promises to be a great event just a train ride away in the city of Córdoba. Keep in mind this is not a flamenco only festival, but there are always good flamenco guitarists to catch during the two or so weeks of the event. A sampling from last year's list includes Paco de Lucia, Al Di Meola, Bob Dylan, Stanley Jordan and more. For 2005 the dates are 1 - 16 July, and the acts are yet to be set. You can see the information from 2004 on the official site.




While many people come to Seville to study the language, there are thousands who arrive for flamenco courses. Or perhaps you want to combine the two. In preparation for my wedding I took sevillanas classes (something I guess you must learn if you are tge groom). You won't see me dancing sevillanas anywhere, but the classes help and if you want to have a little more fun at the Feria learning a few pasos of sevillanas helps!. If this will be your first time taking classes here is a short report from sevilla5.com about the first day of class in Taller Flamenco. Below is a list of some schools with web sites. There are many more schools in Seville, so consider this a list to start your search.
Taller Flamenco

: Calle Peral 49

: (34) 954 564 234


: tallerflamenco.com
Beginners to advanced: Dance & technique, guitar, compas & palmas, workshops & group classes, sevillanas, plus classes for teachers.


Escuela Flamenca Juan Polvillo

: Calle Castellar 71, 2º Izq.

: (34) 954 909 115


: escuelaflamenca.com
Beginners to advanced: group, intensive, technique, "duende", compas & palmas, sevillanas.


Estudio Flamenco Carmen de Torres

: c/ Lepanto 7.

: (34) 954 164 744


: flamenco-carmendetorres.com
Various courses. Located in Castilleja de la Cuesta (5 minute drive from Triana)


Academia Musicala

: c/ Doña María Coronel, 10 .

: (34) 954 221 333


Academia de Baile de Manolo Marin

: c/ Rodrigo de Triana, 30.

: (34) 954 340 519


Escuela de Danza Sevilla

: Calle Sor Ángela de la Cruz, 29.

: (34) 954 560 144


Cristina Heeren Flamenco Foundation

: c/ Fabiola 1.

: (34) 954 228 879

: flamencoheeren.com
Professional school with year and summer courses.