Hotel Un Patio al Sur
Location: Calle Fernan Caballero, 7
Prices start at: 72 €
Make a Reservation at sevilla5.com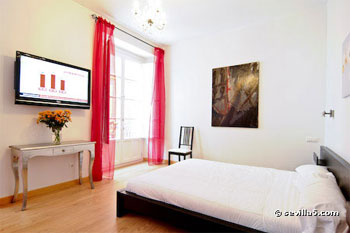 Guest rooms are furnished in a modern style, with careful attention to smaller details. Each room includes a complete bathroom, individual climate control, satellite and TDT (Digital) television and a wardrobe for clothing and luggage storage. All rooms also have double-paned windows. All superior rooms in the hotel include large 42" flat screen televisions and a small sofa, while two superior rooms also include balconies to the street.
Rooms in Hotel Un Patio al Sur offer the following amenities:
Air Conditioning/Heating
Full bath
Direct dial telephone
Satellite/TDT (digital) television with remote control
Safe deposit box in room
Non-smoking rooms
Small pets allowed
Luxury rooms with 42" flat panel televisions
Some Luxury rooms with balconies to the street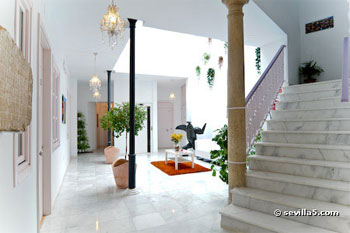 Guests enter the hotel through the original wrought iron gate, dated from 1853, indicating the original construction of the house. On the ground floor is the reception as well as a small sitting area in the central patio. At the back of the patio is the elevator leading to the guest rooms on the first floor. At the front of the patio are the stairs leading to the guest rooms and roof terrace. The common areas of the hotel feature marble floors, while guest rooms are fitted with comfortable wood flooring.
The hotel facilities include:
11 rooms
Central Patio
Roof top terrace with exercise equipment
Central reception and sitting area
Complimentary coffee in the mornings
Cold drink service
Safe deposit box in reception
Elevator
Handicap facilities
The hotel is located in a pedestrian only area of the center of Seville, located in the central shopping district close to the Museum of Fine Arts. Guests are very close to the Arenal quarter with sights such as the Hospital de la Caridad, Plaza de Toros and the Guadalquivir river. The main shopping streets of Sierpes, San Eloy and Tetuan are within very easy reach. The Plaza de Armas bus station is also nearby.
Approximate walking distances:
Shopping district - 1 minute
Museum of Fine Arts - 3 minutes
Guadalquivir River - 5 minutes
Plaza de Toros - 6 minutes
Cathedral and Alcazar - 9-10 minutes

Make a Reservation at sevilla5.com