One of the most difficult tasks can be finding a suitable apartment or living situation once you arrive. You may be looking to live on your own, with roommates, or a Spanish family. All are possible, with different degrees of difficulty and there are plenty of services which will help you locate housing that's right for you and all come at a price. Note that the summer months of June and July are good times to search, while September and the winter months may offer less options. Still, temporary accommodations such as a cheap hostal may cost much less in the winter, thus making it a better time to make the move. Some suggestions are below for sites, classifieds and more which will help you get settled in:


While you begin your search
While maybe not ideal a cheap hostal can provide you with affordable housing while searching for a more permanent solution. You may also have some luck negotiating the price down in some places if you plan to rent for a month. A few suggestions for cheaper accommodations:
Hostal La Montoreña (Santa Cruz) - prices start at 20€ per night for a single in the off-season. Some of the rooms have been recently renovated. The hostal also offers a few small studio apartments for the price of a double room in many hostals.
Hostal Catedral (Santa Cruz) - prices start at 25€ per night for a single in the off-season.
Huespedes Arguelles (c/Alhondiga) - prices start at 20€ per night for a single in the off-season.
Youth Hostal (c/Isaac Peral) - further from the center but clean and modern.
Private Youth Hostals (Center) - recent additions include Sevilla Urbany and Oasis Hostal. There is a third on Avda Menedez Pelayo. Cheapest options are sharing rooms.
Another idea which may lead to long term housing are shared flats, which you can find through other sites such as sleepngo.com (recommended) and roomates-sevilla.com, which for a fee will help you locate a housing option according to your needs. They offer a variety of options which can include: shared flats with other foreigners or Spaniards, housing with families including meals or your own apartment. Let them know how much you want to spend and how long you'll be staying (short to long term options) and you'll get a chance to move in right away or meet with your possible family or flat mates before deciding to move in.


Where and how to search
Your best option when searching in Sevilla is the El Cambalache, which publishes classifieds for just about everything three times a week. It costs around 2€ and can be purchased at almost any newsstand. The website gives you listings and prices but does not provide contact information, and it is much easier to search in the print version. You always place an ad through the paper if you are looking for a specific living situation. El ABC Sevilla also publishes a weekly classified section with plenty of apartment listings. The website Tucasa.com also has listings for Sevilla and other cities, including house sales as well as rentals. Finally walking around town and looking for "Se Alquila" signs with phone numbers and start calling. We found two of our apartments in different ways - calling off a number on a sign in the street and through the classifieds in the ABC classified section.


What to consider in your search
The area:
Identify the area you want to live in to narrow your search. I won't recommend specific places as each person has their own needs. Factors which should come into play are proximity to where you work or study, proximity to nightlife or areas you frequent, plus typical cost of rent. For instance, some areas such as around the Alameda, will likely be significantly cheaper than living in Santa Cruz. This may take some time to decide, and if you are able to live somewhere for a few months before you find a long term apartment this is the best. Start looking exactly where you want to live first, then if it becomes difficult start looking further out or in your second choice area.

Once you see an apartment you like try a more detailed inspection of the area. Pass by several times if you can: during the morning, the afternoon and later at night. How much noise is there at these times of day? Is there a bar open late at night below next to the apartment? Is it a scene for the weekend bottelón? What type of people are walking around in the area? Does it feel safe to you?


The apartment
Identify the characteristics you want in your apartment: Do you want a window or balcony on the street? In most cases this means more expensive and can also mean more noise. Do you want a bajo (ground floor) or a first or second floor? A bajo will be less expensive but likely be noisier, especially if on a street. Do you need air conditioning? Heat? How many bedrooms? Separate or larger kitchen?
Make a list of everything you want and then prioritize. Write down every detail you can think of.

When you are looking at the apartment itself make sure you ask plenty of questions and have your list handy if possible. Some things to think about, depending on what your list may have on it:
Stove: Does the kitchen have an oven? Many don't. How many burners does the stove/hob have? Does it use city gas or does it use cylinders? In the case of gas cylinders you will have to get refills – they deliver but it can be inconvenient if you run out. Is it vitro cermanica? This is a glass/cermic top which requires special cookware. If you are bringing cookware with you make sure it is safe to use on this surface or you will have to buy it new.
Refrigerator: What size refrigerator do you have – a smaller size with no freezer or a normal size? If you are sharing the apartment with several people will this be a problem? If you like to freeze meats or foods and have a freezer only big enough to hold an ice tray it may not work for you.
Kitchen furnishings: What type of kitchen ware, plates, etc. are provided?
Air and heat: Is the air conditioning central or are they individual room units? Are they where you would want them to be, or only in the living room, or just one bedroom? Is there heat? Many apartments don't have heat or rely on the little heater you hide away under the dining room/living room table. Is it electric heat (more expensive) or gas heat (less expensive, also less likely in Sevilla)
Hot water heater: What type of hot water heater does it have? If you it heats water with city gas then you will always have hot water. If it's electric what size is the tank? A smaller tank with more than 2 people can mean cold showers for some? A smaller tank for just two people can also mean cold showers for the second person!
Furniture: What type of furniture does the apartment have? A lot have cheap/poor quality furniture.
Beds: What type of bed(s) does it have? Very important if you have an inflexible owner who won't change the beds or allow you to buy your own. You will have to sleep on it every night, and many mattresses in rental apartments are of poor quality.
Your belongings: If you have your own furniture or want to buy something would the owner move the existing furniture? Many have no place else to put it or simply don't want the hassle of moving the furniture.
Decoration: does all of that ugly stuff fit into a closet or some other place? What can you live with? We gave up one place because we knew the large dear heads wouldn't fit anywhere and the quantity of really, really ugly furniture and decorations was just too much. We would have filled the entire second bedroom with it.
Washing machine: Does it have a washing machine? Almost all apartments do and make absolutely sure yours does. It is expensive to wash clothing at a laundromat, and there are very few in Sevilla.
The building
Once you are looking at the apartment take into consideration a number of things about the building:
Neighbors: What are your neighbors like? Hard to tell on the first visit but you may be able to get an idea, or simply ask the owner/agency. Are their mainly older couples? Students? Families with children? Loud children?
Size of building: How many apartments are in the building? Will you have a lot of neighbors or just a few?
Roof top: Is there space on the roof to hang your laundry to dry? Is it open to everyone or do people have assigned spaces to hang their laundry? I always like to see the roof of the building to see what space and views there are. Sometimes it's just curiosity.
Television: Does the building have a community satellite dish so you can subscribe to satellite television? If not can you have your own individual dish installed?
Location in the building: Is the apartment close to the entrance of the building? If so you may have more noise as people come and go.
Elevator: Does the building have an elevator? If you live on a higher floor or have to hang your laundry on the roof an elevator is a plus. Trust me, you will tire quickly of climbing several flights of stairs in either case.
Renting your own apartment
If you want to live more independently renting your own apartment may be the best option. A few things to consider if you choose this option.
Deposits: 1 month's rent is normally required for an apartment, with 2 months being common for some furnished apartments. If you plan to move at the end of your lease (and assuming you have no damage to the place) it's customary for the owner to use your deposit towards your last 1 or 2 months rent instead of refunding it to you at the end of your stay.
Utilities: For many utilities you should open a bank account for automatic drafts. Note that most utilities, except for some internet and cable/satellite services, will charge you every two months.
Furnishings: Most apartments come furnished in Sevilla with most major appliances included. Generally a small amount of cookware, plates, utensils and glasses are also supplied, although in most cases you shouldn't expect anything special - those dollar or 20 duros stores are frequented by landlords searching for kitchen wares.
Agencies: If you use an agency or inmobilliaria to help you find an apartment expect a finders fee, anywhere from 50-75% of a month's rent.
Income Verification: Be prepared for the landlord to ask for a nomina (much like a check stub from your employer), showing your monthly income. Some may require an abal, a certified statement from your bank which acts as a guarantee for payment of rent. If you have enough money in the bank or show steady income you won't need this. If you have none you can pay a monthly fee, like insurance, to the bank and they will issue an abal to cover you.
Does it seem impossible to get a place if you've simply saved up enough money but don't have a steady income? Well consider my friend who found a one-bedroom studio in the center for 300€ per month including all utilities. He paid no deposit and didn't provide any proof of employment or income. How did he do this? Through a friend - social capital!
Below are some of the common words or phrases used in apartment listings you'll find online or in classified ads.

| | |
| --- | --- |
| Spanish | English |
| a estrenar | brand new |
| aire acondicionado (a/a) | air conditioning |
| alquilar/se aquila | for rent |
| alquiler | rent, as in what you pay each month |
| amueblado | furnished |
| antena comunitaria | community antenna, generally for local broadcast stations but also for pay television like Digital Plus |
| armario empotrado (a/e) | built-in closet |
| aseo | half bath |
| ascensor | elevator |
| ático | attic apartment |
| aval | official statement from bank verifying income |
| balcón/balcones | balcony |
| bajo | ground floor |
| baño | bathroom |
| baño completo | full bathroom |
| calle or c/ | street |
| cancela | gate |
| casco antiguo | old city center |
| climatizado (f/c) | central air/heat |
| cocina americana | kitchen is shared with your living room space |
| cocina amueblada | kitchen with appliances |
| cocina independiente | separate kitchen |
| comisión | commission or agency finder's fee |
| comunidad | community expense for cleaning and repairing building |
| comunidad incluido | rent includes price of community expenses |
| corral de vecinos | doors to each apartment within a central patio |
| dormitorio or dorm. | bedroom |
| electrodomésticos | kitchen appliances such as a refrigerator |
| entresuelo | mezzanine |
| estudio | studio apartment |
| exterior or ext. | facing the street |
| fianza | security deposit, generally 1-2 months rent |
| garaje | garage |
| habitación or hab. | room |
| inmobilarios | agency, real estate company, property management company |
| interior or int. | facing an inside patio |
| lavadora | washing machine |
| lavaplatos | dishwasher |
| luminoso | bright, well-lighted |
| m2 | square meters |
| marmol | marble, as in marble floors |
| micronda | microwave |
| mueble | furniture |
| nómina | paycheck |
| patio central | central patio in building |
| piso | flat or apartment |
| planta | floor |
| plaza garaje | parking spot in garage |
| portero | doorman who guards building entrance and cares for building grounds |
| portero - video portero | video phone enabling to see who is at the building door. |
| pts. | pesetas |
| puerta blindada | reinforced door with series of locks |
| reformado | renovated |
| rehabilitado | rehabilitated |
| salon | living room |
| sin muebles | unfurnished |
| sin amueblar | unfurnished |
| suelo(s) | floors, as in marble, wood, tile |
| terraza | terrace |
| trastero | storage room |
| vista(s) | view(s) |
| vacío | empty |
| vender (se vende) | for sale |
Once you are in and settled you want to make sure the transition is smooth and that you have a good relationship with your nieghbors, roomates or host family. I think it's more fun to point out how to make them mad. That way you learn what not to do. As everyone is a bit different that also keeps me from having to mention all of the things you should do. Most of these you never want to do, while others you need to learn your boundaries first and judge the people around you. It may be ok to do some of the things I've listed below, especially on the host family list. Still, you need to be a good judge of when and if it is appropriate to ask. Making assumptions about what is ok is, well, ok. But be careful about big of an assumption you may make. When in doubt don't be afriad to ask.

How to make your neighbors mad…
Use the patio or common areas to store your bike, dirty shoes or items you can't fit in your apartment.
Hang out in the patio, sunbathing or reading a book. Hang out on the community part of the roof where they dry their laundry. Do this during the day as people come up to hang their laundry.
Invite people over for drinks or a party. Do this more than once. Do this during the evening after 10pm.
Leave the door to the building open in the afternoon and at night.
Leave your laundry hanging on the roof for a few days because you don't have time to bring it down.
Play loud music. Do this in the morning or late at night.
When you don't have a balcony don't worry, sit in the window and drink your beer.
Don't say good morning or good afternoon when you pass by your neighbors in the building.
Decide on your own what to place in community areas - lay out your plants, perhaps some decorations. Don't ask anyone about this, just start with your own ideas!
How to make your roommates mad…
Invite people over to dinner or for drinks. Do this more than once. Make having visitors a regular thing.
Have a friend or family member come stay with you for an extended period of time. Assume this is ok and do not ask your roomates, and certainly don't let them know they plan to stay for a long time.
Take long showers and use up the hot water.
Make a lot of phone calls. Make them to mobile phones. Then insist that the bill be divided equally
Monopolize the fridge space, get everything that will possibly fit in there.
Leave the lights on in the room you are not using.
How to make your host family mad…
Come home very late at night on most nights. Use the kitchen or make noise.
Complain about the food, or make a lot of special diet requests. Don't be flexible about what, when and how you eat. Don't take into account that special needs for your meals may mean a bigger change in the routine of your hosts than you think: they may have to learn new cooking methods, go to a different store 10 minutes outside of the neighborhood to pick up an ingredient.
Ask to use the fridge to store your own food.
Don't show up for meals. Give little notice when you won't be home for meals.
Go on a trip without advising your family.
Receive a lot of phone calls at the home. Also make a lot of phone calls from their home line. Get a mobile phone so you don't bother them!
Leave the lights on in the room you are not using.
Invite people over to study or to hang out.
Act as if you have a right to certain things because you pay for staying in their house. You pay for lodging, meals, electricity, laundry and cleaning up after you. You don't pay so you can dictate every detail of your meals, use the television, phone and all of the common areas of the house.
Bring home guests of the opposite sex, especially to spend the night.

Why should you open a bank account in Sevilla? If you are living here for a year or longer there are many reasons to consider doing so, especially if you plan to get your own apartment and handle your own utilities. Some of the things a bank account will help you with:
Mobile phones - you can recharge your mobile phone at any ATM, which you cannot do with a Visa or ATM card from outside of Spain in most cases. You can also get a contract phone instead of pre paid or tarjeta, phone, which will be cheaper in the long run. Some offices for Vodafone, Amena and Telefonica may tell you that you need a NIF (like a social security number), but other offices will let you set up a contract using your passport number.
Utilities - some practically require that you have a bank account, and if not setting up an automatic draft from your account is much easier than going to the bank or a central office during set hours, waiting in line and paying cash.
Health Insurance - almost every company covering foreigners requires a bank draft for health insurance and will not make other arrangements.
Bank fees - avoid being charged the transaction fee from your bank back home every time you take out money.
Safety- keeping your money in a bank instead of a shoe box in your house is always safer. Also, many people withdraw up to their limit from their home bank account to limit the effect of the transaction fee (smart), but have to carry that cash back home with them (sometimes risky)
Getting paid - whether you're working legal or not it's always good to have a bank account where your employer or the person paying you for contract work can make a transfer from their bank. Helps with the safety issue mentioned above as you don't have to carry a large sum of money home with you.
Opening a bank account in Sevilla (or Spain) is very simple. You will need to open a cuenta no-residente, or a non-resident account. Once you become a resident you can quickly change it over to a resident account, generally with no charges. They require a picture ID and most will accept a driver's license from home although a passport will make it a little easier. Some banks have different charges for non-resident accounts while others offer the same services (and fees) regardless of whether you are a resident or not. Cajas, much like credit unions in the U.S., offer cheaper fees but may charge you for other things when opening a non-resident account. I took into account not only the fees but also the banks network of ATM's or cajeros automaticos, to avoid fees for withdrawing from machines outside of my banks network. All offered online banking at no charge. The comparison below is a sample of some of the banks in Sevilla I looked at in the summer of 2004. Charges may change some over time and options for different types of cards may be available and will likely cost more. I looked at three fees for my comparison:
maintenance - charged monthly or every 6 months
card - charged annually and you may have your choice of cards with different fees
per transaction - some banks will charge you for every movimiento or transaction. Others do not, or give you a certain amount per month free
| | | | | |
| --- | --- | --- | --- | --- |
| Bank | Maint. Fee (Annual) | Card Fee (Annual) | Transaction fee | Advantages/Disadvantages |
| Cajasol | 12€ | 12€ | 5 free per month, then 0,12€ | cheapest maintenance fee, but per transaction charge kicks in quickly; not a national bank |
| La Caixa | 28,80€ | 6€ | none | low card fee and no transaction fees; national bank |
| Banesto | 30€ | 12€ | none | average all the way around; national bank |
| BBVA | 30€ | First year free, then 9€ | a fee per transaction | first year card fee waived; Person I spoke with did not have details and didn't want to help, I looked elsewhere |
| Santander | 44,48€ | 12€ | 0,46€ per transaction | highest maint. fees and very high per transaction fee |
So who did I choose? I ended up with La Caixa because of their network of ATMs, low card fee and no per transaction cost. Also I liked the service - the fellow at the local branch was the only one to tell me that they would like to have me as a customer. Cajasol, which was once El Monte and Caja San Fernando (the two have merged) offers by far the largest network of ATMs in the city and likely in all of Andalucia. This is certainly convenient. Depending on what you need another bank may be better for you, and as always if you have something to add or know of a better deal email me!
contributed by Laura Cohen

When I quit my job in the U.S. to move to Spain, I wanted to live la vida loca and not pay for health insurance. The company that I worked for offered Cobra coverage, but for around $350 per month, which I did not want to pay. However my mother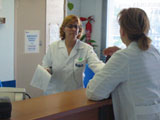 told me "if you get cancer they´ll take our house" and guilt tripped me into making the outrageous Cobra payments. Luckily, I haven´t gotten sick here, so I haven´t needed to go to the ER, the only coverage that my Cobra provides. Tired of spending more on unused health care than on rent, I decided to look into Spanish healthcare providers.
I chose Sanitas, because it costs about 55€ per month, has a huge network of doctors in Spain, and provides 100% emergency coverage outside of Spain. The plan I chose is called the SANITAS MULTI. It gives me access to a network of 20,000 primary care doctors and specialists in Spain, assures a private room if I am hospitalized, and covers basic dental care. With this plan I don´t have to deal with sending in reimbursement forms or paying for anything upfront – instead they just give you a swipe card to use at office visits. They also have a version of this plan designed specifically for foreigners, which links you to their network of English-speaking doctors throughout Andalucia and the Costa del Sol. If you might have a hard time explaining what hurts in Spanish, its probably worth the slight extra cost. Check out the different levels of coverage at their website, available in various languages. To apply, I just filled out a few simple health forms on the website. You do need a bank account to open a policy since Sanitas draws the payments straight from your account, so make sure to get that done first. Their customer service via email is excellent - they have answered every email I have sent them within 24 hours. And, if you would rather talk with an agent in person, they have an office on Avenida San Francisco Javier, near Nervión Plaza.
The following companies provide insurance that will cover you both in Spain and likely your home country, depending on where your from. Plans differ and provider networks in and away from Spain should be checked. In almost all cases (when living in Spain) these insurance plans will be cheaper than ones in the U.S. and offer better coverage for your basic needs here.
A note from Jeff: when traveling back to your home country, or better said, to the U.S., please do consider contracting health insurance. I have traveled back to the U.S. without anything on many occasions and have come and gone without problems. Until this past summer, where just before a long trip we bought medical travel insurance for two people for about 530 Euros. This covered us for 3 months. Within the first 2 weeks I found myself visiting the emergency room on 3 nights, and then in the hospital for 4 days. The total bill would have been about $10,000, but instead I ended up paying about $200 for out of pocket expenses.
The following are who you'll likely deal with (in some cases "have to" as they are national) for your utilities. More choices are becoming available as the market is a little less regulated. If you are renting the typical procedure is to keep the bill in the name of your landlord and set-up a bank draft from your bank account to pay the bill every two months for some, while other utilities have now moved to charging you once a month.
For any of these services keep in mind the phrases lectura estimada (estimated reading) and lectura real (a true / real reading) when it comes to your billing. While technically your gas, water or electric meters should be read by a technician at least once every two months, in some cases many months can go by before someone reads your meter. Why is this important? You can coast along for several months paying very little for gas or electric. You'll think you are doing great at controlling costs! Then many months later receive a bill for hundreds of Euros after they do a real reading o your meter. So check your bill and if several billing cycles go by with lectura estimada, then call and ask them to come to a real meter reading so you don't get an unwelcome surprise.
ENDESA - National electric company
EMASESA - city water
Gas Andalucia - city gas. If you use containers of gas it will be another vendor.
Ahhh...Telefonica. If you've experienced Time Warner in the U.S. you may have an idea of what it's like to deal with them. As I write this I am on day 49 waiting for my wireless router modem, but that's an internet subject. Since I first wrote this they have become much quicker about getting your modem and service connected, especially if you sign up at the Telefonica store in Plaza Nueva. There is something about having a physical person accountable for your order which makes for a much quicker service.
I must say they are a little better with straight telephone service and you can now choose your local and long distance carriers which helps. The other companies still have to lease the lines from Telefonica, but they manage to compete on the rates and do better in many cases. The way they compete is through Telefonica's marketing permission, i.e.: Telefonica tolerates promotions by their competitors which undercut their own prices for a period of time. Then some months or a year later Telefonica offers a promotion themselves to remain competitive. The main providers or competitors are currently Orange, Tele2, Ono, and Vodafone.
So what to expect with Telefonica? Generally about 70€ for connection or set up, and then around 25€ per month. The basic fee for the landline is between 13 - 17 Euros, plus taxes and other little charges they think up. Promotions run often and at times you can get free installation. Count on 10-15 days to get your phone installed (a big improvement over the 3-6 month wait back in 1989). Local calls are not free, however, so expect between 0,02 - 0,06€ per minute depending on your carrier. Flat rate plans are almost always available with these companies where you can pay one fee per month with unlimited local calls - check the below section on internet to see some of the bundled plans which will save you money by offering all local and/or national calls free. Long distance calling plans are available for cheaper rates to the U.S., Canada and the U.K. Expect anywhere from 0,06 - 0,35 per minute depending on who and what plan you choose. Tele2 offers plans for local, national and and international calling - note there are connection fees for the calls which is the case with many companies. It's often just a few centimos and then there is a per minute charge.

If you are moving to Seville you will likely want internet access in your new apartment. You can now choose from an larger type of service: ADSL, cable, satelite, wireless and the ever dreaded dial-up.


ADSL
I decided to go with Telefonica and have been somewhat happy with my service - my connection has almost always been up - although I can't say I've been pleased with the customer service. I mainly chose it because of a promotion offering a discount in set-up and price. While they use existing phone lines they may still need to come to your place to check things out - older lines and connections may need to be replaced but there is no drilling involved. Because I only had one computer to connect I chose the free USB modem instead of using my network card and a router. Opting for the NIC and router will cost you over a 70€ more. There is normally a set-up/installation fee which will vary depending on your service provider. Again, check for promotions which run often and include free modem-routers and installation. I began paying 39€ per month for my 512K service (on average it's about 400K speed), and had the option of upgrading my bandwidth by paying more. Over time they keep offering higher speed at no additional cost. As of October 2007, I have 3MB connection - 6 times faster than my original connection speed! - and they are just now offering 10MB speed for 5€ more per month, something I am contemplating at the moment. What I got with my first contract in 2004:
Connection speed - 512K
USB modem - I now have separately purchased a wireless modem-router, which also came with a netowrk card.
3 line filters - obligatory if you are going to use your phone while connected.
Email accounts - 5, each with a 25 MB mailbox
Web space - 10MB web space, fairly useless
Current and typical promotions around October 2007:
Connection speed - 3MB and up to 10MB in certain areas
Modem-router - Wireless "g" capable.
Email accounts - 5, each with a 25 MB mailbox
Web space - again, fairly useless
ome notes about my service on some specific topics, some of which have bothered me in different degrees:
Web space - after 6 months I still cannot access or use my web page space that comes with my account.
Managing account information - their Panel de Control, an online user account configuration tool, makes me log-in for every type of modification rather than remember who I am - example: configure an email account (log-in), try to activate your web space (log-in), use a subdomain (log-in). Whoever built this tool is a moron.
Email issues- Roadrunner has blocked all email coming from Telefonica on some of it's servers because of repeated abuse by spammers. I tend to blame RoadRunner rather than Telefonica. Several business I know have had problems with telfonica blocking the outgoing email port on their router to control spam. This also prevents the businesses from sending desired email to their customers! I would not recommend using Telefonica for your business emails nor for hosting a web page.
News server - There is no news server access, so if I wanted to download pirated movies, music and games I have to subscribe to a pay service. Seeing as I don't have time to do so this bothers me less. An update: there is news server access which I found one day. I have since lost the information and my faith in Telefonica to offer a decent news server is so little I have not gone back to search.
I do recommend checking out other providers, which include Terra (a Telefonica company, and really my service provider but in a way it's not. Hard to explain, just check the prices) Ya, and Orange. As offers and prices are changing constantly I recommend checking the pages. Last year Wanadoo settled with a customer lawsuit for selling broad band that wasn't really broadband. With that result and barring Wanadoo from risking more money, it's safe to say you will get real broadband from them now, especially because they changed their name to Orange after realizing their reputation was just so bad that a new name would be better. Many months later and this looks like sugar-coating the same old product. The speeds may be more guaranteed, but the service problems continue.


Cable
For cable service in Seville you can get a bundle of services (cable television, internet and phone) with Auna. If you've been to Seville you may have noticed the little Supercable lizard on the metal covers on some sidewalks. Unfortunately that little lizard isn't in too many places, as the service is limited in the center. A simple call can let you know if you are in the service area. Auna offers two bundled plans: 512K service plus local calls for 30 € or 512K service plus national calls for 36 €. Or get cable television, 1MB service and telephone for 45 € (note that the television is really just a free decoder but then you have to pay for the cable package). Auna also has a minimum 1 year contract which if you break you suffer a penalty.


Satellite
A more recent option is broadband via satelitte, almost always through Astra which then sells rights to national providers. You get great download speeds but rely on a modem for uploading, keeping you at 56K speed if you need to send large files, email or ftp. Still, you can get broadband with a small dish and a simple phone line if your location is outside of the ADSL service area. Prices start around 35 € for 256K speed. For more information you can check out the two providers: ya.com or donde-es.net.


Wireless Anywhere
Not your standard Wi-Fi, I am talking about a service provider (currently Vodafone, Amena and Movistar/Telefonica) which gives you a wirelss card for your laptop that allows you to connect just about anywhere they have coverage. This comes at a price: 59 € per month with a small bandwidth limit. Additional MB cost and it would be best to stick to checking your email or doing some light reading.


Dial-up
My question is why? Especially in Spain or most of Europe. One reason to avoid dial-up (if the painfully slow speed isn't enough) is that you are charged for each local call you make. The 20€ a month charge you get is not likely to be your final total. If you choose this route you have the same providers as for ADSL: Ya, Terra and Wanadoo. Now there is the option of free dial-up accounts, many with one national number with the cost of a local call... So what to do if you want to provide dial-up service as a company and know your customers get charged for a local call? You offer the service for free! Then "buy" or rent the phone number from Telefonica so you can get a percentage of every phone call your customers make when they connect. A few things to look at when considering this option:
Equipment: You can use the same equipment from the states so the modem you have in your laptop or desktop and the phone cord will work with the phone system in Spain.
Cost of call: Depending on the telephone number offered the cost of the call can be relatively cheap or more expensive. Some of the major providers through Wanadoo, Terra, etc. have very good rates for dialing their local number.
National number: Check to see if they offer one national number or one telephone number which works in all of Spain for dial up access which is charged at a local rate. This can be helpful rather than hunting down the local number for your area every time you are on the road.
Customer service: Be prepared for minimal customer service - some have even discontinued their telephone customer service, making it difficult to fix the problem if you don't have a connection.
Email: Check to see if they offer a POP email account or only web based if you want to be able to check your email using Outlook Express or another client.
Web space: If you want web space consider the space - some offer up to 50MB, while I've found that 10MB is more standard.
Below are some providers for free dial-up (except what you pay Telefonica) and some of what they offer. In most cases I've pointed you to the section with information on the service. Always read the fine print!

Gonuts4free.com - national, free dial up with one national phone number for Spain that is the equivalent of a local call. An hour costs around 1,44€, which you pay to Telefonica on your phone bill. Also offer free service in the UK, plus paid options for higher speed connections
Zork.com - national, uses an ad supported model (ads appear in your browser, email, etc - much like Netzero did). One dial-up number for Spain like Gonuts4free, plus email and web space.
Tiscali.es - national, 4 email accounts, 10MB web space, get your email by phone, receive faxes on your PC, and some multimedia applications.
Terra.es - national, 1 email account, 5MB "briefcase", 5MB photo storage and Terra Messenger.
Oriolnet.com - national, 1 email account, one dial-up number for all of Spain (with local call rate) and one annoying flash intro when you go to their home page.
Offcampus.net - email account, and hidden free access, as in I can't find the free service listed anywhere. They do have an announcement that they no longer offer phone support for free customers (ie: "go away freeloaders!")
Ya.com Jazzfree - national, 1 email account, 30MB web space, very cheap local call rates and 24 hour technical support!
Iredi.com - very easy set-up, one national number (with local call rate), multiple email accounts, 10MB web space plus a free domain name (all are using a www.yourdomain.es.org standard)
Wanadoo's Eresmas.com - national, cheap local dial up rates, pop-up blocker, an Accelerator app for faster connection but increases your dial up costs just a hair (um, ok), 1 email account, 50MB web space and tech support.
Atodevela.com - Asturias only, with 2 email accounts, 10MB web space and some other utilities such as anti virus, ftp, irc and more.
Cost of living is where I may get myself into some trouble. I lead a life different from yours, and you different from the next person and so on and so on. Every time I try to estimate the amount one may spend on food someone comes along convinced they can live off a pot of soup for 2 weeks, or spend 100 Euros on food for an entire month. I don't doubt that a few of you could, and I'll hold my judgment (and my tongue) on whether or not that's living happily. It's just that I don't live that way. I try to save money but sometimes I blow off my budget, too. I'll list what I think is reasonable below, based on my and other's experience. For rent I have left that open depending on whether you live with roommates, number of bedrooms and certain other situations. All other expenses are assuming you are paying the full amount and can vary based on consumption, how many people you share an aprtment with and the providers you choose.

item
amount per month
notes
rent
(shared flat)
250-350€
Depending number of roommates location
rent
(1 bedroom apt.)
400-650€
Depending on location
rent
(2 / 3 bedroom apt.)
600-900€
Depending on location
rent
(4 bedroom apt.)
800-1200€
Depending on location
electric
45-85€
Depending on consumption
telephone
20-30€
With local / national calls included
water
25-50€
2 people, 1 bedroom apartment
gas
20-40€
2 people, gas for hot water and range.
medical insurance
30-55€
1 person, 35 years of age
internet
19-39€
ADSL 3 to 20 Mbit
cable/satellite tv
20 - 60€
basic to full package
mobile phone
20-40€
(60-100€ to buy phone) then basic depending on calls per month
grocery
300 - 450€
2 people
parking in garage
80 - 120€
parking in the center
Here are some other costs for things you may consider or need during the month
| | | |
| --- | --- | --- |
| item | amount for 1 | notes |
| taxi | 4 - 7€ | Depending on where you go! |
| bus | 1,10€ | with a 10 trip bonobus |
| haircut | 10 - 30€ | Men's or women's |
| gym membership | 25 - 55€ | this is on the lower end |
| movie | 5 - 7€ | less expensive for Wednesdays, Thursdays, matinees and midnight showings |
| movie rental | 2 - 3€ | depending on new release and where you rent |
| beer | 1 - 1.50€ | imports more expensive |
| soda | 1 - 1,50€ | |
| mixed drink | 4 - 6€ | beware of cheap liquor |
| coffee/tea | 1 - 1,50€ | |
| tapa | 1,80 - 3€ | Bar Manolo has cheap tapas |
| cheap meal out | 4 - 7€ | per person |
| nicer meal out | 8 - 20€ | per person |
If you plan to relocate with children you can find plenty of online informtion about bilingual schools in Madrid, Barcelona, Malaga and the Costa del Sol. It seems that same information is harder to come by for Sevilla. Below is a short list of schools for which offer bilingual education (classes taught in half days of English and Spanish) for all ages (K - 12). As I have more information I will add to this section.
Highlands School


: 34 955 990 150
Outside of the city center in a suburb.
Europa International School


: 34 954 714 709
email: euroami@arrakis.es
Outside of the city center in a suburb.
St. Francisco de Paula School


: 34 954 211 151
City center school just off Calle Imagen.