Daily Entries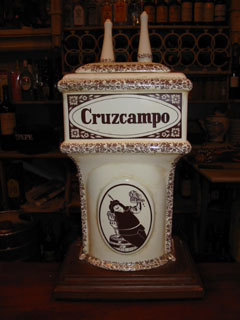 Welcome to my daily entries/dribble pages. You'll find the boring, interesting, irrelevant, happy, stupid, tedious, frustrating and at times sad below. Bascially everything I've been doing or dealing with since arriving in Sevilla, save for the first 3 weeks when I was still mentally blinded by the move and therefore unable to write.
If you can get through the personal rants and boring stuff I write there are some good lessons and examples of what daily life in Sevilla can bring you. So enjoy!
What happened before....

Click on a link to see a past day. You can then navigate day to day by clicking on the arrows at the top of each page.
Monday, October 10 "Fall, Aracena and Jabugo"
Sunday, October 2nd "Conil - Despedida de solteros"
Thursday September 22nd "Fun with literal translations; Betis-Barsa"
Sunday September 18th "Champions Results; Housing; Saturday afternoon; College football"
Tuesday September 13th "Break; Champions"
Sunday, June 12 "Campeones - Betis wins the Copa del Rey"
Tuesday April 26th "The never ending visit"
Monday, March 21st "Semana Santa day two"
Saturday March 19th "Semana Santa takes over a city (and a page)"
Saturday, February 12th "Back in action; Shaking hands with a prince; all those emails"
Friday, February 11th "Oh, so worth it...some of your most productive days can be those with a hangover"
Thursday, February 10th "1:24 AM and Duke-Carolina is an hour and a half away…"
Monday, January 31st "Book it now"
Sunday, January 30th "Wedding in a pueblo"
Thursday, January 27th "Internet habits and other web 'things' which bother me:"
Tuesday, January 25th "Things I can't stand…today"
Saturday, January 22nd "Street musicians – there are two kinds"
Wednesday, January 19th "My home network"
Tuesday, January 18th "What I do"
Friday, January 14th "Those sweet little old ladies"
Wednesday, January 12th "Holiday illness – there must be something in all that chacina"
Saturday, January 8th "Enjoying torrents, but where's the sports, dammit?"
Wednesday, January 5th "Santa didn't make it this year"

2004:

Wednesday December 8th "Holiday cheer"
Wednesday November 17th "Sevilla in 2007"
Monday, November 15th "Sunday with Karen and Sean; A Betis match to remember"
Sunday, November 14th "Lizarran again, McDonald's and 2 movies"
Saturday, November 13th "Manolo Garcia and a late evening in the Alameda"
Wednesday, November 10th "BitTorrent: a Saviour for U.S. television addicts"
Saturday, November 6th "Watching seven games at once"
Thursday, November 4th "Mira la Vida; Mira la Mierda"
Tuesday, November 2nd "Casa Rural en La Zubia; Granada"
Thursday, November 1st "Vacation; Politics on my page: the results"
Tuesday, October 26th "Sevilla for kids"
Saturday, October 23rd "Holidays and culture creep: Halloween in Sevilla"
Tuesday, October 18th "Free health insurance!; One of the worst temp jobs I ever had…"
Thursday, October 13th "Another late night debate and my two cents"
Thursday, September 23rd "A victory and being invisible; 4 days of sun"
Wednesday, September 22nd "Now, now, now, dammit!"
Tuesday, September 21st "First day of autumn"
Sunday, September 19th "Catching the match in a peña; They start to roll in"
Monday, September 13th "Sometimes Sevilla beats you down"
Thursday, September 9th "The temperatures and my connection speed go up; WiFi arrives in Sevilla?"
Monday, August 30th "Sevilla: siempre de obras; And the prices go up..."
Thursday, August 26th "Arrival; Coffee meets the 20th century; U.S. defeats Spain in basketball!"
Monday, August 23rd "On my way home to Sevilla"
Tuesday, August 17th "Where is my Visa? It's in the mail"
Monday, August 16th "Do you have a Saint's Day; Treat me on your birthday?"
Sunday, August 15th "Hurricanes and other stressful or scary situations"
Saturday, August 14th "Spain in the U.S. (and Canada)"
Monday, August 10th "Getting a visa"
Monday, July 19th "Velá de Santa Catalina; Summer break for El Rinconcillo"
Tuesday, June 29th "Expats at home"
Saturday, June 26th "Airport delays make for a very long trip…"
Wednesday, May 26th "First communion report; Humor and Television"
Monday, May 24th

"Hotels and Hostals"

Friday, May 21st "Dog Festival; The Wedding: stay away from Madrid"
Tuesday, May 18th "Communion: it's the season and it'll be my first; Fútbol"
Monday, May 17th "A last home victory"
Sunday, May 16th "Tennis in San Jose de la Rinconada"
Saturday, May 15th "Long Friday afternoons"
Friday, May 14th "Email disappears and internet problems"
Wednesday, May 12th "La Extremeña - hope the grill returns soon"
Monday, May 10th "Red tape continues"
Thursday, May 6th "Relaxation accomplished, stress level rising; Spanish bureaucracy: is it really that bad?; How cheap tickets become expensive"
Thursday, April 22nd "Marbella!; A trip to the States"
Wednesday, April 21st "Buying an apartment in Sevilla and the consequences of high prices: Suburbia!"
Sunday, April 18th "Punto Umbria"
Monday, April 12th "Semana Santa is over, here comes Feria, or for me, the beach!"
Sunday, April 11th "Santo Entierro Grande; An awful game"
Monday, April 5th "Semana Santa, Semana Santa and more Semana Santa"
Monday, April 1st "April fools is my birthday; How do you get NASN in Spain? - I'll buy the beer"
Sunday, March 28th "Daylight saving time; Betis-Barcelona rained out; NCAA tourney and the Wall Street Journal"
Wednesday, March 24th "Hello; Semana Santa and a few small updates"
Friday, March 12th "They day after"
Thursday, March 11th "It's tourney time"
Tuesday, March 9th "Patience my good friends"
Wednesday, March 3rd "Bank Account; New section coming soon"
Tuesday, March 2nd "Spring makes a cold entry"
Monday, March 1st "3 years of ties"
Friday, February 27th "Friday afternoon, night and Saturday morning; Losing your Spanish"
Wednesday, February 25th "18€ rent; Betis-Sevilla"
Tuesday, February 24th "Radio Interview; February Rain"
Thursday, February 19th "1 year - a late night retrospective on still being in Sevilla and the old slogan 'No matter where you go, there you are...'"
Wednesday, February 18th "Live college basketball video!; Berlin!"
Monday, February 16th "Alcazar at night"
Thursday, February 12th "My shoes and my suit; Taking pictures; Feels like Friday the 13th"
Sunday, February 8th "Expo wasteland; International dining in Torneo"
Friday, February 6th "It's a USB modem delivered to my door!"
Thursday, February 5th "You can tell when they really want to live in Sevilla"
Monday, February 2nd "Back online! Panthers lose a close one at 4:23am"
Wednesday, January 28th "F*ck you Telefonica"
Sunday, January 25th "Satelite dish; Telefonica's a lot like Time Warner, but worse; Betis-Real Madrid"
Tuesday, January 20th "Life without ADSL and updates coming soon; Panthers reach the Superbowl "
Tuesday, January 13th "Interview; More content?!?; Street work"
Monday, January 12th "Happy Birthday Mom!; 5 hours of Americana"
Saturday, January 10th "Students arriving; Taxi drivers from hell"
Friday, January 9th "Moving...and moving"
Tuesday, January 6th "The Cabalgada and the crazy candy chucking children; Reyes!"
Friday, January 2nd "Peel and seed the grapes; New Years Party as a way to recover from holiday sickness!"
Tuesday, December 30th "Paying the price; Robbing for Christmas; Preparations for moving"

2003:

Friday, December 26th "Can you gain 10 pounds in two days?; Apartment found!; Spanish or English, and a small world"
Monday, December 22nd "Loteria de Navidad"
Tuesday, December 16th "A trip to the land of ham; Celebrating Christmas and Reyes"
Monday December 15th "Haircut by the ultimate betico; Cereceto"
Sunday, December 14th "Family and more content; Jabugo"
Saturday, December 13th "Buying a Christmas tree in Sevilla"
Thursday, December 11th "Four good restaurants you should try"
Tuesday, December 9th "Guests in a small apartment; Rain"
Monday, December 8th "Las Tunas; Exposición de belenes"
Sunday, December 7th "A Long Lunch in Umbrete"
Saturday December 6th "A new client; Family in town; Christmas lights; Discovering some new places; Umbrete "
Tuesday, December 2nd "Non-stop relaxing Sunday in Sevilla, including three San Buenaventuras!; Meetings and more meetings; Still no ceiling; Apartments"
Friday, November 28th "A long week; Where's my ceiling?!? Here comes the cold"
Monday, November 24th "Rain!; Fire!; Manolo comes and goes; Sunday in La Huerta; A possible apartment?"
Friday November 21st "Homebound"
Wednesday, November 19th "Searching for a new apartment"
Sunday, November 16th "Cold water; Electricity"
Saturday, November 15th "A very long week, a very late night; Anyone know a good plumber?"
Wednesday, November 12th "Return to Málaga; Work, no rest"
Thursday, November 6th "Trip to Málaga; Sometimes you lose many"
Saturday, November 1st "Halloween; Clear Skies (not the Bush legislation); Updates, updates, updates"
Sunday, October 26th "Friday; Saturday tapas; Betis; Changes"
Friday, October 24th "Hitting the pavement; Doing it yourself; A day off"
Tuesday, October 21st "Sevilla-Betis; Rainy season"
Sunday, October 19th "Two games, two victories needed and I'm up at 6am!"
Friday, October 17th "Sick; The Derby: let's get ready to rumble; WOMEX and World Flamenco Fair "
Sunday, October 12th "Nervión; Rain again; Panthers; Coming soon"
Tuesday, October 7th "Emails and site work"
Monday, October 6th "Betis; Festival de las Naciones again; Haunted, or a Publicity Stunt?"
Saturday, October 4th "'Twas a week from hell; Next up: Athletic Bilbao"
Thursday, October 2nd "Rain!; Ok, I have cable, but..."
Monday, September 29th "Too good to be true; Cable theft; Email; New section"
Sunday, September 28th "Fútbol; Football"
Friday, September 26th "Monday's the day; Festival de las Naciones; Metro; Kentucky Fried Chicken arrives"
Wednesday, September 24th "Launch; A coat and tie affair; bichos!"
Monday, September 22nd "Fall, please!; Haircut; Distractions"
Friday, September 19th "Córdoba again; Sections to come; Moroccan restaurant; El Perro Andaluz reopens; Cable TV!"
Monday, September 15th "Córdoba; A quiet sunday; Hurricane"
Friday, September 12th "Star Trek 12: So Very Tired..."
Wednesday, September 10th "My first móvil; Getting things in order"
Sunday, September 7th "Family background here in Seville; Dinner in a Pueblo - Indulgence; Sunday morning in Santa Catalina"
Thursday, September 4th "Betis game; the masses arrive"
Wednesday, September 3rd "Travel in the U.S. and Canada; Getting back to Seville; Betis game"
Friday, August 6th "Málaga; Thanks Google!"
Friday, July 18th "Getting ready to leave for August"
Thursday, July 10th "A day to reflect"
Wednesday, July 9th "Success, Setbacks; Being Illegal, Capitalism; A Domain Name; The Fly I'm going to Kill NOW"
Sunday, July 6th "Tomorrow's Presentaion; Meeting with a lawyer; Page Progress"
Friday July 4th "Working; Moving to a Pueblo; Missing the 4th"
Sunday, June 29th "Ghost town ; Online Hotel Booking"
Tuesday, June 24th "Corpus missed; Updating; Internet Conferences"
Tuesday, June 17th "Yikes; Some Nightlife"
Thursday, June 12th "Work and Play; Una Velá; AC and Electricity"
Monday, June 9th "A Productive Day"
Sunday, June 8th "Research or Diversion"
Saturday, June 7th "Umbrete; Real estate; More page work"
Wednesday, June 4th "The heat"
Monday, June 2nd "Exchange Rate; Jobs; Our Patio; Victory!"
Thursday, May 29th "Día de San Fernando; Beatles Country-Rock; Spam"
Tuesday, May 27th "Exploring Sevilla; Page work"
Saturday, May 24th "Back in Sevilla"
Saturday May 3rd "Traveling"
Thursday May 1st "Agua de Sevilla"
Monday April 28th "Parque María Luisa"
Sunday April 27th "Bar Fights; Betis; Roast Chicken"
Saturday April 26th "El Cine; The Weather; This Page"
Thursday April 24th "How to Serve and Drink a Cold Cruzcampo"
Wednesday, April 23rd "The Agency"
Tuesday, April 22nd "Rain, again; Chili!"
Monday, April 21st "La Cama"
Sunday, April 20th "Semana Santa Recovery"
Tuesday, April 15th "Breaking News; The People Upstairs"
Sunday, April 13th "Rain, Semana Santa and the Betis game (Que cara)"
Friday, April 11th "Spanish Bureaucracy"
Wednesday April 9th "Que verguenza - no me gusta..."
Friday April 4th, Part II "Nightlife"
Friday April 4th "Day and Night"
Thursday April 3rd "DVD"
Saturday, March 29th "Movies and plants"
Friday March 28th "TV, basketball, and bars"
Friday, March 14th "Start"