I recommend spending at the most 2 days in Córdoba. The Mezquita should be first on your list, while the alcazar just down the street from the mezquita is worth a trip but nowhere close to what you'll see
in the alcazar in Seville. Of interest across the street from the Alcazar are some recently discovered Arab baths. Include the Roman bridge and a trip through the streets close to the mezquita in your first day. There are plenty of hotels and cheap hostels located around the mezquita, with the cheaper being further away. You can easily get away with a day trip here if you arrive early, but if you'd like to see the ruins of the Medina Azahara, a Moorish palace and city on the outside of town, it may be best to spend a night and then part of the second day exploring the ruins. You could then return to Seville or go onto Granada. When in Córdoba there are two restaurants I can recommend, although both are on the expensive side. El Caballo Rojo is next to the Mezquita and is quite expensive, but is one of Córdoba's (and Spain's) best restaurants. They are famous for salmorejo or try the ajoblanco, a white gazpacho made with almonds and grapes. Casa Pepe is also another alternative and a bit cheaper. If you ask for either place locals will know and can direct you.

Helpful Information & Links
Córdoba Photo Album
Córdoba City Map (pdf)
Traveleing in Spain Cordoba Page
Infocordoba.com


Hotels and Hostals in Córdoba

Plan to spend at least two days in Granada, although much more time could be spent here if you wish to explore both the nightlife and the Sierra Nevadas after the regular sights. First on the list is of course the Alhambra.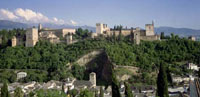 Do buy your tickets at least a day in advance, and ignore those lucky people who tell you how they just showed up on the same day and didn't have a problem. Some weekends the tickets are sold out, and some days the best hours are sold out. If you have a short amount of time in Granada and want to make the most out of it then knowing your time in advance will help. Also, you avoid hiking up the hill only to find you can't enter for another 3 hours. More information on buying your tickets can be found at the BBVA ticket information page. Or you can purchase your tickets online using a cooler domain name Alhambratickets.com, although it's just the BBVA page. You may wish to spend the whole day exploring the Alhambra. Include the Mirador de San Nicolas and the old Arab quarter, or Albaicín in your second day, perhaps taking in the Cathedral and Capilla Real. The best time to visit the Mirador de San Nicolas is before the sunset. You can get good pictures of the Alhambra during the end of the day and then some fantastic night shots. Then head down and wander through the Albaicín and the many shops at the bottom near calle Elvira. While it is nice to see the Alhambra from the Mirador in the morning, the sun is often behind the Alhambra making for poor photos. It's hard to miss the miniature medina Granda has established on one street at the entrance to the Albaicín off calle Elvira. While it's not close to the scope of the medinas in Morocco you can find a wide variety of goods, bars and restaurants: ceramics, rugs, lamps, furniture, spices, teas, a bakery and plenty of tea salons. A nice, relaxing activity is visiting Granada's hammam, a spa of sorts whose activity surrounds the comforts of arab baths of varying temperatures. All in a traditional atmosphere with lots of tile, mosaics, fountains, etc. They also offer massages, a very nice tea room and a restaurant. It's located on calle Santa Ana just behind the church and the tourist office.
For dining and nightlife Granada has plenty to offer. Calle Elvira is famous for it's weekend nightlife. Just next to it Elvira is the Albaicín where you will find plenty of bars with terraces that are great for a drink or two, as well as a number of tea houses with a laid back atmosphere. When it comes to eating Granada is known for it's free tapas! Almost every place offers you a little something to eat provided you order a beer or wine. At times it will be chips or peanuts (NOT a tapa in my opinion) but many times it's something a little more filling - meats, montaditos, mushrooms, etc. When I compare this to Sevilla, where you almost always pay for your tapas, it's a nice change. Still, the beer in many cases is smaller and a little more expensive. The tapas are also smaller than what you would get in Sevilla or other cities when you pay for them. In the end I do think you come out ahead in Granada when you are tapeando, and who could really complain about free tapas! We enjoyed eating at Antigua Bodega Castañeda on calle Elvira. There are two Castañedas on parallel streets, owned by the same people. We ate at the less popular one simply because the other was packed. Both are excellent. Also Bar Oliver is one I would highly recommend for tapas, although you must get there early. It's in a nice plaza a few blocks from the Cathedral including a small number of standing only tables outside. There's more room inside, but it fills up quick. For lunch one day we headed to a small town, Huetor Vega, to eat at Restaurante Balcón del Genil. You will need directions to arrive, as it is perched on a hill just outside the pueblo. The restaurant has seating for what seems like a thousand people, with view of the valley below. At one time it was a small place, almost a shack. Now it has several floors a large terrace and a patio when it's warm. Order anything - I do mean anything - and it will be good. We opted for various cuts of solomillo in different sauces. Add to that a few dishes to start, dessert and a shot of orujo and we left very satisfied.
Depending on what you want to do in Cádiz you may be able to make this a day trip. If you are interested in the sites of Cádiz and not hitting the beach you can catch an early morning train and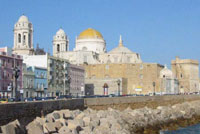 come back that evening. Trains leave almost every hour from Seville's Santa Justa train station. Check out the transportation section for more information. If you are going for the sites and stay over on a Saturday night consider taking one of the double-decker tour buses. I know it sounds silly, but if you purchase an 8€ ticket on Saturday morning it is good for the whole weekend. You can get on and off the bus as much as you like, making it easier to see the whole city. You can catch the bus (two companies run identical routes) about 100 meters from the Cathedral if you head towards the ocean. The Cathedral, the surrounding plaza and the roman amphitheater can be covered in about 1-2 hours. Nearby you can see the Cárcel Real, or Royal Prison and head towards the beach if you want to take in the sun. There are also a few bars on the beach if you plan to stay a little longer.
Most of the sites are along the water. I recommend using the walkway by the Playa de La Caleta to see the outside of the Castillo de San Sebastian. Just watch out for the sea spray in a few places. It appears they are renovating the Castillo grounds but I have no information on when they will open. After you walk back you can stop by the Antiguo Balneario de la Palma, former refuge of the well-to-do and setting for the latest James Bond movie. Also include the gardens and parks in Parque Genovés and Alameda Apodaca. Include time for a drink in one of the park cafes with views of the other towns and cities across the sea if you have time.

Helpful Information & Links
I can offer less information on Málaga as I spent a day and a half there. It is a place to hit the beach, although most people head to Torremolinos or other beaches just outside of Málaga. The center of the city is the best place to be in my opinion. We stayed in an NH hotel mainly because there was a reduced price and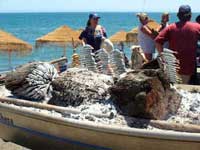 we were heading to the airport in the morning. I do not recommend this hotel if you want to see Málaga itself, as it is further from the center. To eat there are a few well known places on the beach where you can get fresh seafood, including sardines roasted over a fire. There is a nice pedestrian shopping street in the centr of the city, with a few good restaurants tucked away close by.
For sights the Alcazar located on the hills above is a great visit and provides views of the city and surrounding beaches. On a trip through the historic center you can take in the cathedral and other buildings. More information is coming soon, or rather coming when I get back to Málaga.
Carmona is an easy day trip from Seville, with buses leaving every hour or so from the Prado bus station. It's a perfect fit for one day. While the central square where the bus drops you off is not so
picturesque most of the sites to see are in the older portion of the town up the hill. On your way up the hill you'll first notice the 15th century tower modeled after the Giralda in Seville. The Alameda is a nice stop for a rest, with fountain and a large plaza where you'll often see children playing or folks simply passing time. Upon reaching the older city center you'll pass through the Puerta de Sevilla leading to the more "typical pueblo" portion of Carmona. The tourist office is located here and you can get a map guiding you to the sites. Just to the back of Plaza de San Fernando is the main market where you can do a little shopping for fruits, vegetables and fresh meat if you get here before the morning is over. Up the hill is the Parador which was first built by the Moors and later renovated and taken over by Rey Don Pedro. Now a hotel it preserves the traditional patios and houses many antiques. While you may not choose to stay there for the night you can go in and get a drink in the restaurant area. If you're lucky a table will be free on the outside terrace. The drinks are a little expensive but it's worth it for the view. Dining here is good but quite expensive as well and you would do better to choose an establishment down the hill a bit. Close by are the Puerta de Córdoba which has been rebuilt in according to it's Roman origins. The gothic Iglesia Santa Maria, like so many churches in Andalucia, was built over a mosque and preserves the original minaret.
A trip to Carmona should also include a visit to the Roman necropolis which is at the bottom of the hill. Once on the grounds you can step below into and see where actual burial rooms, dating from the 2nd century B.C. to the 4th century A.D.. Urns and some frescoes have been preserved and very close by there is an amphitheater. Carmona's Museo de la Ciudad (City Museum) also has a number of good exhibits, covering Neolithic, Roman and Islamic periods amongst others. I've never had much luck finding a good place to eat in Carmona. That's not to say there isn't some place good, I think that there are few good places to eat and I just haven't had time to find the good ones. Wait, I did manage a stop at Sierra Mayor,which is a chain with a location in Sevilla as well. We were very pleased with our meal there. It is a little expensvie but a good choice for cured meats and a variety of tapas. Also good for a beer or two as you wait for your family members to finish touring the museum next door.
Ronda is high on most people's list of the typical pueblos blancos in Andalucia and while it's certainly filled with tourists the cliffs and surrounding views will not disappoint. There's a reason everyone is visiting. Again, the cliffs offer some great views and most of the sites are centered here.
The Plaza de Toros is the oldest in Spain, and while it is no longer an active site for corridas, some very famous names have passed through and entering to see museum is a worthwhile stop. Pedro Romero, perhaps the most famous bullfighter in all of Spain, had a storied career in the venue. Just behind the Plaza de Toros is a park with a mirador, in much nicer shape than it was some 10 years ago. Go to the edge and then look down for a bit of vertigo. If you follow the walkways along the cliff you can continue on with a view, using the Parador's terrace as you wander towards the El Tajo (the cliffs over the gorge) and the Puente Nuevo (New Bridge). The Parador is less in the style of old castles or historic buildings and more a modern establishment. While there was certainly some history to the hotel you don't get a good feel. Rooms are available overlooking the cliffs. Once you round the bend you arrive to a great view of the Puente Nuevo and the buildings perched on the cliffs across the way. The bridge itself lends to two views - towards the open spaces and behind it a deep drop with a number of restaurants and bars with terraces overlooking the River Guadalevín. Across the bridge there is access to a trail that will take you to the foot of the cliffs. Great on the way down but an extremely tiring journey back up. Some 12 years ago we managed lunch below on the trail, but had a hard time keeping it down as we made our way back to the town. Lean ring this lesson we stayed away from the trail during our last trip.
Ronda is a pleasant town just to stroll around. The main pedestrian shopping street, Calle Nueva, leads from the Plaza de Toros to the less tourist areas at the end. On your way through there's a plaza with some outdoor cafes and restaurants with a church and fountain as "centerpieces". We had our meal a little ways away at Restaurante Felix, whose specialty is grilled meat. We had a very good meal for a reasonable price - maybe 15 Euros per person, including a few drinks, large main course and a few dishes for starters. Well worth it was the solomillo iberico (grilled pork loin), the chuletas de cordero (lamb chops) and the beef filet.
Ahhh, Marbella. This is a beach filled with tourists but there are some good things to do. If you like the idea of a vacation which requires no Spanish speaking this just may be your spot. The beaches are nice and for the most part there is space to walk during high-tide. The sunsets from the beach, over the mountains, are beautiful. On a clear day we were able to see Gibraltar and even across to Morocco.
Marbella is heavily developed and much larger than I thought, so much of your experience depends on where exactly you will be staying. But again, if you're here for the beach you don't need much more than the sun and sand. We were at the Marriott Marbella Beach Resort (there are two Marriott's in Marbella) which was off of N340 on the Elviria exit (or "cambio de sentido" as they call it). We had an excellent meal at Merendero Cristina which is next to the Marriott and right on the the beach. Very quick service and excellent food. Some recommendations or ideas for what to do based on our experiences. Old town part of Marbella is very clean and quaint during the day but plenty of action at night. The Plaza de los Naranjos is where you'll find the tourist office and a map. Making your way around the back streets you'll find plenty of good restaurants, pubs and bars. Further towards the water is the Alameda and then Avenida del Mar where the activity is geared towards tourists - gift shops, boat rides and more.
I've separated out some day trips we made from Marbella to Mijas and Benahavis, which you can read below. I have heard that Istan is very nice as well, although we did not have time to make it there. Gibraltar is perhaps an hour away, where you can catch a glimpse of the rock apes (which are really monkeys), explore the tunnels in the rock or stop by a pub for a pint and listen to a curious mix of English and Andaluz. While in Marbella we spent much of our time at the beach as one should do. There is the Castle of Sohail and park grounds right on the waterfront when entering Fuengirola, just off of N340. Originally built in the 12th century by the Almovarides, it is on a hill overlooking the water. This is a convenient stop on your way to Mijas. We did not stop due to time but the views looked great and it is very easy to get off and back on the highway.
If you will be driving to Marbella from Sevilla I highly recommend going through Ronda. Use A-376 which takes you from Sevilla to Marbella and through a natural park, mountains and plenty of scenery. The road numbers have just changed (A-376 is the new name), and it is well marked on the return trip to Seville but not as well indicated on the trip down. The road itself is in good shape. Ronda and Grazalema are both worth a stop. Once you get close to Marbella there are some great views of the ocean from the mountains with plenty of places to stop and take pictures. Part of the natural park you pass through has almost a lunar landscape. This route takes longer than the highway from Sevilla to Málaga, but if you are traveling you will appreciate this way over a 4-lane highway to Málaga. Ronda is a great stop for an hour, two or more. If you do drive note that once arriving at the Costa del Sol there are two main highways - N340 which is free and another which is a toll road (it is indicated with a sign that says "peaje".) N340 is fine and of course you avoid paying some higher fees.
Puerta Banus: this is the very rich section of Marbella and I wanted to list it apart. Here you can see all of the yachts and wander along the waterfront, where there are plenty of high-end shops and boutiques, restaurants, bars and expensive cars. We learned the El Corte Inglés parking lot was cheaper than the public lot - the first two hours are free if you have an El Corte Inglés credit card. It's about 2 blocks from the water and if you need to pick up a book in English they have a decent selection in the store. Eating In Puerta Banus is more expensive and there are a number of restaurants, all of which are owned by the same person, which offer a 15 Euro menú del dia. There is an American restaurant on the waterfront, too, should some of you be missing home. This is where the wealthy come to play and you will see your fair share of filthy rich people in designer clothes - it was enough for us to laugh more than once. Check some of the listings in one of the yacht sales offices to see some incredible luxury and very high prices. It seems much of the port serves as a type of used car lot, with many yachts and boats sporting for sale signs.
In contrast to the expat haven of Benahavis this is a very typical pueblo blanco with plenty of expats! They've managed to save the appearance of the typical pueblo blanco although due to it's proximity to the Costa del Sol you'll find plenty of restaurants and shops catering to tourists and relocated Europeans. We enjoyed a morning with spectacular views of the mountains leading down to the sea. There are three main
overlooks not including the view from the , monastery, or hermitage of El Puerto, a small building perched well above the town and accessible by foot only. We were tempted by the burro (donkey) taxis, which have room for two but cost 14 Euros. They take you around the center and some people looked like they really enjoyed them. Had they been able to take me up to the top to see the monastery high above I might have paid. There is also a chapel located in a cave near the tourist office which was interesting and much less of a hike. There is a legend of a virgen appearing in the cave and thus up sprang the chapel. The "less impressed by another church" part of me especially liked the air-conditioner wedged into the solid rock wall.
The town offers much in the way or artisans - both local and expat - with some interesting shopping especially around the plaza just below the Plaza de Toros. While we did not make it into the Plaza de Toros and it's museum it is a site to see from outside: a small venue, well kept and bullfights are still held here. Wandering a bit west you can see more of the typical and less touristy part of the village. Whitewashed houses and narrow streets run along the mountain side. It was also here that we saw a house whose iron railings formed the crest of the Real Madrid fútbol club.

Helpful Information & Links
Benahavis is a small expat town with very good dining, maybe 15 minutes away from Marbella depending on your location. The drive up the mountain offers plenty of views as you wind your way alongside a river and gorge. We really loved this place even if it was less "typical" than Mijas. And while there is a lot of construction (which you'll see from below upon arriving), the center of the town up above is very nice. There are a few main streets filled with shops and very good restaurants - all of them! We met several people from the UK, including a bar owner who didn't speak Spanish. In this bar we happened upon a Spanish class for Brits who had just recently arrived in the town and had a little fun helping them pronounce some basic words. We were also treated to fresh goat cheese - meant for the class but they had extra and passed it around to the rest of the folks in the bar.
In Benahavis we ate at Restaurante Eugenio Las Cañas, which is on a little plaza and has a dining room which looks out onto the mountains. The meal was very large - a specialty of the town is lamb - and after several courses and some dishes larger than average in size we took an evening stroll around the rest of the town. There are less historical monuments and more "charming" streets, plazas and restraints to be discovered in Benahavis. It's proximity to golf courses and easy access to Marbella has meant high real estate prices and a lot of new construction. The Gran Hotel Benahavis, a nice 4 star accommodation, sits at the foot of the mountain and caters to golfers well.

Helpful Information & Links
There is but one reason to come to Punto Umbria - to eat! Well, there is a beach which is quite nice when the winds don't kick the sand up. Punta Umbria is a small coastal town on the Atlantic just outside of Huelva which has been built up over the years. Piling into two cars with members of two families we made the trip from Seville in a little over an hour. Our destination: Restaurante Miramar, which is simply the best place to eat in Punta Umbria and the crowds indicate that it is well known! If you plan to go on a Sunday do make reservations ahead of time or you may find yourself eating at 5pm, or not eating at all. The place at one point was more of a shack where you could order up seafood and eat it there or take it with you. Over the years the owners have had great success and it's now a full service restaurant. If you're lucky you get a table next to the window which is right on the beach. On this day there were high winds so very little beach goers but plenty of wind surfers.
If you eat at Restaurante Miramar the best dish is likely the coquinas, little clams that for one reason or another aren't consumed often in the U.S. (I don't pretend to know why). They're bigger than average and served in an olive oil and garlic sauce (don't be afraid to use some bread to mop up the sauce!). I think just about any seafood ordered at the restaurant will please you, but for good measure here's what we ordered: cazón en adobo, gambas al ajillo, calamares (incredible - best we've ever had), coquinas, merluza in a shellfish sauce and another plate of some fish that was quite good. Afterwards dessert - the fig cheesecake is a good choice even though it sounds strange - then coffee, then a mixed drink and then back home to Sevilla.
We had hoped to make our way around the town but the wind and the mouthfuls of sand that go with it, led us to the decision of a "car based tour". Basically driving through a few smaller towns along the coast until we hit the main highway back to Sevilla. If you have a Sunday free, a car, and a craving for excellent seafood this is a great trip. If the wind is right you can also enjoy a day at the beach.
While the beaches of the Medeterreanean may be the vacation paradise of many northern Europeans a lot of the Atlantic remains the playground of the Spaniards. Ok, in the past 10-15 years a lot of these beach towns along the Atlantic are also being frequented by folks from other countries. Conil is
known for having many German tourists amongst others, but still offers some authentic Spanish life. One of the appeals to Conil is the size of the beach: wide enough to accommodate many people, and if you venture across the inlet on pedestrian bridge you'll find less people and more nature. From the beach you can see the town rise up the hill, while along the beach there still exist a few small farms, complete with horses and goats. If the sand is kicking up due to the winds (the famous levante everyone talks about) then head to the las callas, or the cliffs some 15 minutes away where the beaches are small but protected from the winds. There are also several trails running along the cliffs which are great for horseback riding or biking. If you look hard enough you may find the nude beach, too! Follow the paths for a while and you'll reach the lighthouse which overlooks a small port. In reality both the lighthouse and the man made port aren't much to look at compared to the natural scenery.
Once the day is over there are plenty of bars and restaurants to choose from up the hill, offering some great seafood and nightlife. From the plaza next to Iglesia Santa Catalina there are two tascas which are worth trying. The first is La Tasquita de Juan on c/ Padre Caro, where we enjoyed a brocheta de merluza (fish kebab) and an interesting but tasty salad with roquefort dressing. Just up the hill from a bar on the corner of the plaza is Tasca Santa Catalina. The tables outside run down the sidewalk (and the hill). The wait to put your order in can be long, but afterwards the food comes quickly. The pez espada, or swordfish is excellent. Puntillitas (fried baby squid) and the solomillo are good as well. Just up the street on c/ Sres. Curas is Heladeria Los Valencianos, where you can order anything from a simple cone to one of many elaborate sundaes and frozen treats. You can sit on one of the tables in the very brightly lit plaza and watch the people pass by. Try and find Restaurante Juan Maria, which has an outdoor patio overlooking the beach. You may need reservations to get a good seat, but the view is worth it. Finally many experienced Conil travelers may tell you how expensive it is to eat breakfast. Mind you this is all relative, but one place charged us over 8 euros for what costs 4 euros in Sevilla. Seems the bread must be in high demand, so don't be surprised if the bill is a little high - it's a tourist area afterall!
For lodging we opted for Hotel Oasis, a 2 star establishment just a block from the beach. If you request it you can get a room with a balcony with a beach view. The rooms were clean, the location very good and we paid 46 euros per night in late May, just before the rate hike in June. You get cable TV, a small fridge, full bath and air conditioning. If you don't request a balcony view you may get a room with a window onto an interior patio, making it less desirable. Still it's a good value for the area.

Helpful Information & Links
I am just starting this section, with many links to come. It will eventually be it's own link once I have more reviews of trips and services.
Skydivespain.com - whether you've done it before or want to learn, they offer several options when it comes to leaping out of a plane!
Horizonte Vertical - a paragliding school which offers classes and tandem rides in the Sierra Nevada National Park. We saw them from afar when staying in a rural house in La Zubia - they have to have some amazing views.
Green Aerostación - just outside of Seville in Gines you can get high, as in a hot air balloon ride which will take you just about anywhere you want to go: Seville city, San Lucar or the Doñana National Park. The folks running the business were part of the only east to west crossing of the Atlantic in a hot air balloon.

Pedalyaventura.com - Located in Sevilla they offer guided mountain bike excursions in Andalucia and Extremadura, with over 5,000 km of routes to choose from. They arrange pick up at your hotel, plus lunch at the end of the day.

Bikingandalucia.com - Located in Granada, they can take you on mountain or road biking tours, both guided and self-guided, in some great locations.
Ridesierranevada.com - 8 km outside of Granada in the town of Monachil. They'll take you on mountain biking trails in the Sierra Nevada National Park and offer lodging in a farm house if you wish to stay the night.
Spirit of Andalucia - located in Almaden de la Plata, in the Sierra Norte just about an hour from Sevilla. Your hosts, Natalie and Richard, will take you on some great horseback riding through a the Natural Park there, and can arrange for lodging, meals and other activities during your stay.
Equiberia - looking for a long horseback riding tour? Up to 8 days with routes in Sevilla and Huelva (as well as central Spain) that include meals and lodging in rural accommodations.

Fincalasuerte.com - guided horseback (day) tours in a Natural Park, along with rural accommodations, with a guide from the British Horse Society.
Centuresa.es - the official page of the Sierra Nevada's Slopes - skiing . 77 slopes when the conditions are right. Lift tickets between 27-35 € per day depending on the season. Don't be fooled by their English navigation, almost all of the information in in Spanish!
Buentour.com - rent a "ski" apartment in the Sierra Nevadas and hit the slopes.
Sierranevadaactiva.com - when there's no snow in the Sierra Nevada National Park there's still plenty to do. Biking, horseback riding, camping, canoeing and more. Plus a list of rural accommodations in the park.
I am working on expanding each section above, plus adding some new trips as well. It takes time to do the research and organization. For now I can offer a search for hotels in other provinces outside of Sevilla below. Soon I will have recommendations plus photos. For now, search en enjoy - you will find something I am sure!