Maps of Sevilla and Other Cities in Spain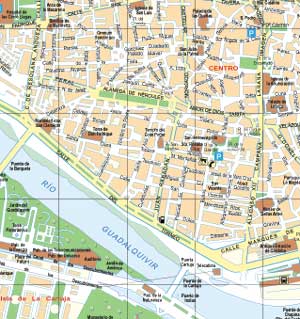 A map of Seville is always handy. Many of you have requested them and finally I've found a few good ones to post. Aside from Seville I've included a few other cities and towns which are popular travel destinations on your way here. For now they are posted in PDF format, so if for some reason you don't have Adobe Acrobat then you can download it here. I'll be the first to tell you that these maps aren't very interactive, and there are some really nice alternatives if you're looking for a specific address. My favorite is the sevilla5.com - wich is really an adapted google map. But there are listings of monuments, hotels, hostals, apartments and public parking garages with prices (and even photos so you recognize them).


Maps in this section

I am working on a fairly big project - a map with links so you can see the monuments as you browse around. This will first be in PDF format, and then in time in an easier format so you can move around online. I have a love hate relationship with PDFs: they take up a lot of server space and at times take very long to load up. But the resolution and clarity beat a jpeg any day, and I am not going to create a flash version! Below are some helpful maps for Seville, plus the official tourism brochure which should help you with sights, monuments history and more.

Seville city map - center and monuments
(387kb)
I recommend this map because it contains all of the monuments and covers all of the city center plus Triana and Los Remedios. This is part of the larger tourist brochure which can be found below.





Seville City Bus Route map
(916kb)
Thanks for Paul who pieced together this map from the many mini maps of Tussam. Here you will find all of the bus routes and stops in the center as well as outlying neighborhoods.







Centro, Macarena, La Cartuja
(223 KB)
Older map which is broken into quadrants, and thus the names above to indicate which neighborhood they cover.






Santa Cruz, Arenal, San Bernardo, Triana, Los Remedios, El Porvenir
(477 KB)
Older map which is broken into quadrants, and thus the names above to indicate which neighborhood they cover.





Map of Seville Province
(591KB )
If you want to find all of the smaller towns and where they lie in relation to the city, then this province of Seville map is a good starting point.





City Map of Seville Highways and Main Roads
(299 KB)
Good for finding the entrance and ring (loop) roads in and around Seville. This gives you a general idea of how to get into and out of Seville depending on your destination or where you are coming from.



Official Tourism brochure with map
(1,988 KB)
The whole tourist offering for Seville with history, walking routes and monuments. A few of the maps above come courtesy of this brochure. I choose to split them up in case you wanted everything or just the useful maps.




Online maps (callejeros) There are also plenty of online maps, allowing you to enter an address and then navigate around using different controls. These can be handy for locating parking and other services close to a certain address. And of course for pinpointing an exact location or destination. A favorite is qdq.com, which offers a callejero fotografico - enter an address in tehc ity center and you can see photos of the actual location. But be careful - some photos are out of date! Below are some links:

La Netro: flash based map with several options for locating services such as accommodation, restaurants, parking and more...

Qdq.com: navigate as if you were walking down the street itself. Enter an address and then see photos of the location.



City Map of Córdoba
(531 KB)







City Map of Granada
(575 KB)







City Map of Jerez

(322 KB)






City map of Madrid N: Quevedo S: EstSur Autobuses E: Retiro W: Palacio Real
(309 KB)





City map of Madrid N: Ventas S: Vallecas E: M-30 W: Retiro
(483 KB)






City map of Madrid N: Chamartín S: Av America E: Parque Berlin W: 4 Caminos
(109 KB)





City map of Madrid N: Noviciado S: Embajadores E: Cibeles W: Opera
(75 KB)






City Map of Madrid Highways and Main Roads
(701 KB)







City Map
(307 KB)