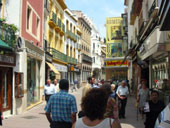 The main shopping area in the center are the two parallel streets Sierpes and Tetuan. Here you will find stores for just about everything: men's and women's clothing, shoes, ceramics, sporting goods, jewelry, posters and some of the general tourist stuff. The streets begin (or end) at Plaza Nueva/Plaza San Francisco where the "Ayuntamiento" (Town Hall) is located. From this direction you can head down Avenida Constitución to the cathedral. The other end of Sierpes and Tetuan leads to La Campana and Plaza del Duque, where El Corte Inglés is located. This shopping district also spills out into the side streets going towards the Alfalfa and a few streets towards the river. Sierpes and Tetuan are often the best places to find clothing for such brands at such stores as Zara. A large bookstore, appropriately named La Casa del Libro, is located on Tetuan sells about anything you could want including guidebooks, literature and fiction in English. Passing La Campana you can also head up Calle Laraña and find a few clothing and electronics stores.
The central shopping district is of course not an exact area and you can spend a lot of time wandering around the side streets to find interesting shops. Some of the areas below are a little further away or just outside of the city, but worth mentioning for the commercial activity.
Avenida Constitucion - a number of shops mixed with cafes can be found along the now pedestrain avenue which runs from Plaza Nueva past the Cathedral.
Alameda - the streets of Amor de Dios and Trajano, as well as some side streets have several local shops, including some second hand stores.
Calle Feria - filled with local shops for every day needs, furniture and more. Also home to the Thursday morning "antiques" market, which is a mix of antiques and junk really.
Los Remedios - more upscales shops including plenty of clothing boutiques, gift stores and more. The Calle Asuncion as well as Republica Argentina are popular spots.
Luis Montoto - running from Puerta Carmona to Nervion, this large street has a wide variety of stores which is difficult to classify.
Nervion - centered around El Corte Ingles and Nervion Plaza, there are also many shops located on the streets around this area.
Triana - around the Triana market there are plenty of ceramics shops. Other stores can be found on calle San Jacinto and then over to Calle Pages del Corro.
Camas and Aljarafe - home to several larger free standing stores accesible by bus or car, such as Ikea, Leroy Merlin (large hardware store) Carrefour (grocery and department store), Decathalon (sporting goods), PC City (computers) and more.
El Corte Inglés gets a separate mention because of the central location and the fact that it has just about everything: clothes, furniture, grocery store (with many hard to find food items), travel agents, tobacco shop, jewelry, tourist items, leather, hardware, perfume, toiletries, barber, cafe, optician...the list goes on and on. There are three main locations where you can find this department store: Plaza del Duque, Plaza Magdalena and Nervión. In the center there are two locations: Plaza del Duque you will find the the main location including clothing, tourist gifts, books, sporting goods, a grocery store, a gourmet foods store, bakery, luggage, watches, jewelry, perfumes and toiletries. Across the plaza is another El Corte
Inglés location with music, movies, cameras, computer equipment and accessories, paper/office supplies, mobile phones, audio and video (TV, VCR, DVD, stereo) and much more. Just down the street there is yet another El Corte Inglés location in the Plaza de la Magdalena where you will find kitchen ware, computer equipment and accessories, appliances, mobile phones, a supermarket, audio and video (TV, VCR, DVD, stereo) and more. Across Plaza Magdalena is the home department with beds and bedding, furniture, etc.. The location in Nervión has all of the above under one roof and is also next to a centro comercial, or mall. Basically El Corte Inglés has it all between the three locations and many locations overlap in their offerings. What the store doesn't have are the best prices for everything, but most things are reasonable. The big sales in most stores generally occur in July and January.
As you work your way to the outskirts of Sevilla or just outside the larger department stores can be found. The French chain Carrefour offers a little of everything much like El Corte Ingles, although perhaps less in the high end range of items. Carrefour includes a large grocery store, clothing, toys, electronics, home accessories and more. Hipercor is the El Corte Ingles version of Carrefour, with a large supermarket and a general selection of what El Corte Ingles carries. And there is also a large El Corte Ingles itself. Finally, Alcampo and Eroski offer a similar selection of items.

There are very few reasons to want to see a mall in Seville seeing as we are the kings of malls in the U.S. My reasons for going here are: air-conditioning on those 45° days, or a warm, dry place on those rainy winter days; seeing a movie as the best theatre close to the center is in a mall called Nervión Plaza, eating at La Casa de Costillas when I'm missing the U.S., again in Nervión Plaza. There are 3 malls which I know of, or at least can recommend if you need to go:


Plaza de Armas
Located in the old Córdoba Train station across from the bus station this is the smallest of the bunch but the easiest to get to in the center. There is a McDonald's and a movie theatre, as well as La Fabrica de Cerveza, one of the only brew-pubs I know of in Seville. Foster's Hollywood serves up American food in an Applebee's atmosphere and there is a Mercadona, a large supermarket, on the bottom floor. A number of chain restaurants, including Mexican and Italian, are just outside in the plaza. There are also a number of small shops inside and it has the charm and history of the architecture going for it. Just across the street is another movie theatre, Avenida 5 Cines, with V.O. movies (subtitled with the original language audio). The location is also close to the river if you plan to hit the bars or Triana when the heat dies down.


Nervión Plaza
The second closest to the center, although expect a 15-20 minute walk depending on where you're coming from. From the Puerta Carmona head straight and follow the remnants of the roman aqueducts in the middle of the avenue. The mall is similar to a mall in the U.S.: the indoor shops, a McDonald's within an actual food court that of course includes video games. The other main El Corte Inglés location is here as well. In Nervión Plaza you'll find TGI Fridays, which unfortunately replaced the Casa de Costillas (Ribs) some years ago. There are of course all of the shops and clothing stores you would expect in a mall, many of which can be found in the city center. Next there is Cines Nervión, 20 screen movie theatre and you can buy your tickets over the internet with reserved seating for most shows. Late-afternoon and early evening you can take your pick of illegal vendors below selling a lot of crafts and trinkets from Latin America as well as pirated CDs and DVDs. The only downside to Nervión Plaza for me is personal: it's located next to Estadio Sanchez Pizuan, home of Sevilla Fútbol Club and of course Betis' biggest rival. Aside from keeping myself from vomiting while passing the stadium I do like this mall.


Los Arcos
Further out and requiring a bus ride is Los Arcos. Like every other mall here it has a McDonalds, a movie theatre and a food court. The inside is eerily similar to a mall layout of 10 years ago in the US. Many department stores as well as some smaller shops, and if you've been to Nervión Plaza you've likely seen most of the same stores. Hipercor, owned by El Corte Inglés, is located in the mall. Hipercor is a little, or really a lot, of everything: a large supermarket, plus hardware, electronics, plants, household items and more. Almost all of the restaurants located in Los Arcos are the same chains as in Nervión Plaza. A few notable differences are a Disney Store as well as a Toys R Us location. While it's not an overly dangerous location, do keep an eye on your belongings when outside of the mall.
Located on the other side of the river from the center is Los Remedios. Upon arriving at the Plaza de Cuba you can head down the first street to your left, Asuncion and there are plenty of shops to choose from. Heading down any of the main avenues you will run into a lot of Seville's finer boutiques. If you are looking for later night shopping thee is both and Opencor and VIPS location right next to each other. Opencor has more food plus a selection of a bit of everything. VIPS has more books and press, with a little food plus a cafeteria which serves up food late into the night. Both are now owned by the mega-giant corporation of El Corte Inglés, and both are open until about 1 or 2 in the morning. It's a good thing they're here because otherwise Los Remedios is a neighborhood without a soul. It's modern with larger, uglier buildings that have no style and straight streets which form perfect square blocks. It is also a richer neighborhood, as you can often tell by the people walking around. My apologies to those living there - I'm sure there are is some convenience to this neighborhood, as well as great places to eat and surely nicer apartments. As a visitor most of you will see it lacks the charm of Triana and the center of the city.

One way to find interesting gifts or just about anything else is to try one of the open-air markets around Seville. Some are located in plazas many days a week, while others are once a week events, generally on Sundays. Many informal (i.e.: illegal) street vendors can be found around the main shopping district - Calles Tetuan and Sierpes - as well as Nervión Plaza. They sell everything from Latin American crafts, scarves, necklaces and sunglasses to pirated music and movies. It is not uncommon to see a mass exodus once the police arrive on the scene. The following is a list of the markets, what they sell, where they are located and on what days you will find them open. Someday soon the guidebooks will catch on that the Alameda market is no longer there, but they seem to have enjoyed publishing this out of date information for several years in a row now.


Animals
: Guadalquivir River (Torneo)


: Sunday mornings
Sadly the city center version of this market was closed in late October 2005. It has now returned, but along the river in the Torneo section of the city. Much less central and much less easy to visit. Say you want to buy a duck, but where to go? But really, this market has more dogs, cats, parrots and parakeets than anything else. You'll also find fish (the kind you take home in a bowl, not the kind you eat), lizards, rabbits, gerbils, chinchillas and a few other strange animals. You can also pick up bird cages and lots of other pet care supplies. Most people are here to look at and pet the dogs and cats, and it can be a tight squeeze when going through the middle of the market. Still want to know more? Take a photo tour of the market when it was still in the Alfalfa.


Collectables
: Plaza del Cabildo


: Sunday mornings
(Constitución) So many things to collect and so little time. Here you will find mainly stamps and coins, but other items such as pins, semi-precious stones, antique watches, military medals and even phone cards (yes, they collect those, too!). You can also enjoy the surroundings in the Plaza, which is a site to see even when the market isn't there. Many of the people selling coins and stamps have stores within the plaza as well. Take a photo tour of the market.


Flea Market
: Charco de la Pava


: Sunday mornings
Sadly this market was moved from the Alameda a few years ago and is now far from the center. It has a little bit of everything, and a lot of junk. Looking for a blue glass doorknob to match the others in your apartment, or an old PC that doesn't work? Well here you may find it. Also here: carved wooden masks and figures from Africa, clothes, old videos and magazines, tools, a few vegetable and olive vendors and pirated music and movies.


Art and Paintings
: Plaza del Museo


: Sunday mornings
Down the street from El Corte Inglés in the center and next to the Museum of Bellas Artes you can find paintings and sketches as well as a few other pieces from local artists. They range in styles and scenes, from your typical Sevillano patio realistically brought to life to an abstract of who knows what. There are some really good works to see and on a nice day it's like visiting a big outdoor gallery. Take a photo tour of the market.


Antiques
: Calle Feria


: Thursday mornings
One of the oldest markets in Seville has been setting up shop in Calle Feria for hundreds of years. Plenty of antiques, including a few pieces of furniture, ceramics, fixtures, paintings, coins, glassware, accessories, old video game (home) systems, computer parts, books, clothing, toys, posters. Plenty of junk as well but less so than the flea market in Charco de la Pava. Ever since the flea market moved further out of town it appears a few vendors prefer to show up here with their junk. Take a photo tour of the market.


Crafts
: Plaza del Duque


: Thursday, Friday and Saturday all day
Known to many as the "hippie market", it is located in front of the main El Corte Inglés location in the center. Here you can find belts, shirts, scarves, leather goods, jewelry, wooden boxes, small sculptures, pipes and a few other miscellaneous goods. Watch your own stuff as you shop, or it may end up in the Alameda the next week as a "second-hand good" if you're not careful.


Crafts
: Plaza de la Magdalena


: Thursday, Friday and Saturday all day
More of an African fell here it's located in the plaza next to the other El Corte Inglés location in the center. Common goods from Africa are leather bags, belts, and drums as well as some jewelry, scarves are other clothing. It is smaller than the market in Plaza del Duque.

Antiques can be found in many shops throughout Seville. Although the shopkeepers may not think so, many are fun to use as informal museums. The type varies from a little of everything, to those specializing in paintings or furniture. There are three areas in Seville where you'll have the most luck: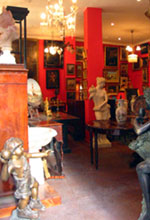 The center
In the main shopping district around Calle Sierpes and Tetuan there are plenty of stores to choose from. Wandering down some of the side streets from Sierpes towards the Alfalfa you will find stores offering everything from furniture, ceramics, paintings and tapestries.


Alfalfa
The Alfalfa area also has a number of shops to choose from. Calle Cabeza del Don Pedro has a good selection of shops with antique furniture and art.


"El Jueves"
El Jueves is the oldest market in Seville on Calle Feria. Every Thursday from early morning until about 2pm vendors set-up shop. While many of the offerings are of lesser quality and certainly not antiques, you can find a number of items which fit the category and maybe even come away with a steal. This is more of a flea market atmosphere than anything else.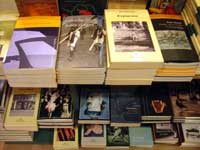 There are plenty of book stores to chose from in Seville, many are smaller and specialize in older , collectable editions. If you are looking for something in English there are a few places I would recommend. First is the Casa del Libro, a four-story building located on Calle Tetuan. On the second floor (up the stairs and to your right) they sell fiction, literature, guidebooks and Spanish class textbooks, all for the English speaker. El Corte Inglés also has a number of the same books in the Plaza del Duque location, although with a more limited selection. Finally, you can pick up a few odd (used) books in a store in Barrio Santa Cruz just off Calle Mateos Gago where Bar Las Columnas is located. Of course many tourist shops carry photo and guide books in a variety of languages for you to take back home. These same shops may also have a few pieces of typical tourist literature in English such as works by Cervantes, Ernest Hemingway or the ever popular El Cid (author unknown).

Depending on what you are looking for I would recommend two locations. For the higher priced (and generally better quality) ceramics you can find three very nice shops on Calle Sierpes: Sevillarte, Cerámica Aracena and Martian: Cerámica de Sevilla. Coming from Plaza San Francisco all will be on your left on Calle Sierpes. Sevillarte also has a location in Barrio Santa Cruz between Calles Agua and Vida. Across the river in Triana you can find 8-10 stores which also sell ceramics, some with a much larger selection than what you will find in the center. Once you cross the Triana bridge take a right, walk about 100 yards and start looking to your left. Stores are here as well as down a little side street. Many will offer much better prices on the comparative pieces. The quality and styles range here, and tend to differ from what you see on Sierpes. You can pick up that cheaper, typical Spanish ceramic gift or find something with a more original style depending on the store. A few are larger, almost warehouse type stores, while others have more of a gallery feel. You can even get a glimpse of some of the artists working on pieces in the shop.
By far the best place to go is the main shopping district of Sierpes and Tetuan. Especially on Calle Tetuan you will find a number of boutiques and larger name-brand stores. Zara is by far the most well-known of the group, with two stores located within 100 yards of each other. Cover the rest of Tetuan and you'll find just about everything you need. A larger sports and apparel shop is on Calle Sierpes towards the Plaza San Francisco. Around Calle San Eloy you will find El Caballo, which specializes in higher-end leather goods, such as shoes, belts and wallets as well as formal wear. On both sides of Calle Laraña you will also find some women's clothing stores, as well as a few more just past La Plaza de la Encarnación. El Corte Inglés has just about everything, including Levi's and man other popular brands such as Polo Ralph Lauren, Tommy Hilfiger, etc.
If there's one thing Spaniards can't get enough of it's shoes. An easy way to spot a tourist is by looking at what's on their feet. If you feel the need to upgrade for a night out head towards Plaza El Salvador. Between the plaza and the Alfalfa is what I've dubbed la calle de los zapatos, or "The Street of Shoes". Located on a side street to the left of the Iglesia Salvador, Calle Sagasta, as it is better known, has a number of shoe stores of varying quality. Prices range from 10-200€, depending on the make and quality. On Sierpes and Tetuan as well as in El Corte Inglés you can also find something to fit your feet. For fans of the Camper brand there is a Camper store on Calle Tetuan, but you will also find several stores in the city which carry a selection of the shoes.
If you want it easy and are looking for electronics such as stereos, televisions, computers, small appliances, digital cameras or accessories your best bet will generally be the El Corte Inglés locations in Plaza del Duque (across from the the main store) or in Plaza Magdalena. Both offer a mix, with some items overlapping. In general you would head to the Plaza Magdalena location for small appliances (including kitchen wares), stereos, televisions, VCRs and DVD players. Also there are any of the cables and accessories you'll need to hook them up. A smaller selection of computers, digital cameras and PDAs are here as well. For computers and digital cameras (and accessories) as well as DVDs and CDs head to the location in el Duque (across the plaza from the main location). They sell many of the media cards used in digital cameras, MP3 players and PDAs. El Corte Inglés tends to be expensive, although there are sales from time to time which make things affordable. Another location with a good selection is a store on Calle Laraña, Phillips Ultra Radio, although I am not thrilled with the folks working in the store. There are also a number of smaller stores selling a limited selection of appliances, televisions and the like. Some can be found on side streets off Calle Laraña, including Santa Maria Gracia and Lope de Vega. Others are throughout the city and you'll have to look for them. Outside el Centro you can find large selections of everything in the Sam's/Walmart type stores of Carrefour or Hipercor (owned by El Corte Inglés). If you are a fan of the brand Sony then check out the Sony store on calle Amador de los Rios, just outside of Puerta Carmona. They sell everything - computers, televisions, VCRs, DVDs, stereos - all of course by Sony.
Now if you are looking for cheaper computer equipment, especially accessories, consumables, and hardware, I do recommend heading out to some of the smaller shops. There are a so many which have popped up and you can find one about every 3-4 blocks if you look hard enough. Some are individually owned while others are part of franchises and offer catalogs. Many will beat El Corte Inglés in pricing by frightening amounts: an example being a package of DVD+R which cost 60 Euros in the large department store versus 28 Euros in a small store. That's a 30 Euro or more difference and enough to make you pretty damn mad at El Corte Inglés. Beware that some places are not as cheap, so walk around a bit, pop in the store and take a look at the prices.
When it comes to affordable audio and video accessories such as cables, I have two recommendations: R.C.O. is in Triana on calle Pages del Corro. They have four storefronts offering cables/electronic accessories, audio/video equipment, computers and something else I can't remember. On calle Amador de los Rios, again just outside of Puerta Carmona, you will find Televoz which is my favorite store when I need something I can't find anywhere else. Take a number as there is generally a wait. But it's worth it - they sell just about anything you can imagine in the world of cables and hard to find accessories. Tell them what you want and they will go in the back room and come out (hopefully) with what you need.
The first thing many visitors ask when they pass a ferreteria is, "Do they sell ferrets?". While a logical conclusion in "Spanglish", these places are more the typical mom and pop small hardware stores. There are many smaller stores located almost every few blocks, and the merchandise will vary depending on the store. Some will have a specialty while others will have a little of everything. A few offer camping gear while others may offer some cookware. Many of them are the opposite of the Home Depot hardware experience: most of the merchandise is located behind the counter and you need to work with the shopkeeper to get what you want. While you may end up waiting in line there is a certain advantage to this over trying (usually unsuccessfully) to find someone who can help you in Home Depot. The down side is you may need some Spanish speaking skills and it can be frustrating if you just want to grab what you need off the rack and make your way to the cashier. If you need a place which has everything you probably know what I am going to recommend...El Corte Inglés! In the Plaza Magdalena location on the second floor you can find the hardware section. If you can get out of the center than head to Leroy Merlin, which is so similar to Home Depot that I thought I was back in the states on my first visit. I think they organize the rows of shelves exactly the same way. They have everything you can imagine to remodel your house, garden, etc.
It's not uncommon to hear a song while visiting and want to locate the disk. (Yes, people still purchase music from time to time). While I'm not likely to be of help in telling you who the artist is I can tell you where to go to find the CD. As it stands there are two good options in the center. I've already mentioned above that the Plaza del Duque location for El Corte Inglés (across the plaza from the main store) has a selection of CDs and DVDs. You could also find CDs in the same plaza at Sevilla Rock, but they have now closed for good. Compás Sur in the Alfalfa on calle Cuesta del Rosario has a very good selection of flamenco on CD. On calle Amor de Dios there is a locally owned store, as well as a few up the side street. Some also sell old vinyl if you are into records. If you know what you want and can locate it online on Amazon.com in the US it is often cheaper to wait until you get back. As well, Amazon in the UK also offers a wide selection and cheaper shipping. All said above, you can also find incredibly low prices on the street if you don't have a problem with buying pirated versions. The sound quality may vary but often times you can get the latest and greatest thing from a vendor in an open air market (one of the flea markets) or on Tetuan or near Nervión plaza.

The number of bands, as in marching or processional bands, in Sevilla ensures a healthy business and choice for musicians. Of course there are no guitars in these marching bands but the tradition of flamenco takes care of your worries about finding a guitar or accessories. We'll start with percussion where you will find Tam Tam on calle Jesús del Gran Poder to be a valuable resource. If they can't cover you then check out Más Percussion on calle Antonia Díaz. Casa Damas on Asunción in Los Remedios offers a wide selection of instruments. At the end of calle Zaragoza in el Arenal you will find a store selling hand made acoustic guitars. Near El Corte Inglés on a corner of Plaza de la Gavidia there is also a shop for those with a taste for the electric: guitar, bass, etc.
This is a large category as you'll find a lot of possible gifts in stores that aren't considered your typical gift store. Anywhere around the Cathedral you will find the normal store and you might get taken for a few Euros if you're not careful. They sell everything from key chains, t-shirts, hats, ceramics, abanicos (fans), posters, post cards and film. You'll also see a lot of stores throughout Santa Cruz selling the same stuff. Take note that a lot of the same merchandise can be purchased in the main El Corte Inglés location in Plaza del Duque, sometimes with similar or better prices. Sierpes also has a few stores and on Calle Tetuan you'll find La Rosa Negra, a store similar to Spencer's in the U.S. with a few unusual items. I still wouldn't call this a tourist gift store. One of the cheapest places to get these types of items is often in a tienda de veinte duros or todo a cien. These are "dollar stores" which sell just about anything. Some have a wider selection of the tourist gifts, while some sell pretty useless junk. I must confess I have a weak spot for these stores and have a hard time not wandering in off the street. Friends and family are often dragging me out of them.
Worth a mention is the arrival of Ikea in Sevilla, or at least just outside of Sevilla in Castilleja. It's now almost been a year since the grand opening and buses in Plaza de Armas will get you there. Just be prepared for complete chaos, especially if you make the trip on the weekend. Most of you know what you get with Ikea - modern furniture at bargain prices because you must spend hours and hours putting it together with a hex wrench and perhaps a screwdriver. The price is very good, but what you don't pay for you lose in sweat and frustration. A large piece of furniture will also set you back about 30 Euros or so for home delivery.