51 things you should do in Sevilla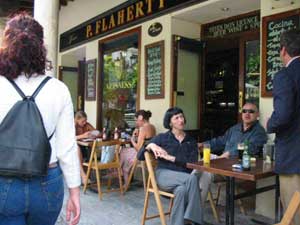 Most people want to know what are the must see or do activities in Sevilla. While many already know to visit the Cathedral or the Alcazar there are plenty of other activities which might not make every guide book or be recommended by your friends who've been to Sevilla before. With the help of some locals and visitors I've put together a list of 101 things you don't want to miss when you're in the city. Most qualify either as a simple activity or an interesting look at some local phenomena. Technically some of these involve some side trips from Sevilla. And I guess a few of these might be in a guide book somewhere. I had to get to 101 somehow! Either way I hope the list gives you a few ideas...
On a warm night, before 11:30pm when the lights go out, get a drink at the outdoor bar on top of Hotel Doña Maria with a view of the Cathedral with all the lights. The hotel may be expensive but one drink won't set you back too much. The view is worth paying for.
Enjoy a beer and a tapa of espinacas in El Rinconcillo, located near Plaza de Los Terceros. It's Sevilla's oldest bar, founded in 1670.
Rent a four-wheeled tandem bike in Parque Maria Luisa to take a quick tour of the gardens.
Feed the pigeons in Plaza de America in Parque Maria Luisa.
Order a tapa of boquerones en adobo in Bar Blanco Cerillo, located off Calle Tetuan in the central shopping district. A tapa and a cold cruzcampo and you'll be in heaven.
Watch a Betis game in Estadio Benito Villamarin. Well, it's really Estadio Ruiz de Lopera but not in most betico's minds. Taking in a fútbol match live is a great experience.
Head to Calle Betis in Triana around midnight for a lively bit of nightlife. There are bars to suit almost any taste.
Order a pitcher of Agua de Sevilla, best with a few friends as it packs a punch - four kinds of liquor, champagne and some other ingredients will get the night moving, maybe too quickly.
Visit the Alfalfa animal market on Sunday morning to check out the dogs, cats, birds and more.
Buy sweets at a local convent - certainly a different experience than a bakery. In many you have an interesting excahnge at first. Ring the bell and wait to until you hear the nun say "Ave Maria Purisima". You'll likely want to respond by saying "Sin pecado concebido". Now you're ready to ask for what you want, place your money on a turnstile and spin it around for the nun on the other side. Then wait for something delicious to be spun back to you.
Enjoy a cold beer at El Tremendo in Santa Catalina and bond with the famous neighborhood dog, Curro, who is always around. Curro is a good fellow, always happy and takes to just about anyone. He can be seen intently watching the people snacking on mojama at the tables, hoping to pick up a treat or two. When not at El Tremendo you may see Curro begging for food in Plaza de los Terceros.
Take a walk and see the Plaza de España at night. The fountain and building are lit up and it makes for some great pictures. Arrive before 10:30 to be sure the lights are still on.
Enjoy something you can't in the U.S. - a Cuban cigar. Cheap and available just about anywhere, your best selection is in Triana in El Cava del Betis.
Order a pinchito (my favorite) or just about any grilled meat at Bodega La Extremeña, a great bar in Puerta Carmona (down the street from Casa de Pilatos). They have a wood fired grill right behind the bar which makes for some delicious tapas. Well they did have a wood fired grill...still the meat is delicious.
Take in a free exhibit, of sorts, at the Sunday market in Plaza del Museo next to the Museo de Bellas Artes. Here you'll find paintings and sketches by many local artists for sale.
Catch a bus to Italica to see the Roman ruins just outside of Sevilla. The site is unique in that another city wasn't built over it like so many other Roman cities. Thus much was preserved. The city was also the home of emperors Trajan and Hadrian.
Even if you're not going to buy, find one of the local food markets - Encarnación, Arenal, Triana or Calle Feria - and browse through a selection of vegetables, fruits, meats and seafood. Fun to look at and see some of the interesting stuff they eat in Sevilla.
Enjoy the best Spanish breakfast at any one of the San Buenaventura locations. My favorite is tostada entera con serrano y aceite. My favorite two locations? The first and original location on calle Carlos Cañal and the other in Santa Catalina, because they know me there, they're nice guys and it's close to home!
Check out an exhibit at one of the many private galleries in town. Galería Rafael Ortiz is one my preferred, located on calle Marmoles in Santa Cruz.
Rent a paddle boat and see how far you can go on the Gudalquivir in an hour. If you come back late be prepared to pay a little extra.
Watch a bullfight in the Plaza de Toros, one of the best venues in the world for a corrida. Or if you can't stand the idea of a bullfight then try picketing outside and be prepared for a lot of arguments. At least it will make for an interesting story in 20 Minutos.
For a different museum experience check out the Museo de Muñecas y Juguetes Antiguos in Calle Castelar to see some old toys and dolls from Spain and other parts of the world.
Catch a bus to Carmona - about an hour away - and spend a relaxing day in a pueblo. Carmona has a lot of sites for a small town including a roman necropolis, Moorish buildings and a nice parador overlooking the valley below.
Eat an ice cream at Rayas, the best place for ice cream in Sevilla if not all of Europe. If it's winter try their chocolate shop next door.
Head to Parque del Alamillo on Monday, Wednesday or Friday afternoons to see the young and aspiring toreros practice against a pair of horns on two bicycle wheels (pushed by another). This is where it all begins (and ends) for many wishing to try their luck in the "big leagues".
Jump on a bus and take it anywhere! Circular routes are fun, you can ride as long as you need to, or at least until the driver notices you aren't getting off anytime soon. Check out the video screens and see what's around at each stop, or just catch up on the day's news.
Catch a flamenco show at Casa de la Memoria or Sol Cantante Cafe, where the price is cheaper than the tablaos but the show better than the average bar. Casa de la Memoria is an interesting venue: an 18th century patio in Santa Cruz.
Eat chicken wings at Bar Calle Larga on Calle Pureza. I know, sounds confusing, but Calle Pureza is very larga. Anyway, chicken wings are their specialty!
Catch a bus to Punta Umbria and eat at Restaurante Miramar for the best seafood this side of the ocean. Just make sure you call ahead to make a reservation or you may miss your bus back.
Watch a movie in Cine Cervantes on Calle Amor de Dios. It's an old theatre, as in theatrical performances, and is a unique venue to watch a film.
If you're traveling around Spain head to the Plaza de Espana and take a picture of the tiles representing all the places you've visited (there's one for each province!). Makes for a good intro to each section of your photo album.
Rent a Smart Car for a day and smile at others as you parallel park in the tiniest of spaces throughout the city. Just don't bring anything to fit into the trunk - there isn't one!
When you hear the whistle of the afilador, grab your knives and run down to the street to strike up a little conversation as he sharpens the blades on the back of the grinding wheel on his moped.
Try and find the face carved into El Patio de las Muñecas in the Alcazar. Representations of people and animals was forbidden when this was built, but this face was hidden for only the sharpest of eyes to find.
Ride the roller coaster at Isla Magica. Or play miniature golf on the course which is a replica of the many sites of Andalucia.
Check out the ruins in Plaza Encarnacion where they've finally put up some information about the contents of the "dirt pit". These will soon be harder to see as the build the market on top of them. Not to worry, just like the market in Triana they plan to preserve them and eventually visitors can go below the market to see what's left.
Dine like the king for breakfast as you order up some churros at the stand on Calle Arfe. Rumor has it that when in Sevilla the King sends someone out to pick up his churros here.
Eat at the Restaurante La Basilica on Avda de la Buhaira, the site of what was to be a large neo-gothic cathedral designed by Anibal Gonzalez. The restaurant contains the original foundation for the cathedral which was never completed because of the death of Gonzalez shortly after consturction began. Two towers were planned which would have been taller than the Giralda.
Take the stairs down below into the undeground parking garage in Puerta de la Carne. On the first level behind the attendants office is a small window looking into a preserved tomb from the Jewish cemetary discovered during the construction.
Stop by Lo Neustro on Calle Betis for more of an improvised, neighborhood flamenco show. There's flamenco every night.
During Semana Santa take a taste of torrijas, a dish close to french toast, made with thick bread, white wine, eggs and honey.
Take a stroll to the Macarena, cross the street, follow Calle Don Fadrique and then Sanchez Pizjuan until you reach La Venta los Gatos. This used to be the countryside and this particular watering hole was where the poet Becquer wrote most of one of his works.
Visit the ruins of the Castillo de San Jorge under the Triana Market, just on the other side of the bridge from the center. Living quarters, part of an old cemetary and a connection with the Spanish Inquisition are all part of the site.
You've likely seen the Golden Tower, or the Torre del Oro, so why not check out it's neglected cousin, the Torre de la Plata, or Silver Tower, on calle Santander. While you can't go in you can get a good view of it from calle Temprado.
Visit the three roman columns hidden away on calle Marmoles in Santa Cruz. You may even catch a glimpse of the cat family living there. Just like in Rome! There were more columns at one point, but some were taken to the Alameda and are now propping up statues at either end of the Plaza.
Find the geographic center of Seville on calle Jose Gestoso marked by what looks like a shell in the building.
Take a tour of the El Salvador church as they are renovating and excavating. Ruins from the mosque and more can be seen. You can get more information at the Tourist office.
Enjoy the Hammam experience in some of the largest Arab baths and spa in Spain, just opened in Santa Cruz on calle Aire. They have just about everything, from different temperature baths to masages, steam rooms a teteriaand a roof top terrace with a very nice view of the Cathedral.
Find out the way the eat tapas, or pintxos, up north and have your evening meal at Lizarran. Ok, so it's a chain restaurant, but it's still a lot of fun. Plus it takes all the guess work out of ordering your food. Simply order a beer and ask for a plate. Then take your choice of a number of cold tapas on toothpicks along the bar. Or wait until the waiter comes around to your table with the hot tapas. When all is done don't throw away the tootpicks - they need them to calculate your final bill!
Visit La Fabrica de Cerveza, in Plaza de Armas. If you've grown tired of Cruzcampo and Heineken in a bottle you can se what's on tap in Seville's only brew pub.