The Festival de las Naciones is a traveling event of sorts, crossing over Spain in 23 different cities during the year. Still, you'll find local restaurants and vendors at each stop. There are three main components to the festival:


Music and entertainment:
A number of international acts mixed with local and national entertainment. Anything from Brazilian dance, cuban music, belly dancing, flamenco and a little pop. Local dance groups will also put on a few shows. Most shows take place during the evening hours.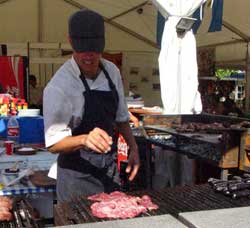 Eating and drinking:
Perhaps the best part is the cuisine with food from such countries as Greece, Germany, Argentina, Peru, Mexico, Morocco as well as regional specialties from Spain. If you like meat we've especially enjoyed the Argentinean area for several years where you can order up a number of grilled meats and sausages plus desserts. We also ate at the Mexican stand where we were treated to a free shot of pretty bad tequila. Still, it was free. There are a few stands where you can buy chorizo and other cured meats, nuts, candies and other sweets from around Spain. Most of these stands are located closer to the entrance while the places to grab a bite to eat and get something to drink are closer to the stage at the back.


Shopping:
You will find arts and crafts, jewelry, clothing, furniture, music and more from countries in Africa, Europe, Latin America. Even if you don't buy anything it's a good place to window shop.

Aside from this there are is a children's area with a few games and they almost always hold a drawing of some sort for a vacation or a free mobile phone.

For several years it was held in the Prado de San Sebastian. Due to noise complaints from some neighbors last year it was moved to la cartuja, the island across the river at the site of the old expo. Then it was back on this side of the river in Parque Maria Luisa. Finally, this year they've made amends and you can find it back in the Prado!

The Festival runs from late September to early November, for about 5 weeks. The hours are as follows:
| | |
| --- | --- |
| Day | Hours |
| Monday-Thursday | 11:00 - 14:00 and 17:00 - 24:00 |
| Friday-Saturday | 11:00 - 14:00 and 17:00 - 02:00 |
| Sunday and Holidays | 11:00 - 23:00 |
This year they say that there is no longer an entrance fee! Finally, this makes sense so more people can visit and you pay only for what you eat, drink or buy. Hopefully this means an increase in visitors...
Below is a list of participating countries by continent. Don't expect food, crafts or entertainment from all of them, as some do only one thing exclusively: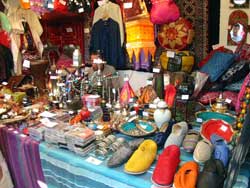 America:

Argentina, Bolivia, Brazil, Colombia, Costa Rica, Cuba, Chile, Ecuador, United States, Guatemala, Jamaica, Mexico, Paraguay, Peru, Martinique, Santo Domingo, Venezuela.


Europe:

Germany, Belgium, Spain, France, Greece, England, Ireland, Italy, Poland, Portugal, Russia.


Asia:

Bali, Burma, Borneo, Korea, China, Philippines, India, Indonesia , Jaipur, Japan, Java, Malaysia, Nepal, Pakistan, Sumatra, Thailand.


Africa:

Cameroon, Costa de Marfil, Egypt, Madagascar, Morocco, Mozambique, Senegal, Tanzania, Zaire


Australia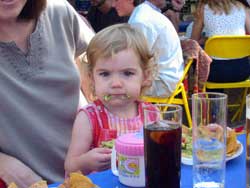 A few photos from previous years can be found in my Festival de Naciones album. I should have some more this year after a night or two of visits. I did not make the trip for a few years - something about the location kept me away. I like the Prado, because it is closer to me!
More information on the Festival de las Naciones and the performances can be found at the following web sites (in Spanish).