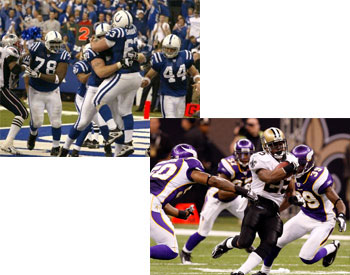 Time for the big game so that likely means heading to a bar somewhere. Or if you have Digital Plus you can check out the game live with some poor commentary in Spanish. And you may not know it, but Seville is rated the best foreign city to watch the big event, with hundreds of thousands of people tuned in and pre-game events all weekend. Everyone picks a favorite team and dresses in team colors all week...oh, wait, that is the Betis - Sevilla rivalry, the other kind of football.
Indianapolis Colts vs. New Orleans Saints
Kickoff: coverage starts at midnight, kick off around 12:30am "Spain time"
Official website: Superbowl.com

If you happen to subscribe to some type of pay television then hope it's Digital Plus, who brings you Canal Plus. (Auna, or Supercable, does not carry Canal Plus and thus you are out of luck). Canal Plus has been carrying the Superbowl for many, many years. And they have very poor commentating, but in the last years have finally added the second audio track so you can hear the commentary in English! For satellite subscribers it's on channel 1, and then 30 minutes delayed on channel 3 (Canal Plus 30). If you don't like the idea of staying up until 4:30am, then the following day you can catch the game on Canal Plus Deportes at 13:15 and then Sportmania at 18:00. The good news about Canal Plus televising the game instead of one of the sports channels is for those who are in hotel rooms all over Seville and Spain. You can likely watch the game in your own room (provided your hotel has some kind of satellite television).
Some will take reservations, although many are have little space left. Plan for a very crowded scene and if haven't reserved then get there early - at least an hour - so you can get a good view of the game.

Texas Lone Star Saloon
c/ Placentines
Right in the center on a side street next to the Cathedral. Reserved seating and no big screen television. But several televisions throughout the front and back of the bar. Plus there is food, plenty of drink and popcorn to go with it. This was the first place you could catch the Superbowl in Sevilla and there is a good sports atmosphere. This is the only place in Seville which really respects American sports - they cover other events such as college basketball. This will likely become so crowded that you can hardly walk, so arrive early!
Flaherty's
c/ Alemanes
Right in the center next to the Cathedral. Always televising the major sports events on a big screen television in the back portion of the bar (unless it's NCAA basketball, which they don't consider a major event - they'll learn one day). Flaherty's was offering 1 Euro tequila shots at halftime last year so you could forget everything you watched afterwards. Plus some promotional Corona merchandise with every beer you order. We'll see what they do this year...
Merchant's Malt House
c/ Canalejas, 12
Close to Plaza de Armas in the center. A big screen tv plus smaller televisions both upstairs and downstairs. Dark red interior, plenty of wood furnishings with lot's of old advertising signs for beer and liquor, the standard stuff for these places. Upstairs offers a second bar with some comfortable couches and a fireplace. At least 10 different bottled beers as well as 3 on tap. Video trivia contests in English and other activities as well.
O'Neill's Irish Pub
Edificio Viapol
In Viapol O'Neill's Pub is always catering to foreign students and Americans from all over Seville. They have a lot of space and a very large screen projection television where you can catch the game. Very nice place and more or less genuine atmosphere. Three bars, one at the front, just behind it and an even larger one downstairs - give you plenty of places to choose from.
When in doubt try an Irish Pub! They always seem to have something going for larger sporting events, even if it's American football.
Ok, so I don't know what to call this section. Just some interesting facts about the coverage and other things unique to taking in this game in Spain.


Commercial time

You miss all of those new, highly anticipated superbowl commercials. This is good news, right? They rarely even break from the coverage on the field, which is a nice change from their agonizing 3 to 4 minute studio commentaries during the regular season, as the two fellows covering the game struggle to read stats from their laptops or find something interesting to talk about. But again, you have to like the constant on field coverage if you are a fan. Back to commercials: seems everyone has heard about in Spain is a marble and granite countertop company from Almeria which has purchased a 30 second $4 million spot. Unfortunately we don't get to see it on TV. Then again, I am complaining about not seeing a commercial.


Commentary

These two guys are getting better, I think. Still they often make mistakes in their initial interpretations of the rules. Unfortunately the second audio track is also out of commission which means you have no choice of hearing the original commentary. One of these fellows (I don't know who) has an annoying habit of screaming something on every big play which sounds like "Fumble". So it's a big run, or is it a... "Fumble"! Did someone make a spectacular catch or did they ..."Fumble!". At least he keeps your attention on the game. For the announcers I should pay more attention to their names, but really try to tune them out. The two guys who cover NFL for Canal Plus are fairly knowledgeable, but by seasons end it's clear they do not like each other. We watched during one game where it got worse and worse, until at the end of the coverage of one game one of them walked off the set before they cut away. Anyway, they'll be happy for the Superbowl, but watching them during the season is always interesting.


Tape delay
If you don't have Tivo or a DVR in the states then you are like most people who are stuck watching the game in real time, with no way to go back and see any play. The advantage of Canal Plus covering the game is it's later counter part Canal Plus 30. This channel shows the same programming as the first, just 30 minutes later. So if you fall asleep for a little while (normal when you are watching the game around midnight) you can catch up on the other channel. The game will also be reboradcast the following day: Canal Plus Deportes at 13:15 and then Sportmania at 18:00.