Hostal Apartments San Bartolome
Location: Calle San Clemente, 12
Prices start at: 45 €
Make a Reservation at sevilla5.com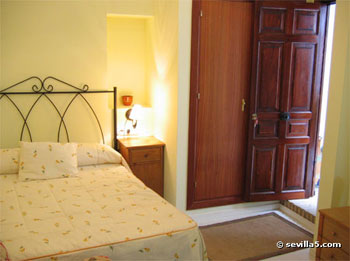 All apartments are located on the ground floor of the historic building. Two apartments have 2 bedrooms and a separate living room. Other apartment options include: 1 bedroom with separate living area and studio apartments. All apartments have private bathrooms and fully equipped kitchens. Apartments in the Hostal San Bartolome also offer the following amenities:
Full, private bathroom
Kitchen with refrigerator and stove (hob)
Television
Some apartments also have living rooms with sofa-beds
The apartments do not have air conditioning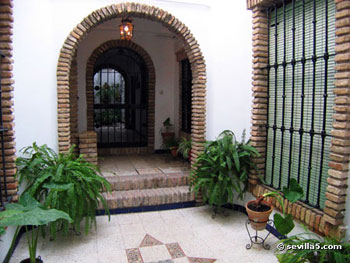 Guests check in at the Hostal La Montoreña to pick up the keys to the apartment. The renovated 18th century apartment building is just one block from the hostal. All apartments are accessed from the ground floor hallway. In typical Andalusian style natural light filters into the building through the patios. Plants adorn patio area, and an original tile discovered from the renovations is featured, inscribed with the date of construction for the building.
7 apartments
17th century building with Andalusian patio
Laundry service
Roof terrace
Bed linens and towels provided
24 hour reception
Luggage storage
Hostal Apartments San Bartolome are situated in the old Jewish Quarter of Seville, equidistant to the Cathedral and the Casa de Pilatos. The building entrance faces the San Bartolome church, once the site of a synagogue. The location is excellent, with the plazas and cafes of Santa Cruz nearby, as well as several green spaces such as the Murillo Gardens and the Maria Luisa Park. While situated amongst the narrow pedestrian streets of the historic center, it is also just a few blocks from Menendez Pelayo Avenue, and within walking distance of the Santa Justa train station as well as the Prado bus station.

Approximate walking distances:
Cathedral and Alcázar - 7 minutes
Parque Maria Luisa - 10 minutes
Shopping district - 12 minutes
Guadalquivir River - 15 minutes
Make a Reservation at sevilla5.com