Hostal Doña Trinidad
Location: Calle Archeros, 7
Prices start at: 52 €
Make a Reservation at sevilla5.com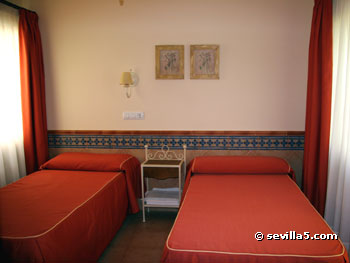 All rooms receive natural light from the glass roof covering the central patio. Most rooms are interior, while some rooms have balconies or exterior windows overlooking the pedestrian street. Two single rooms have private, exterior bathrooms. All double and triple rooms have a full bathroom in the room. Rooms in the Hostal Atenas also offer the following amenities:
All rooms have a private bath.
Two single rooms with private, exterior bath.
Air conditioning and heating
Non-smoking rooms
Some rooms have balconies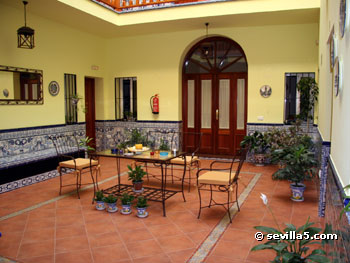 Guests enter the hostal through the reception area and central patio. Filled with plants and typical ceramic tiles, the patio is a quiet, welcoming area, and the perfect place to sit and relax. Guests with laptop computers can connect to the internet for free via the hostal's WiFi connection.
Central Andalusian patio
WiFi internet access in patio
24 hour reception
Luggage storage
Hostal Doña Trinidad is situated in the heart of Santa Cruz and the old Jewish quarter, just a few minutes walk to the Cathedral and Alcazar. This section of the city is mainly comprised of small pedestrian streets, and is an excellent location to explore the city on foot. Stepping outside the front door, guests as less than one hundred meters away from two churches which were once synagogues. The hostal is convenient to parks and gardens, such as Parque Maria Luisa and the Jardines Murillo, as well as the University of Seville. A wide variety of tapas bars, restaurants and cafes are within less than one minute from the hostal.

Approximate walking distances:
Cathedral and Alcázar - 5 minutes
Casa de Pilatos - 5 minutes
Plaza Alfalfa - 7minutes
Shopping district - 10 minutes
Parque Maria Luisa - 10 minutes
Guadalquivir River - 15 minutes
Make a Reservation at sevilla5.com