Hostal La Gloria
Location: c/ San Eloy, 58
Prices start at: 35 €
Make a Reservation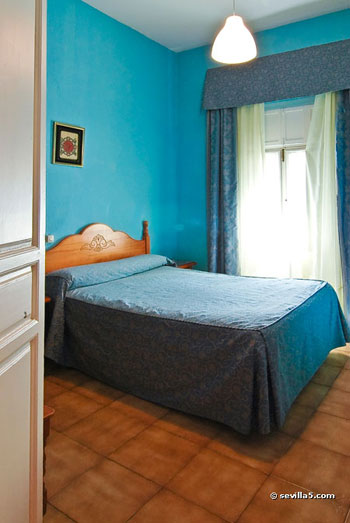 The majority of rooms are located on the first and second floors of the Hostal La Gloria, while a small number can be found on the third floor with access to the roof terrace. Some rooms have private bathrooms, while all rooms with a shared bathroom include a wash basin within the room. Exterior rooms are very bright due to the small open plaza in front of the hostal. One quintuple room features two connected bedrooms, each with a private bathroom.
Some rooms have a private bath
Some rooms have a shared bath
All rooms with a shared bath have a wash basin in the room

Some rooms have exterior windows, others have windows facing patios
This hostal does not have air conditioning
Wardrobe and/or clothes dresser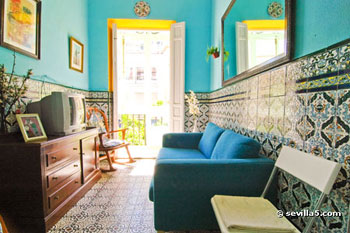 Guests enter from calle San Eloy to the first floor reception. To the left is a patio with sitting area, adjacent to the reception desk. Next to reception is a small guest lounge with television and exterior balcony which overlooks the plaza in front of the hostal. The first floor of the hostal features the original losa floors and ceramic tiles. Stairs lead to the second floor rooms and third floor roof terrace.
24 guest rooms
Television room and guest lounge
Roof terrace with tables and chairs
WiFi internet access (free)
Laundry service
24 hour reception
Luggage storage
Small pets permitted
Hostal La Gloria is situated in the central shopping district of Seville, convenient to the river, Plaza de Armas bus station and Museum of Fine Arts (Museo de Bellas Artes). Within a short walk guests can arrive to the Plaza Nueva, the Cathedral and Alcazar. The location is close to the true geographic center of the old town and offers easy access to almost every quarter of the city.

Approximate walking distances:
Shopping district - 1 minute
Fine Arts Museum - 3 minutes
Plaza de Toros - 7 minutes
Guadalquivir River - 6 minutes
Cathedral and Alcázar - 9 minutes