Hostal Santa Catalina
Location: c/ Alhóndiga, 10-12
Prices start at: 52 €
Make a Reservation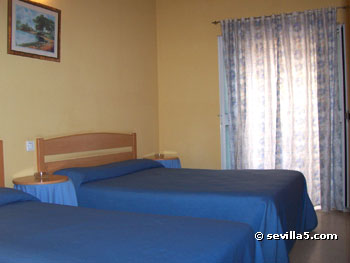 All rooms in Hostel Santa Catalina include a private bath, air-conditioning and heating. Some rooms have small balconies which overlook the Santa Catalina church. Other rooms are interior facing. Rooms in the Hostel Santa Catalina also offer the following amenities:
All rooms have a private bath.
All rooms have air conditioning and heating
Some rooms with balconies facing the church
Guests enter the ground floor reception area via a small waiting room with couches and chairs. Adjacent to the reception desk is a large television room and lounge for guest use only. An elevator offers easy access to the higher floors.
8 guest rooms
24 hour reception
Guest television lounge
Elevator
Luggage storage
Baby cot on request
Tourist information
Hostel Santa Catalina is situated in the centre of Seville, just next to the Santa Catalina church. The immediate surroundings include Plaza de los Terceros, an area well known for tapas bars and restaurants such as El Rinconcillo, Seville's oldest tavern. The hostel is convenient to the Alfalfa and Santa Cruz quarters, and is approximately 7 minutes from the main shopping district. Just across the street from the hostel guests can catch the new mini city bus, with service to all of the major monuments: La Casa de Pilatos, Cathedral/Alcazar, Plaza de Toros and Museum of Fine Arts. The hostel is also close to two plazas which serve as the principal hubs for Seville's city bus system. Don't miss a trip to Rayas, Seville's best ice cream shop located less than a minute from the hostel.

Approximate walking distances:
Plaza Alfalfa: 4 minutes
Casa de Pilatos - 4 minutes
Shopping district - 7 minutes
Cathedral and Alcazar - 10 minutes
Plaza de Toros - 13 minutes