Hostal Zahira
Location: Calle San Eloy, 43
Prices start at: 54 €
Make a Reservation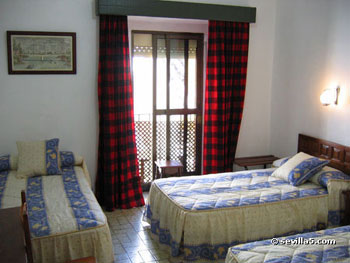 All rooms in Hostal Zahira are on the first and second floors, away from the reception area. Most rooms have windows to San Eloy street. All rooms have air conditioning, heat and private bathrooms. Rooms in the Hostal Atenas also offer the following amenities:
Full, Private bath.
Air conditioning and heating
Safe in room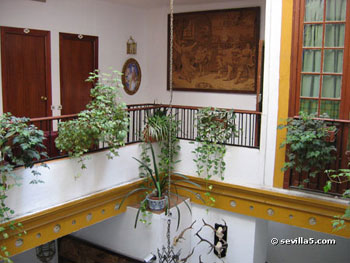 Guests enter into a large central reception area from the Calle San Eloy, one of the main pedestrian shopping streets in the city center. The reception is open 24 hours.
Central Andalusian patio
24 hour reception
Luggage storage
Pets permitted
Tourist information
Hostal Zahira is situated in the commercial centre of Seville, on calle San Eloy, one of the principal shopping streets in the city. The hostal is convenient to the Museum of Fine Arts (Museo de Bellas Artes), the Campana and the calles Sierpes and Tetuan. There are several restaurants, tapas bars and cafes on the same street.

Approximate walking distances:
Shopping district - 1 minute
Plaza del Duque - 2 minutes
Cathedral and Alcázar - 9 minutes
Guadalquivir River - 6 minutes
Museum of Fine Arts - 5 minutes