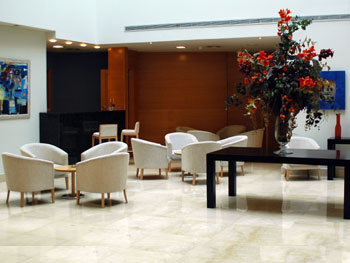 Hotel Aacr Museo is located in the city center of Seville, just two blocks from the Museum of Fine Arts (Museo de Bellas Artes). The area around the hotel features small streets, plazas and many historic homes. The hotel, constructed in 2003, offers modern comforts and amenities in the historic quarter. With a total of 22 guest rooms distributed around the large central patio, the hotel is known for it's friendly and personalized service. The modern architecture and decoration of the building, featuring marble and glass, as well as light colors and contemporary artwork, create a bright and airy atmosphere throughout the hotel common areas. The hotel is also conveniently located, close to the shopping district, the major monuments and the Guadalquivir river.
Hotel Aacr Museo
Location: Calle Pedro del Toro, 9
Prices start at: 94 €
Make a Reservation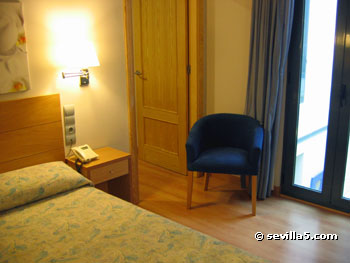 The rooms in the Hotel Aacr Museo are decorated with modern, comfortable furniture, natural pastel paints and elegant wall prints. All rooms include a full, private bathroom, individual climate control (air conditioning / heating), and satellite television. Many rooms have balconies to the street, while others receive light from the large, glass-roofed interior patio. All rooms have insulated, double-paned windows to keep the noise to a minimum.
Air Conditioning/Heating
Full bath w/hair dryer
Direct dial telephone
Satellite TV with remote control
Safe in room
In room internet access (fee)
Non-smoking rooms
Rooms adapted for disabled
Some rooms with balconies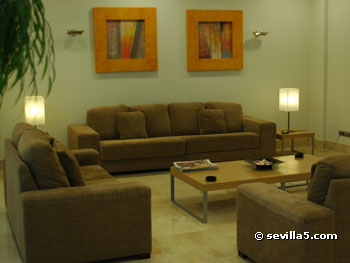 Guests enter reception from Pedro de Toro street through the main glass doors. To the right of the entrance is a large open sitting area with comfortable couches, seats and a large television. In front of the reception lies the larger interior patio which spans the height of the building. To one corner guests will find the hotel bar with a small section of tables and chairs. Just off the main patio is the breakfast dining room with plenty of seating. All of the common areas are decorated with original paintings from local artists. The hotel offers a full bar, and limited room service is available. Parking is available in the hotel's private garage.
22 Guest Rooms
Bar / Cafe
Breakfast
Central Andalusian patio
Breakfast room
Guest sitting area with television
Room service (limited schedule)
Elevator
Handicap facilities
Laundry service
24 hour reception
Luggage storage