Hotel Alcantara
Location: Calle Ximénez de Enciso, 28
Prices start at: 73 €
Make a Reservation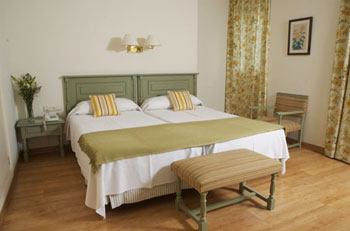 Guest rooms in the Hotel Alcántara are distributed over three floors, all of which are directly accessible via the elevator/lift. All rooms feature a full, private bathroom, air conditioning and heating, telephone and satellite television. Furnishing are elegant and contemporary in style, and complimented by soft wood floors. Every room has at least one window overlooking the patio.
Individual climate control
Fully equipped bathroom
Satellite TV
WiFi internet (free) reaches first floor rooms
Direct dial telephone
All rooms have windows overlooking the large open air patio
Double Superior room offers more space with three windows and larger bathroom.
Guests enter the building through a large outdoor foyer, which the hotel shares with the Casa de la Memoria, a museum dedicate to Jewish history of Seville as well as nightly flamenco performances. Behind the double glass doors guests will find reception to the right, with the breakfast area directly in front. To the left large windows look onto the central patio with several tables and chairs. Adjacent to reception are the stairs and elevator leading to the guest rooms on the upper floors.
The hotel facilities include:
21 guest rooms
Continental Breakfast buffet
Coffee machine in reception
Large open air central patio
Guest sitting area
WiFi Internet connection (free)
Laptop computer rental
Elevator / Lift
Access for the disabled
24 hour reception
Safe deposit box in reception
Hair dryer in reception
Bicycle storage
Tourist information and maps
The hotel is very central, located close to the central shopping district and a few blocks away from the Plaza de la Encarnacion. Guests are also close to the Alameda and calle Feria.
Approximate walking distances:
Cathedral and Alcázar- 3 minutes
Shopping District - 7 minutes
Plaza Nueva - 7 minutes
Plaza Salvador - 7 minutes
Plaza de Toros - 10 minutes
Guadalquivir River - 12 minutes
Parque Maria Luisa - 12 minutes